An apparently racist, now-deleted TikTok video and photo show a Lindale, Texas high school student mocking George Floyd and the movement for Black lives.
The video was initially posted by a now-deleted TikTok user at an unknown date. Subsequently, activist Laya Washington re-posted a screenshot on April 13. The controversial video and photos show a Lindale High school student dressed in a mock police uniform, apparently imitating former Minneapolis police officer Derek Chauvin, with her knee on the neck of a white man—who also has a raised fist. The scene appeared to simultaneously mock the death of George Floyd and Black Lives Matter.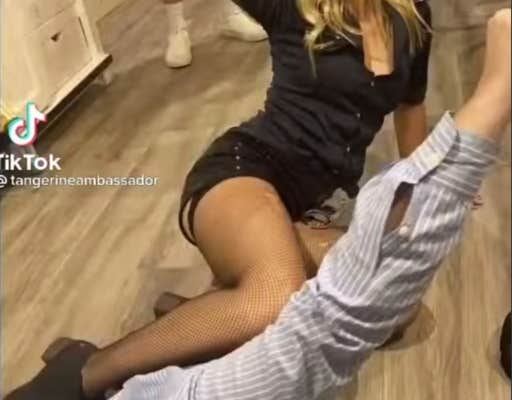 "She probably never understood like black history or how that can hurt us to see you mocking a black man's death like that," said Washington to KETK.
KETK reports that the photo found its way online more recently "when another student posted a video about it on TikTok asking other users on the popular social media app to contact school administrators about it."
The student claimed Lindale High School officials were "more concerned about its reputation than disciplining students for wrongdoing."
"Just educate her really. That's all I want. I want education because knowledge kills that ignorance every time," said Raynie, activist and president of the Rainbow Room, to KETK. "I think this is not an evil girl. This is just a girl that needs to be informed."
Stan Surratt, Lindale ISD superintendent, provided a statement to the Tyler Morning Telegraph this week. It addresses prevalent rumors of retaliation to the unnamed student who exposed the student dressed as the officer in the photo.
"Lindale ISD does not publicly comment on student discipline issues," he wrote. "The incident in question did not happen at school or at a school-sponsored event. There are several accusations about the actions of Lindale ISD that are simply untrue and are misleading the public about this incident. Lindale ISD has a reputation of being very accepting and fair to all students and families, while having a culture that is safe and respectful for all. Lindale ISD will make no further comment about this incident but will continue to work and have an open conversation with parents and students that are involved."
"The parents of the student who made the TikTok video came to our administrators and asked if their daughter could Op-Grad. That is the choice of the parent/student, not the school district. If she/her parents choose to Op-Grad, she can walk at graduation. All Op-Grad students are provided that opportunity. We have encouraged her to return to LHS. Because of FERPA laws, we are not allowed to comment any further."
---
Today's top stories