A YouTube influencer is under fire for apparently attempting to use a K-pop idol's recent suicide as a defense against fan criticism.
Mother and influencer Lindy Tsang, who runs the Bubzvlogz channel, uploaded a video for her 968,000 YouTube subscribers on Dec. 3. One particular scene in the video caught the attention of people online, leading to harsh criticism of the nearly 33-year-old influencer. In the scene, which falls near the end of the 10-minute video, Tsang's young son locates a penis-shaped soap. He proceeds to play with it—calling it a cannon—and runs around the house while Tsang chuckles at his antics.
People online jumped on the shaming train and went after Tsang for uploading the video, and she defended herself in a series of Instagram posts.
"To those who are butthurt about this being inappropriate, don't worry and chill," Tsang wrote. "Learn to laugh and live a little bit. The guy has never seen an erect penis in his entire life. To him, it's a cannon."
Tsang's lighthearted Instagram post seemed to serve the opposite of its intended purpose. Then she drew parallels between her situation and the recent death of K-pop idol Goo Hara—and things took a turn for the worse.
Last month, 28-year-old Goo Hara was found dead in her apartment in Seoul, South Korea. Police have not yet determined a cause of death, but many speculate that Hara committed suicide. She had attempted suicide attempt in March, and her death renewed concerns about a suicide trend in the K-pop industry.
"Recently I heard in the passing of yet another Korea. Idol Goo Hara and was so saddened by the news," Tsang wrote over the image of a text thread. "Now I look at Idols who are popular today and wonder which one is next to suicide.
"Celebrities and influencers are not immune to your judgement even though you expect them to suck it up," she continued in another post to her Instagram Story. "They are people. With feelings. Very much like you. You cut them open and they will bleed the same colour as you. This world would be a much more beautiful place if you minded their own business and spoke kinder words."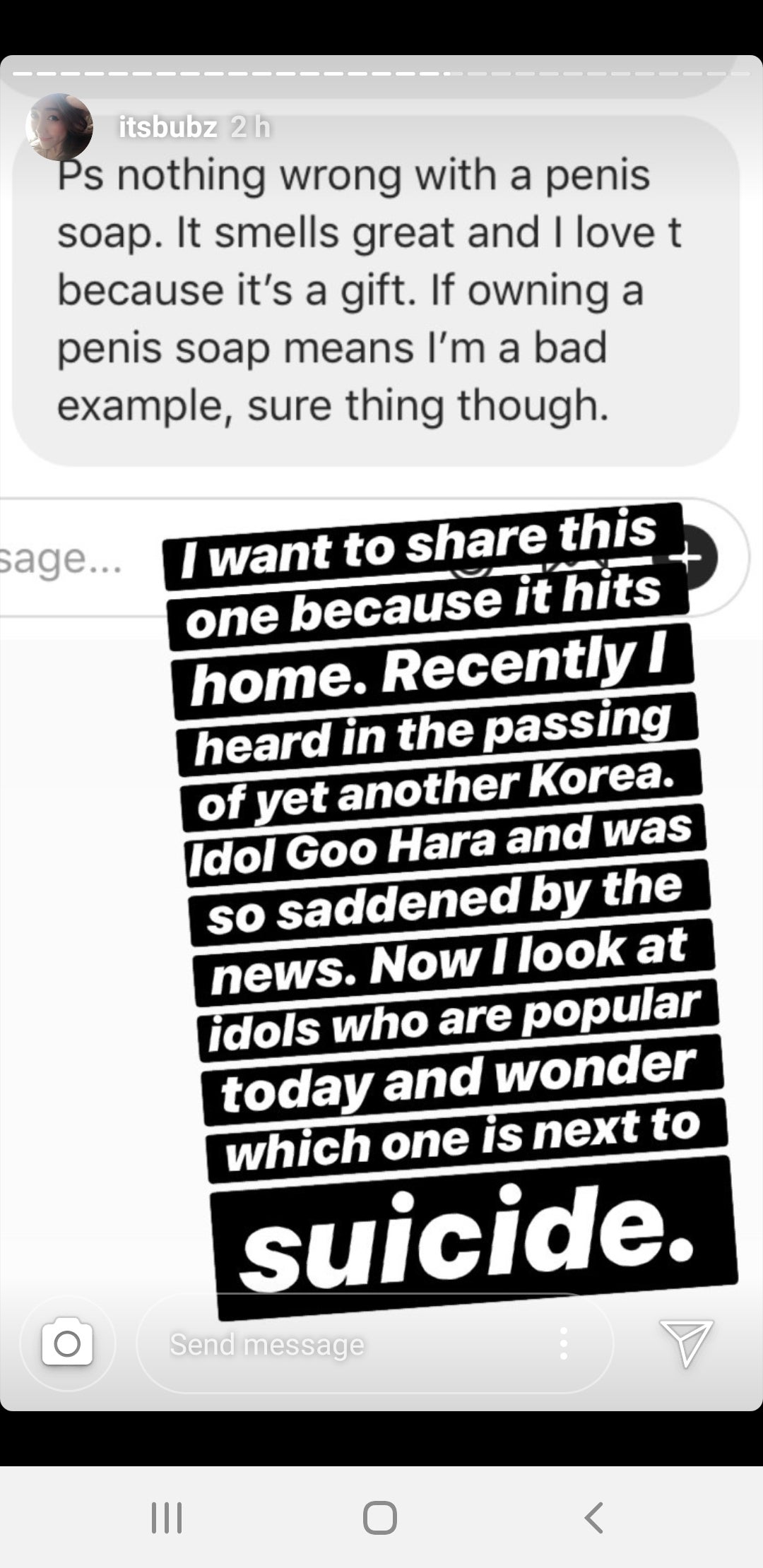 Many of Hara's fans are still reeling from her sudden death and did not take Tsang's comparison lightly. A Reddit thread following Tsang's story houses dozens of irate comments from users. "I am so upset over this," one user wrote. "Not only because of the soap, but she decided to drag in Goo Hara. How dare she compare her situation to hers?" Other users agreed, calling Tsang's post "disgusting" and manipulative.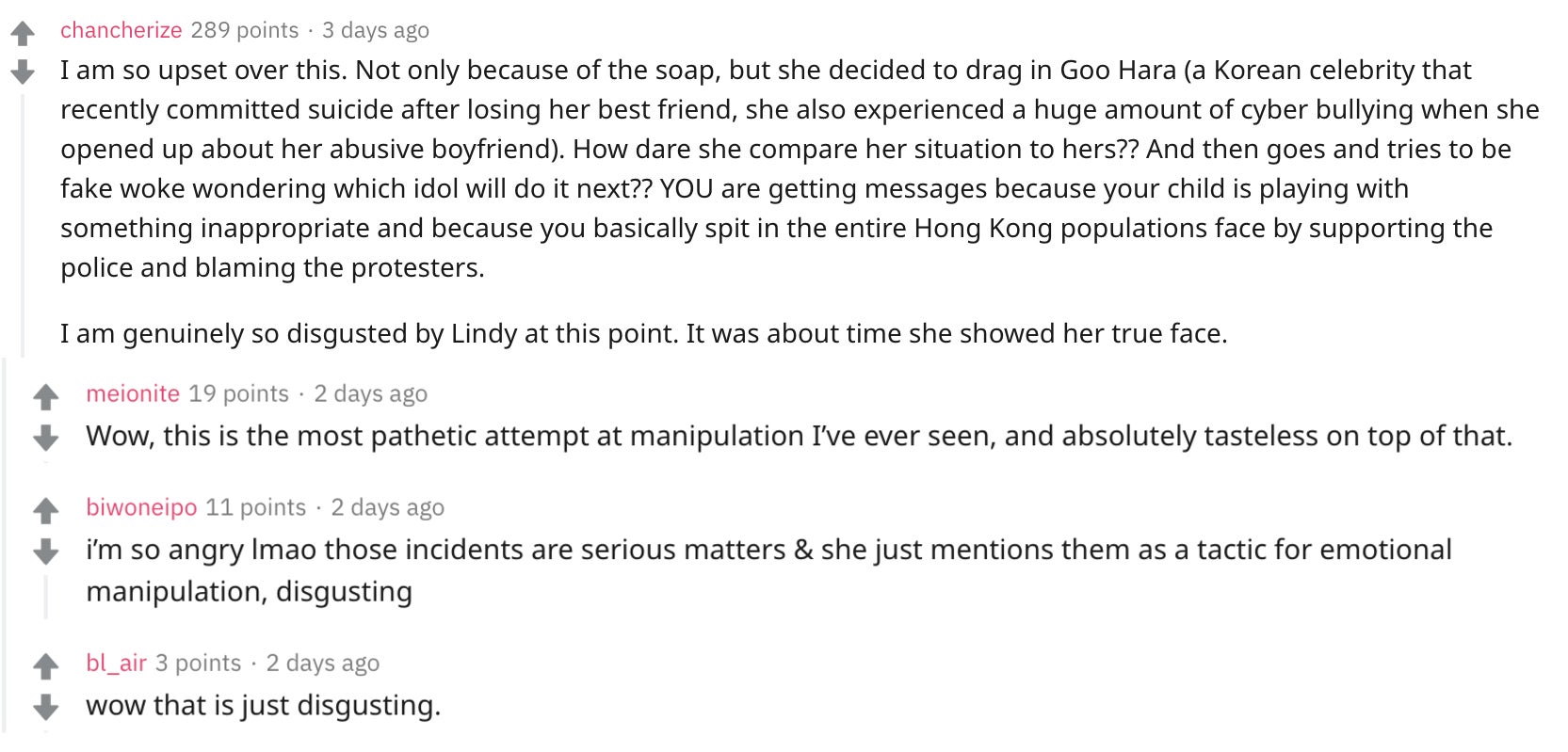 As the backlash escalated, Tsang again took to Instagram to defend herself. "It never bothered me that people were upset about the soap. I wasn't defending myself based on the soap incident. I was cool about it," Tsang wrote. "If people thought different, that is fine. If you read my full stories; you would find that I was upset over being questioned in my authenticity." Tsang went on to explain that she was attempting to shine a light on the pressures influencers face. "I was upset over the person saying 'influencers' should suck it up. It does hit home for me because I have seen the damage it has caused amongst my YouTube peers."
She further explained why she brought up Goo Hara's suicide. "It is an example of what constant negativity online can do for your confidence and soul," she wrote. "I honestly do look at idols today and it breaks my heart to wonder who will be next." She also accused a BuzzFeed article that was published on Wednesday of taking the story out of context.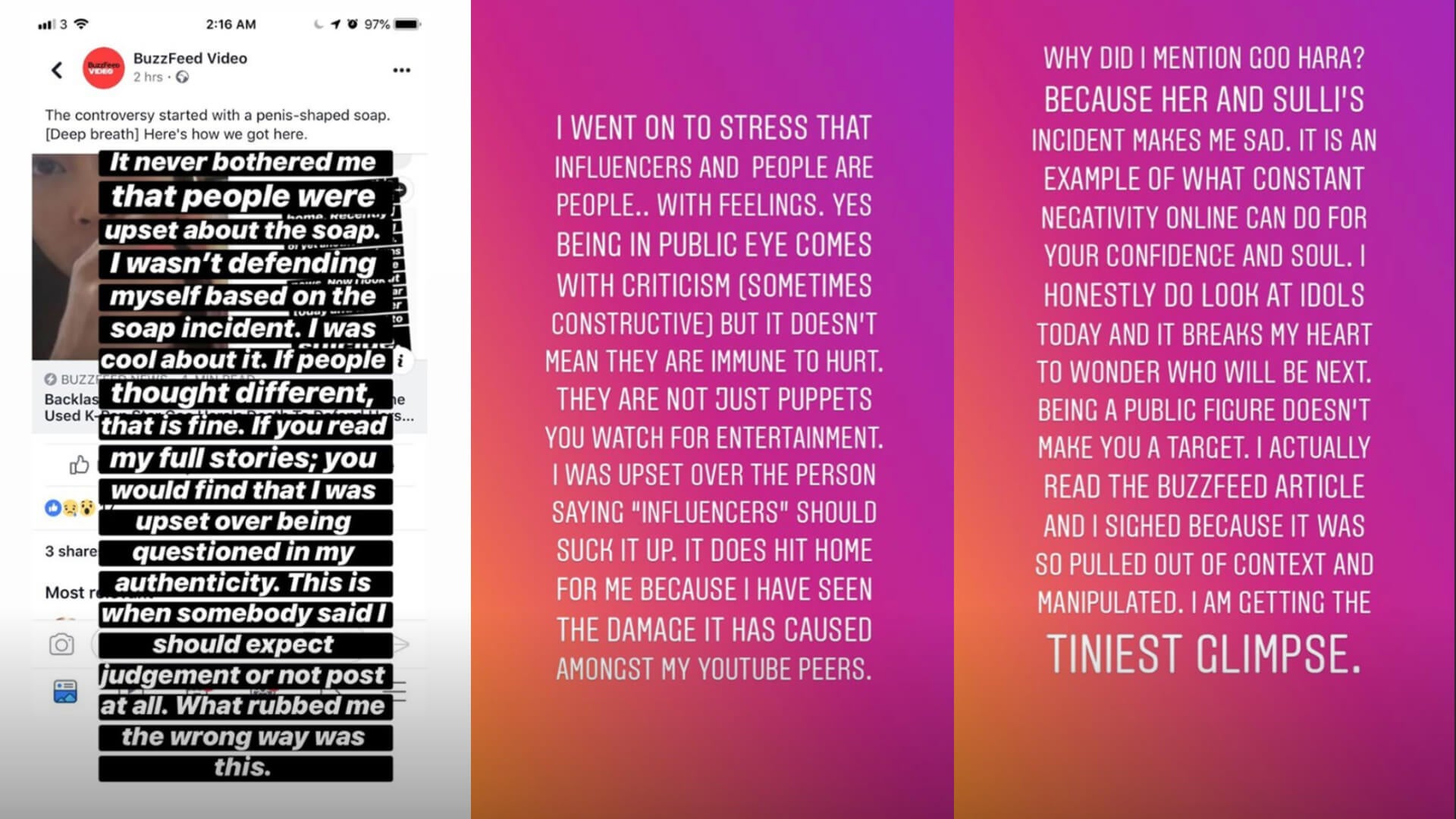 Later in her Instagram Story, Tsang noted that she may have failed to realize why people were upset by the soap. "I admit I didn't see the soap as a big deal but now I see how it could be embarrassing for Isaac when he's older. This I am apologetic for," she said.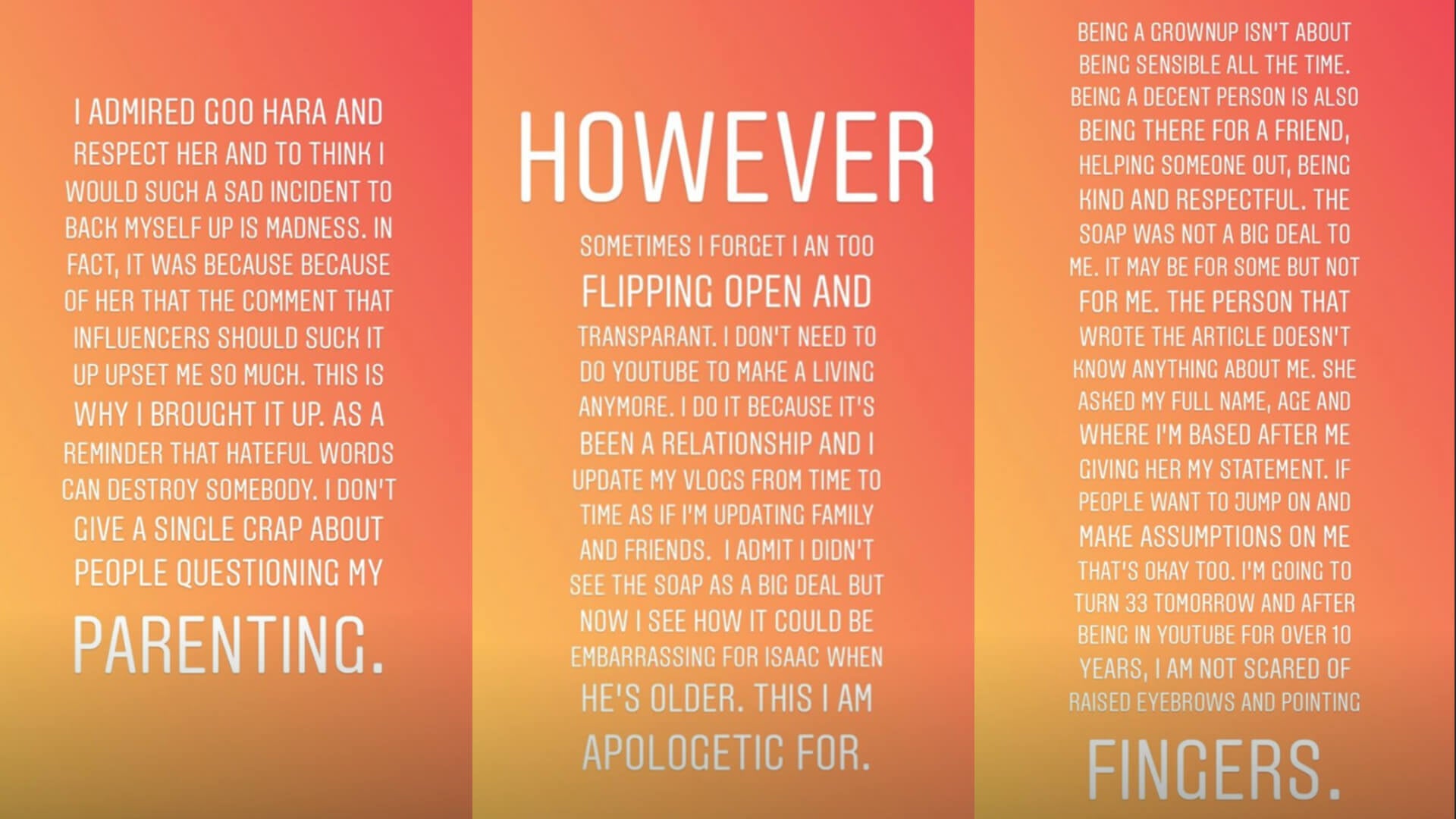 While the fervor around Tsang's original video seems to have died down, the drama over her mention of Goo is still going strong. One opinionated commenter expressed her thoughts on Tsang's most recent Instagram post. "I'm disappointed that straight away you jumped to 'there's a witch hunt on me' narrative," lkylanx wrote. "I'm disappointed that you haven't shown the tiniest bit humility in this situation."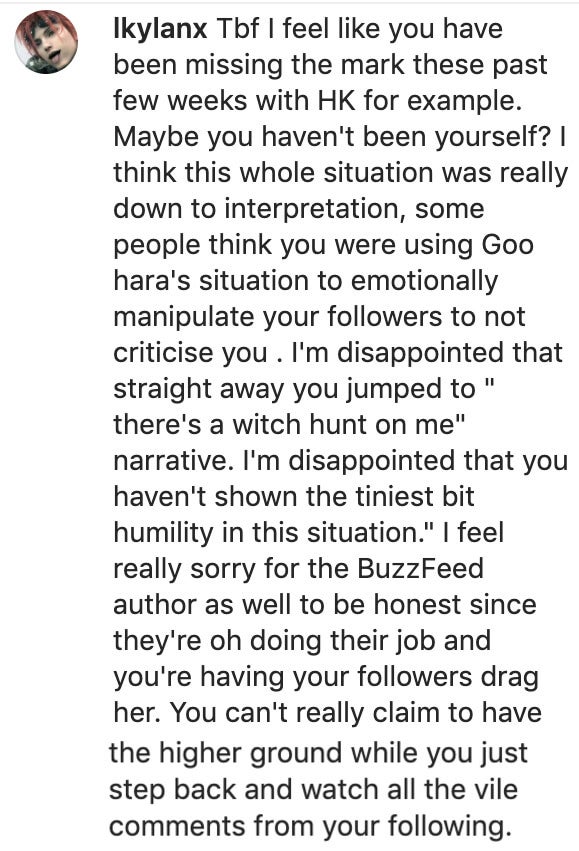 Tsang responded in the comments. "The fact that you pitied the person who wrote false information instead of the person being accused (although mind you, I don't need Pity) speaks enough for me," she wrote. "You go ahead and choose what you want to believe. I'm just honestly thankful my own lenses don't always assume the worse jn others."
Tsang did not immediately respond to the Daily Dot's request for comment.
READ MORE:
H/T BuzzFeed News