When Umber Ghauri turned 11, they began to notice prominent dark circles under their eyes. Ghauri's family is Punjabi; the trait is common among Southeast Asians. Until then Ghauri's mother would apply their makeup for them whenever they'd perform plays in the family living room. But Ghauri was about to be a full-fledged teen; they wanted to take their beauty regimen into their own hands.
First, Ghauri covered their entire under eye area with white powder. When they couldn't find a foundation that matched their skin tone, they tried tanning lotion, but it was too orange. Then there was Ghauri's discoloration around their mouth and the thick hair on their upper lip. Ghauri did everything they could to remove it—waxing, threading, tweezing—but the stubborn hair returned. Ghauri discovered that if they mixed red lipstick with foundation, they could cover both the discoloration and the hair, making their skin tone look even. While Ghauri's cousins teased them relentlessly over the experimentation, by then, it was too late. Ghauri discovered that they loved—and excelled at—wearing makeup.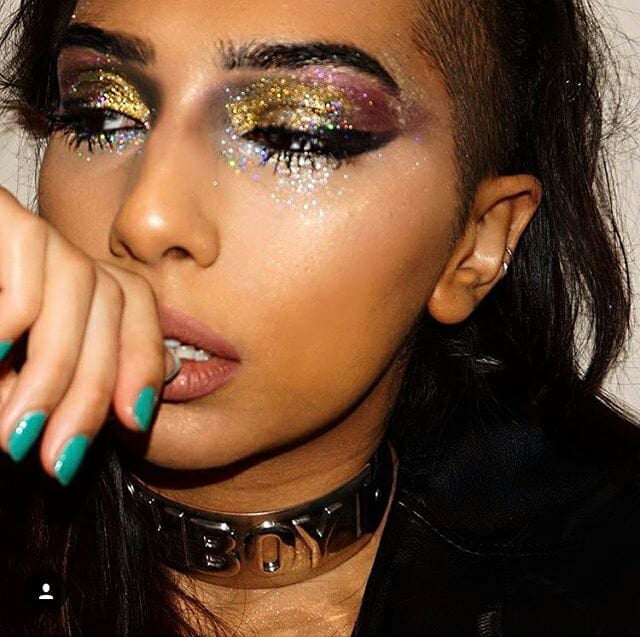 What started as a survival mechanism for Ghauri (at 23, they also came out as queer) became a gift. They had already been doing their friends' makeup for fun, and with their mother's encouragement, Ghauri decided to pursue the hobby professionally.
"I noticed that queer and trans people would get laughed out of hairdressers and nail salons," Ghauri tells the Daily Dot. "It's a really deep thing when you feel ugly or rejected. I just wanted to help other people."
I understand Ghauri's experience well: As an Indonesian-American who has not always felt comfortable in the gender I was assigned at birth, I have spent hundreds of dollars and countless hours trying to find ways to mask the dark circles under my eyes. People like Ghauri and I rarely, if ever, see a person who looks like them in beauty magazines or campaigns. Watching Ghauri and other non-binary people of color in makeup tutorials on YouTube and Instagram is not just refreshing; it's radical.
…
Social media has provided platforms for queer people of color to infiltrate an otherwise-heavily-guarded beauty industry. Mainstream beauty campaigns have mostly followed a simple but rigid formula: slim white woman with Western features. This is still the standard bearer for what "beautiful" looks like. (Thankfully, that trend is slowly dying out, with companies like Fenty Beauty now offering an extended range of foundation shades to accommodate more people.) The resulting message is that anything outside of that narrow definition has to be augmented or hidden by the makeup being advertised.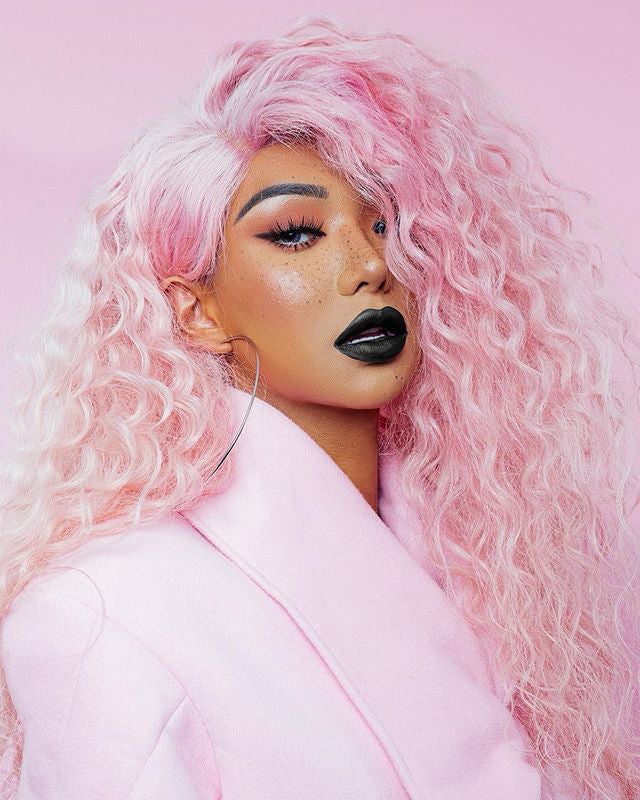 Then, YouTube evolved into a populist platform where anyone could gain a following for their skills with a makeup brush. Over the past decade, LGBTQ influencers like Gigi Gorgeous, Nikita Dragun, Manny MUA, Bretman Rock, and Patrick Starrr have reimagined the beauty industry's strict adherence to a single, repressive definition of femininity. Starrr spreads a message of body positivity and self-love, while Rock's audacious, in-your-face attitude—"First order of business, my makeup is poppin', bitch"—earned him a legion of loyal fans. It's his sense of humor that vaults him to icon status, though: In his typical self-deprecating, almost goofball style, he twerks, watches movies with his niece Cleo, gets locked out his house, and then scales the walls to get back in.
Meanwhile, his close friend Dragun, who is a trans woman, shared every aspect of her transition with Kardashian-like openness on her channel. From her breast implants to facial reconstructive surgery to discussing trans issues with her parents, Dragun's YouTube channel became a public diary where she could be vulnerable and intimate about her personal journey, while at the same time having explicit and unapologetic conversations about the sometimes difficult trials that trans folks endure to feel at home in their bodies. (Not to mention, she's a fashion icon.) All three of these people are Southeast Asian. The only Southeast Asian model I can name off the top of my head who has appeared in a mainstream beauty campaign is Neelam Gill; she became a face of L'Oreal Paris UK in 2017.
Influencers like Dragun have helped trans people, who are by no means accepted or safe in mainstream society, find a welcoming community and unprecedented public visibility. Makeup tutorials on YouTube do not make discrimination against queer and trans people disappear, but the platform has shown the public what queer people have always known: Gender is fluid and malleable. Any gender can not only possess, but celebrate, their masculine and feminine qualities. These YouTube personalities helped subvert the as-advertised purpose of makeup by using it to reveal their true selves, rather than obscure or change themselves to fit a cultural norm.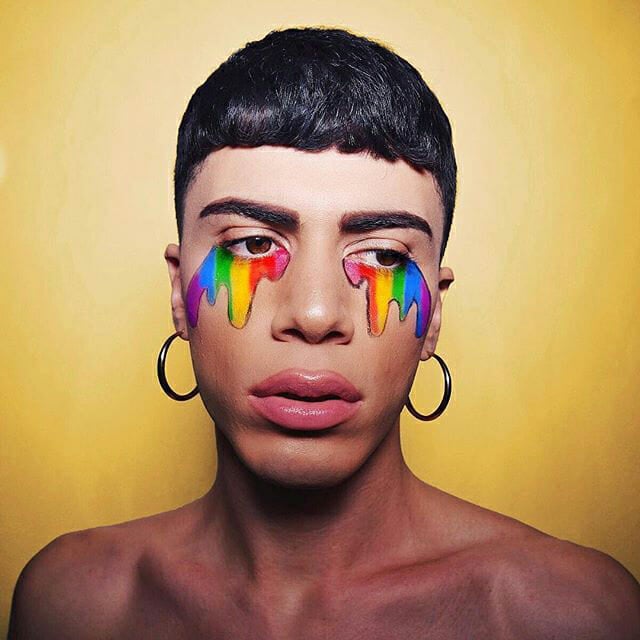 London-based musician Vittorio Franco cites YouTube stars like Gorgeous, James Charles, and Alexis Stone as his greatest beauty influences. Franco grew up in an Italian household where his parents forbade him from playing with Barbies or dressing up with makeup and jewelry. He tried to act more masculine to appease them, but by his early twenties, he realized he was queer. At the time, he had no idea how to express his newfound identity. So he turned to YouTube.
Watching these YouTube stars, Franco suddenly felt seen: There were other people out there who wanted to be free to explore many identities and gender expressions. He began wearing bright lipstick; electric blue is his favorite.
Over the past year, Franco has become an influencer in his own right on Instagram. His Instagram posts are filled with people gushing over his makeup skills with comments like "Living for this!" Franco says he uses Instagram to make sure other young people in his position understand that they are not alone in their interests and identities.
In that way, Instagram, perhaps even more than YouTube, is a medium to make a bold statement. In a single image, queer and trans people can be visible in a world that wants to ignore or erase their very existence.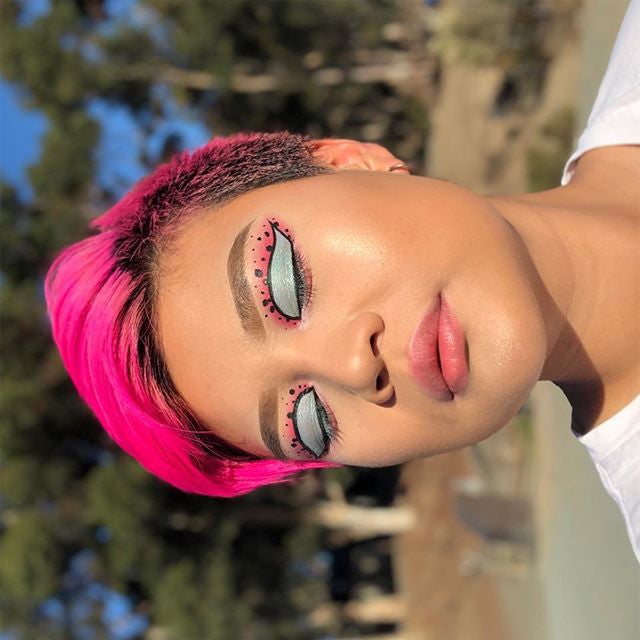 For J, an Asian non-binary trans makeup artist on Instagram, makeup expresses the nuance in not being tied to a binary.
When they first decided to seriously experiment with makeup, J recalls trying to follow YouTube tutorials and not understanding why, despite their best efforts, their makeup never looked as perfect as it did in the video.
"I was like, 'What am I doing wrong?'" J remembers thinking. "I just didn't realize at the time that I was only watching white YouTubers."
It wasn't until they began following personalities like Michelle Phan that they began to learn the techniques that work for Asian features. However, J soon came across another problem: People wanted to police how J expressed their femininity, too.
"Some people were saying, 'How are you trans if you look like a girl?' It's frustrating," they tell the Daily Dot. "It made me dysphoric. Should I present differently for people to believe me and for me to be valid?"
In the end, those comments only made J want to wear makeup even more. They began creating neon-hued, cat-eye looks that quickly gained them a nearly 9,000-person following. J "weaponized" makeup; it became a tool for them to prove that femininity takes many forms.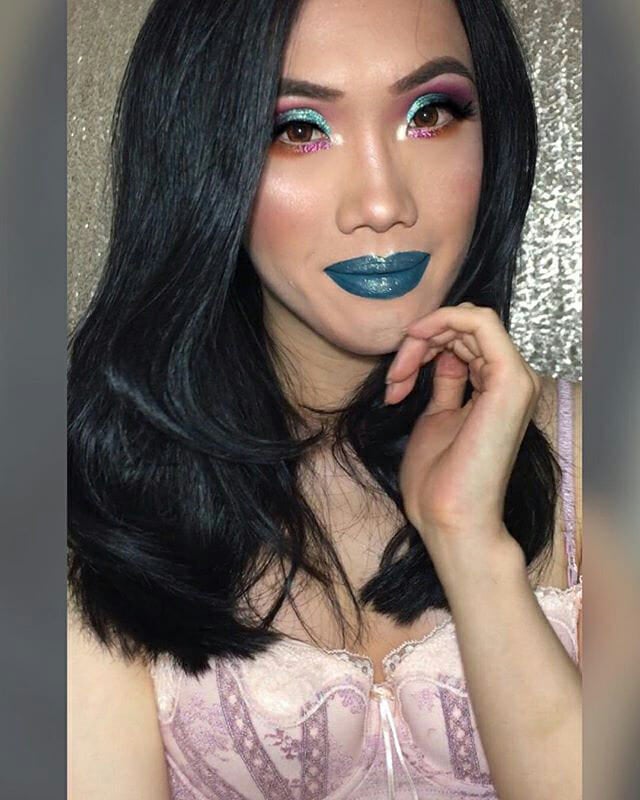 "People think that these male beauty [vloggers] 'make people gay' or 'make men suddenly want to become women,' which is completely false," Jacinda Lacroix, a gender-fluid performer from Hong Kong, tells the Daily Dot.
READ MORE: 
Instead, Lacroix thinks that makeup simply helps people of all backgrounds discover and explore their feminine side, which is often concealed because of the social stigma created by an "ignorant and unaccepting society."
"It's uncomfortable to step out of your comfort zone, but you have to face the facts," she says. "Being open and public on social media with makeup tells people that we exist and we're human just like you."
…
While it has become more socially acceptable for gay men to wear makeup—James Charles, for instance, modeled for CoverGirl, while Manny MUA has collaborated with Ofra Cosmetics—few mainstream beauty companies hire women of color in campaigns and commercials. Even fewer cast queer or nonbinary people of color. And nearly none take the creative risks with makeup that Ghauri and J do, like try out white eyeliner, pink brows, or super-glittery lids. For them, makeup is fun, adventurous, a medium ripe for experimentation, not conformity. That's why it's important for them to create a space for themselves where a full spectrum of their bodies and identities are welcome, without having to ask for permission from the establishment.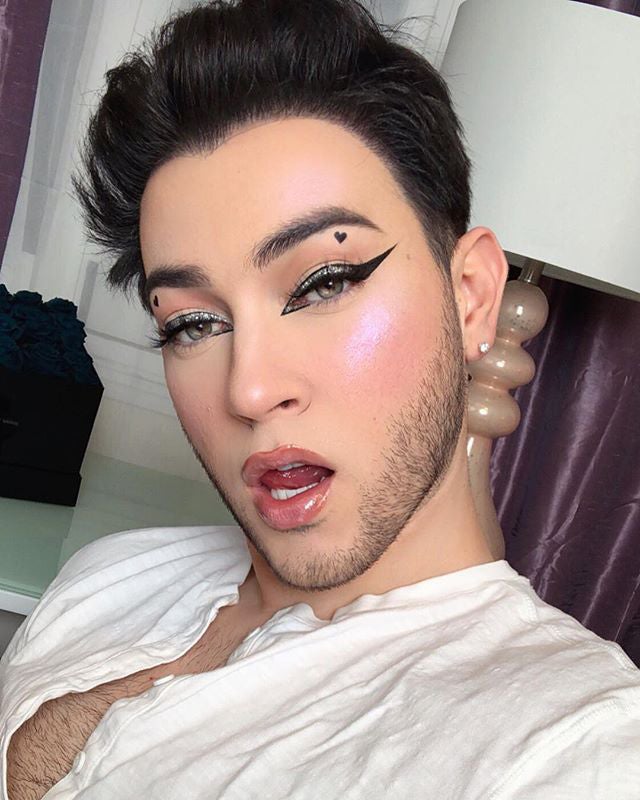 "Trans and queer people have been told to shut up and stay hidden," J says. "It's so powerful to walk out of the house and be like, 'Yeah, I'm queer. And it looks good.' They can't ignore you anymore. That's the coolest part about makeup."
Such acts of confidence and subversion also inspire younger members of the LGBTQ community who are only beginning to understand their identities. Stumbling across pages where other queer people are open about their love of makeup can be almost life-saving.
"People message me to tell me that I showed them how to express who they truly are," Lacroix says. "It really can help people who are afraid or even hate themselves for being different. They might learn to accept themselves and understand that it is completely normal to have an interest that does not coincide with man-made [gender] constructs."
Ghauri, now a professional makeup artist, knows this firsthand. Though they first experimented with makeup to hide what they saw as "flaws," today, they are helping queer and trans people make transforming their appearance less stressful and more fun. Ghauri says they love watching clients who had never worn makeup look in the mirror during a session: Their posture changes, they say they feel "euphoric" and "totally beautiful" for the first time in their lives. They say they don't want to hide anymore. "Makeup gives you more control," Ghauri says.
Lacroix takes it one step further. "For queer people, makeup is not just about an everyday routine or art. It's more than that," she says. "I think wearing makeup for queer people is more about a sense of freedom. It's the beginning of truly understanding the complexity of our identities."