Last month, Ken and his friends received a reality-infused makeover, making the dolls look less like plastic gods and more like the men they're supposed to emulate. Between three different body types, seven skin colors, and nine hairstyles, Ken is putting down fewer "Come on Barbie, let's go party" vibes and is instead looking like a guy we might encounter (for better or worse) on Tinder or even at a women's march.
Ken's latest evolution might be his most dramatic makeover yet, but it certainly isn't the most iconic or buzzworthy. Here are some interesting facts about Ken before he got the license to rock a man bun.
20 fabulous facts about the Ken doll
1) Ken's last name is Carson
The Ken doll was first introduced in 1961 and was named after the son of Ruth and Elliot Handler, the inventors of the Barbie doll (incestuously enough, Barbie was also named after the couple's daughter :eyes emoji:). According to fansite Keeping Ken, Barbie's full name is Barbara Millicent Roberts. Ken, however, was never given a middle name.
2) The real Ken never had a real job
Ken Handler ended up marrying a woman named Suzie. The couple lived in Manhattan together with their three kids, where Ken wrote music and plays for fun. He died at the age of 50 in 1994 on the afternoon of his daughter's wedding.

READ MORE:
3) It took Ken 11 years to get "real" hair…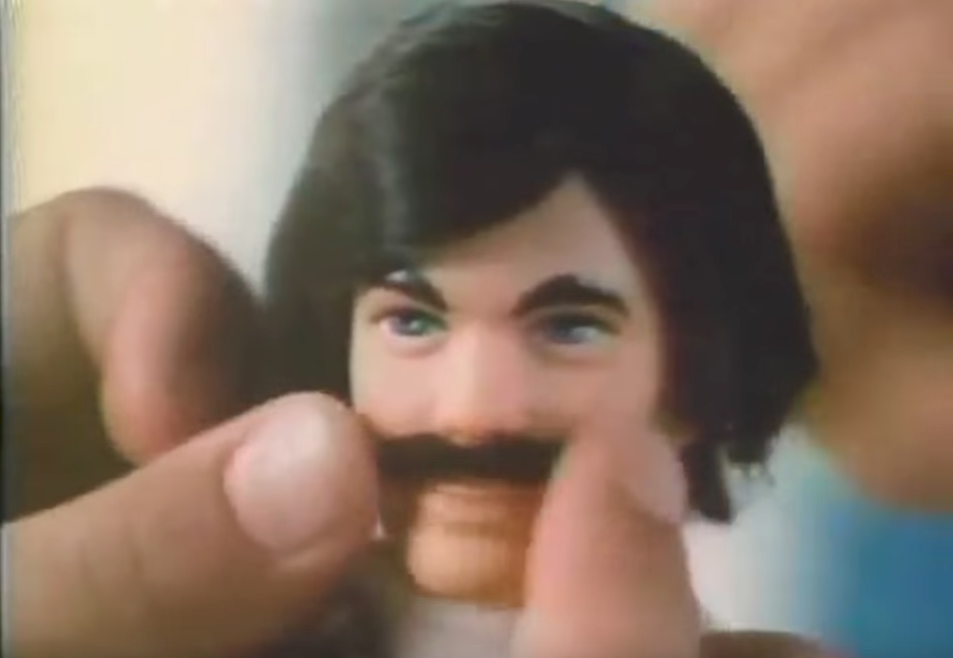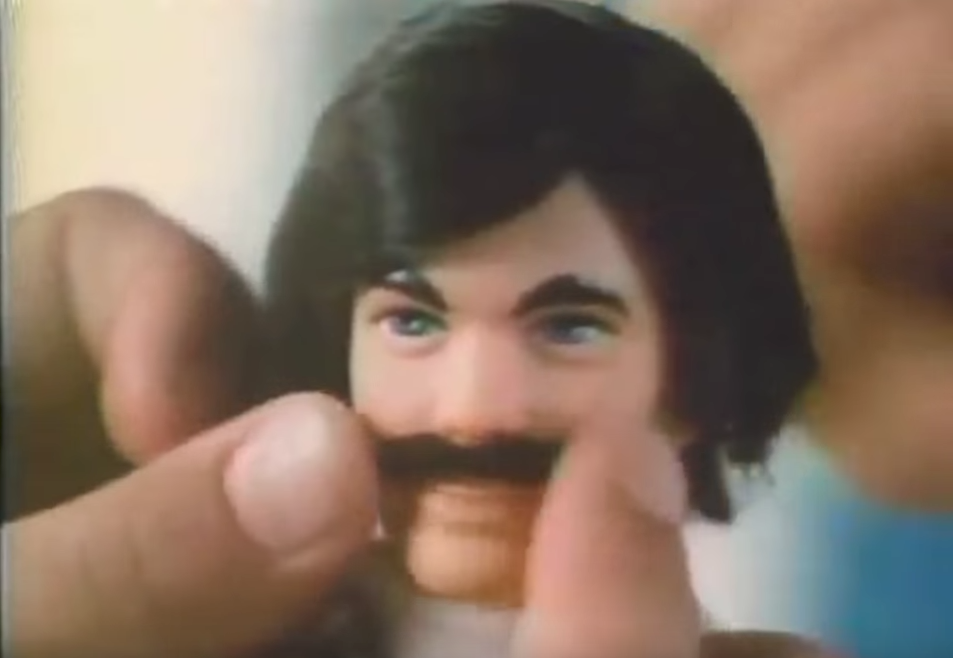 4) And a real beard 
Meanwhile, Shaving Fun Ken allowed kids to lather up Ken's face and "shave" his beard, making it disappear with warm water.
5) Ken's most common career is "Beach Bum" 
Though Ken has had many professions, "Beach Bum" has been reproduced into 12 different versions between 1962 and 2002. Following in a tie for second are "Escort," and "Tourist," with 10 boxed dolls each. And at third is "Prince," with six boxed dolls.

6) In the '90s, the country went wild when a woman and her daughter discovered a My First Ken doll dressed in Barbie clothes on the shelves of a Toys "R" Us
The Ken doll in question was dressed in a purple tank top with a lace-covered polka-dotted skirt. After Toys "R" Us employees at the Florida store confirmed the box's seal hadn't been tampered with, Carina Guillot and her 12-year-old daughter Jocelyn took the doll home. "Cross Dressing Ken," as the media dubbed the doll, went viral (by '90s standards) and was featured on The Arsenio Hall Show and The Joan Rivers Show, and in Fortune and Newsweek. Collectors offered Guillot up to $4,000 for the doll, but the family didn't bite. Meanwhile, Mattel had no explanation for the doll's dressings other than it being a "production error."
As it turns out, a Toys "R" Us evening employee admitted to redressing Ken and said he carefully resealed the box as to give the appearance the doll arrived that way; it was a common store prank, the employee explained. The employee was fired four days after confessing.
"We always did crazy things like that," Ron Zero told the Associated Press at the time. "We'd hang dolls in the aisle or put Ken and Barbie in the Barbie house with Barbie spanking Ken."
7) Earring Magic Ken is the most profitable Mattel doll in history—but only because he became an unlikely gay icon
The Ken doll, which was released in 1993 as an accessory character to Earring Magic Barbie, came with a purple vest, a pink mesh shirt, a pierced left ear, and two "hoop" accessories—one worn as a pendant, and another attached to Ken's vest. Mattel's marketing and communication manager explained the company had surveyed young girls to see if Barbie should get a new boyfriend, or stick with Ken. Girls voiced that they wanted Ken to stay, but thought he should be more cool.
So, as columnist Dan Savage put it for Seattle's Stranger at the time, Mattel went after what's "cool" and capitalized off gay culture—or the "homoerotic fashions and imagery" girls watched on MTV, from Madonna's dancers to raves. The most telling detail? Ken's "necklace charm holder hoops" looked a lot like cock rings.
"On closer inspection, Ken's entire Earring Magic outfit turns out to be three-year-old rave wear. A purple faux-leather Gaultier vest, a straight-out-of-International Male purple mesh shirt, black jeans, and shoes. It would seem Mattel's crack Ken-redesign team spent a weekend in LA or New York dashing from rave to rave, taking notes and Polaroids," Savage wrote at the time.
While Earring Magic Ken became Mattel's best-selling Ken doll of all time, much thanks to gay customers purchasing the unintentional gay icon, Mattel discontinued the doll and recalled the rest.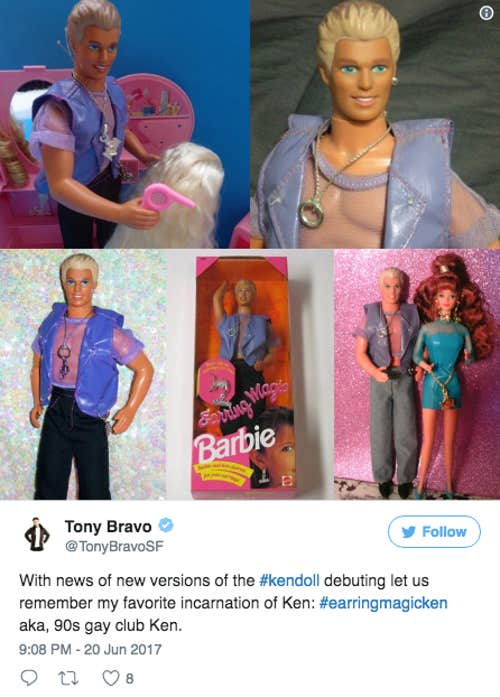 8) Ken and Barbie actually broke up in 2004
All good things must come to an end. After 43 years, Ken and his beloved Barbie parted ways. If that wasn't a big enough bummer for Barbie fans, mere months later Barbie began dating an Australian surfer doll named Blaine.
To promote their new Cali Girl doll line, Mattel had Barbie stans vote on Barbie's next suitor in an online poll. Barbie could get back together with Ken, nature boy Steven, adventurous Steven, Blaine the Aussie, or stay single. After more than a million votes, Blaine won the throne as Barbie's new beau.
9) However, the dolls got back together again in 2011, just in time for their 50th anniversary
This time, Mattel used Facebook, Twitter, Foursquare, and YouTube to launch an ad campaign for Ken's efforts to win Barbie back. Social media accounts for the dolls updated fans on Ken's grand gestures and Barbie's indecision with getting back with her longtime boyfriend.
Mattel even launched a web series on Hulu called Genuine Ken, where eight men competed to become "the Great American Boyfriend."
How serendipitous and not totally planned!
10) Last year, a Sacramento bakery was overwhelmed with orders after a cake of a bejeweled Ken in a pink dress went viral
The cake was originally thought to be a transgender Ken or a political cake, but someone who attended the party where it was served said the party host was neither transgender nor attempting to make a political statement.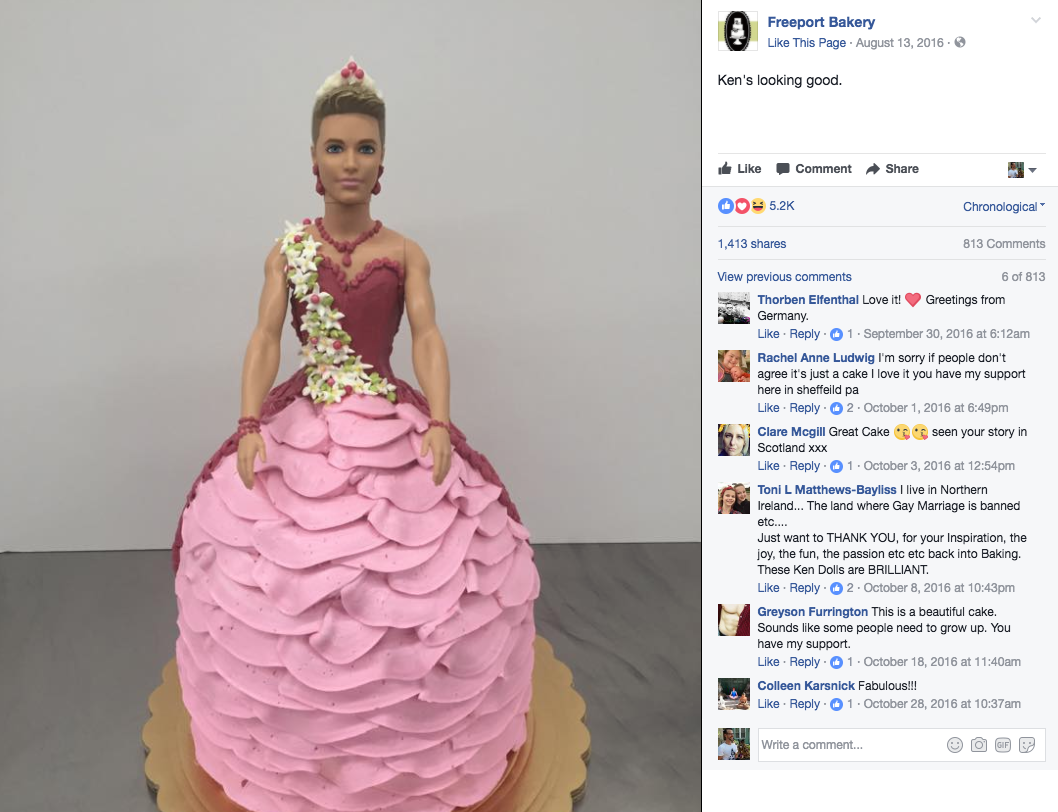 Today, Freeport Bakery frequently pays homage to their original Ken cake.
11) Several men have tried, to varying degrees of success, to become "real-life Ken dolls"
Quentin Dehar, a 24-year-old France TV personality who aspires to be like Ken, broke up with his Barbie-like girlfriend Anastasia Reskoss in February after she dyed her blonde mane brown. The two allegedly began dating in 2013 over their shared interest in the doll couple and even had matching Ken and Barbie cars.
https://twitter.com/DeharQuentin/status/681486060984102914
Rodrigo Alves, a 33-year-old flight attendant from the U.K., has spent more than $400K to achieve his Ken-like look and has allegedly insured his body for $1 million.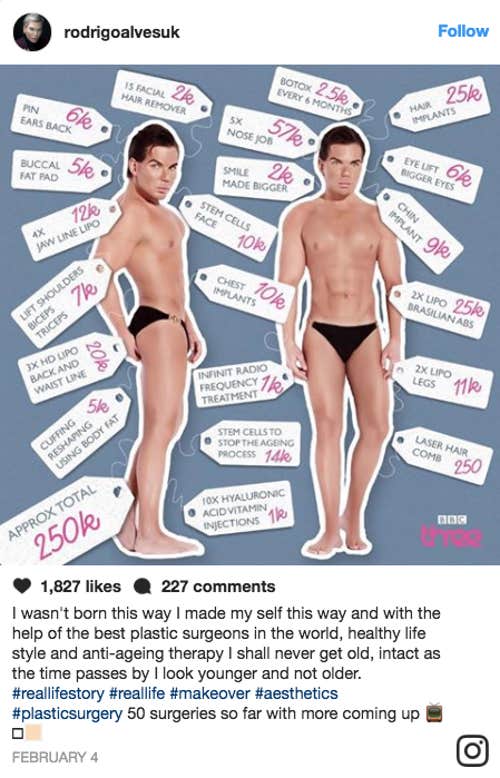 He had his first nose job four days after his 18th birthday and has since spent reported millions on plastic surgery. However, many of his procedures, including custom back implants, shoulder implants, and multiple nose jobs, have been paid for by male fans. Jedlica is a subject in the upcoming, aptly titled documentary The Human Ken Doll.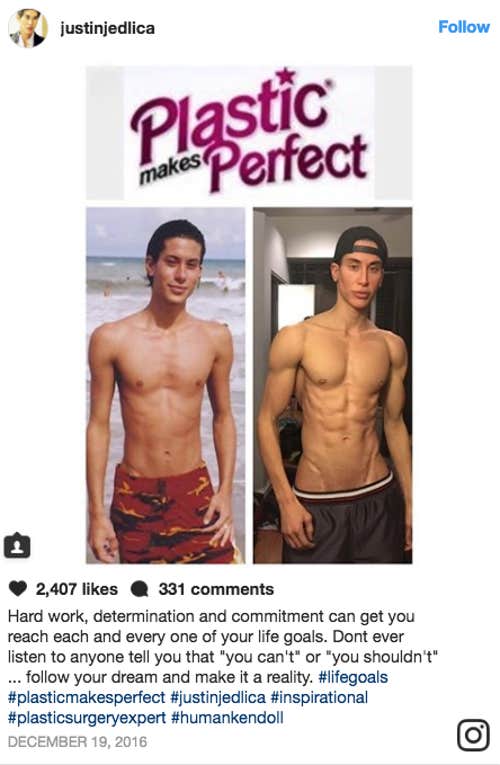 Jedlica and Alves are set to star in a plastic surgery reality show called Plastics of Hollywood, where they and 10 other "human dolls" will vie for careers under the world's first agency for the most body-modified personalities. They've also both been featured on E! Entertainment's Botched.
12) Before the newest Ken dolls were even announced, their likeness was imagined—and created —by other artists.
Fashion shopping site Lyst introduced a series of hip, balding, and dad-bod-esque Ken dolls. Meanwhile, realistic-doll-maker Lammily created a Ken doll equivalent with the average proportions of an IRL male 19-year-old.
In a true testament to modern times, these updated Ken dolls are now the butt of your new favorite ex-boyfriend (and ex-girlfriend) memes. Here's to hoping that Ken will continue to provide us more awkward cultural moments for the next 50 years.
13) The "Palm Beach Sugar's Daddy Ken," turned heads for its suggestive name
In 2009, Mattel released the doll for pre-order as part of its exclusive Gold Label Collection, a collectible line for adults. For $69.99 collectors (or, you know, iconic-doll fanatics) could be the proud owners of this chic Floridian Ken doll, complete a stunning lime green-decorated sport coat, pastel pink button down, and white pants and loafers. His accessories also featured sandals, sunglasses, and swim trunks.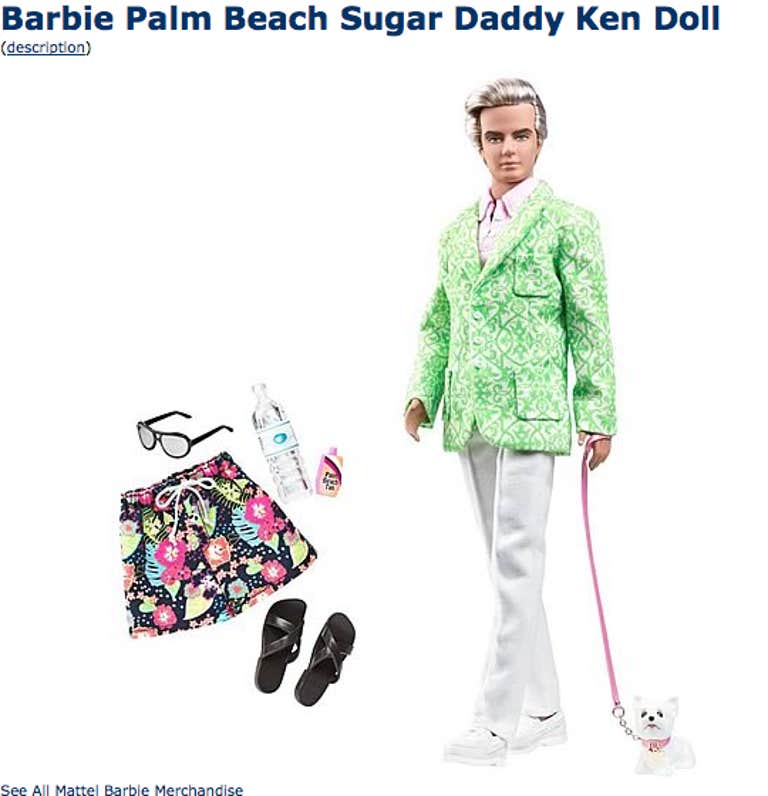 "At the end of the day, this collection is targeted toward adults," a spokesperson told ABC News at the time. "While the name of the doll does refer back to the dog, I think people are going to interpret it as they want to interpret it."
14) The Ken doll from Toy Story 3 was actually based on "Animal Lovin' Ken"
In the 2010 film Toy Story 3, Ken, who is voiced by Michael Keaton, wasn't just a fictional doll.
"Grab your binoculars and join Ken for a safari! A swinging bachelor who's always on the lookout for fun, Ken sports the perfect outfit for his eco-adventure: light blue shorts and a leopard-print shirt with short sleeves sure to keep him cool in the hot sun," boast the doll's description.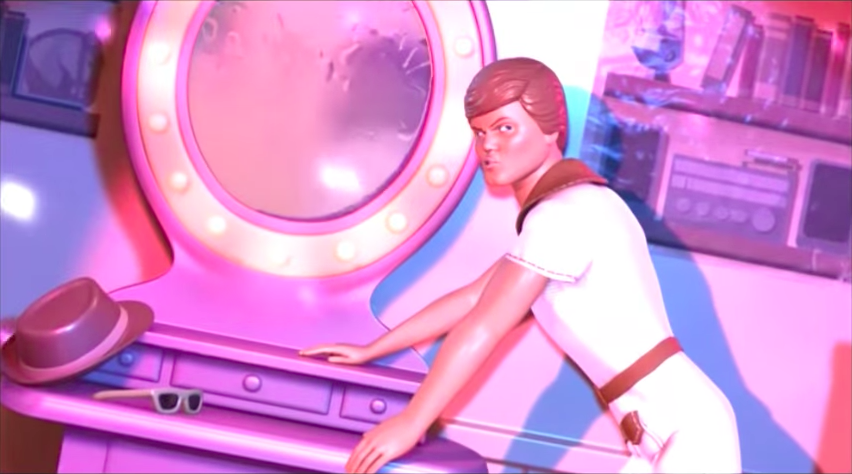 Despite the iconic blue cheetah-print shirt, matching ascot, and shorts, Ken doesn't shy away from his Dream House closet in the film, and wears 21 different outfits throughout the film.
15) The real-life Ken also thought very little of the Barbie doll, and felt she had the wrong values
"She should care about more than going to the beach…She should care about poverty and suffering in the world. I wish she would work in a soup kitchen, but then she would never sell," Handler told writer Denise Gellene for People magazine and the Los Angeles Times in 1989.
He never bought his two daughters Barbie or Ken dolls, but not because he was so morally against them—they just never asked for the dolls, and always preferred stuffed animals.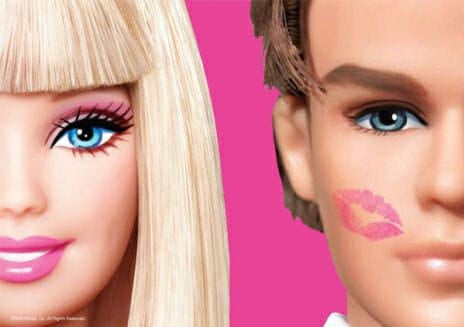 "Ken is Malibu," Handler said. "He goes to the beach and surfs. He is all these perfect American things. I was the kind of kid who played piano and went to movies with subtitles. I was a nerd—a real nerd. All the girls thought I was a jerk."
16) The Mattel designer behind the Ken doll also designed Barbie, Chatty Cathy, and Hot Wheels
While Ruth and Elliot Handler might have named Ken after their son, Jack Ryan, Mattel's chief designer and self-described "third-in-charge" through the '50s and '60s, is credited with designing the Ken doll other famous Mattel toys. Ryan, an engineer who began his career developing missiles for the Pentagon, developed these Mattel toys and built a "sordid" life filled with parties and orgies out of the hundreds of thousands of dollars he earned as a result.
In his 2009 book Toy Monster, which details Mattel's hidden greed and public controversy, novelist Jerry Oppenheimer refers to Ryan as the "Father of Barbie." (However, Ryan and Ruth Handler fought over Barbie's credits for decades, from the doll's physical creation, to her name—Handler continued to argue Ryan's role in Barbie's success even after his death in 1991.)
Oppenheimer's book expands on the exciting lifestyle led by Ken's creator, but perhaps the juiciest of descriptions comes from actress Zsa Zsa Gabor, Ryan's second wife: "My knight in shining armor, the inhabitant of a fairy-tale castle, Jack…was a full-blown seventies-style swinger into wife-swapping and sundry sexual pursuits as a way of life.
17) The real Ken Handler may have died from complications resulting from AIDS.
Handler's mother Ruth put aside her shock help her son seek "natural" AIDS treatment, but the syndrome was far too developed to be treatable, according to Ken's primary doctor, Dr. Pamela Harris. 
Oppenheimer also wrote that the real-life Ken Handler grew up "embarrassed and humiliated by having an anatomically incorrect boy doll named after him [with]…no hint of genitalia." 
In her novel Barbie and Ruth, author Robin Gerber repeated these allegations, writing that Handler had once denounced the dolls to his parents in a letter he had written in 1970. Handler argued that the dolls were "cow-towing [sic] to those who can't accept the issue of their own sexuality." Gerber wrote that Handler also told Harris, the doctor, that believed he had contracted the disease from another man.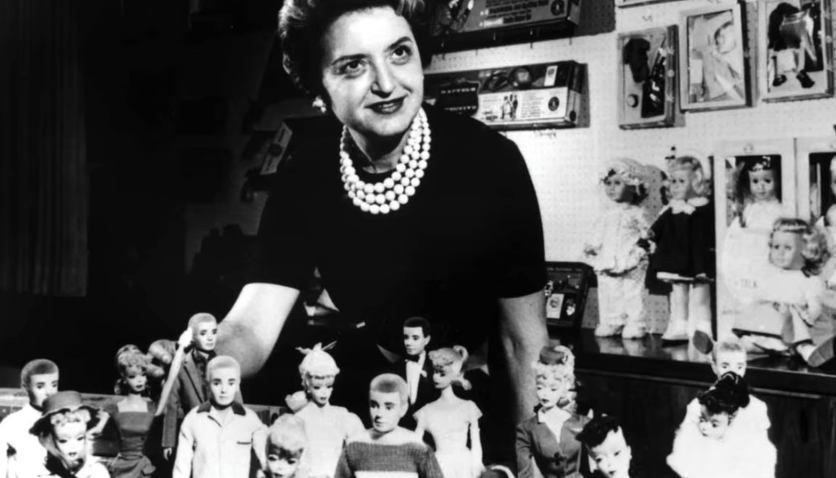 When Ken died, the Handlers allegedly told friends and Mattel associates various stories, never revealing the true cause of death. Gerber wrote that both the New York Times and Los Angeles Times reported that Handler died of encephalitis, or of a brain tumor, in his mother's obituary eight years later.
"I don't think any one of us knew what the truth was," Derek Gable, Mattel's Director of Preliminary Design for male action figures, told Oppenheimer. "Ruth and Elliot never talked about it."
18) Ken's incorrect male anatomy was a non-decision made by the toy's male designers
According to Gerber, Ruth Handler said the design team lacked "the guts" to give Ken even a "suggestion" of a penis, though she argued there should have at least been a bulge to suggest realism. The research and design team, however, made the decision in respect to whether Ken's "physique" would help or hurt the company.
"They decided it was better for Mattel if he was neutered, and that was the end of it," Marvin Barab, Mattel's manager of packaging and graphics at the time, told Gerber.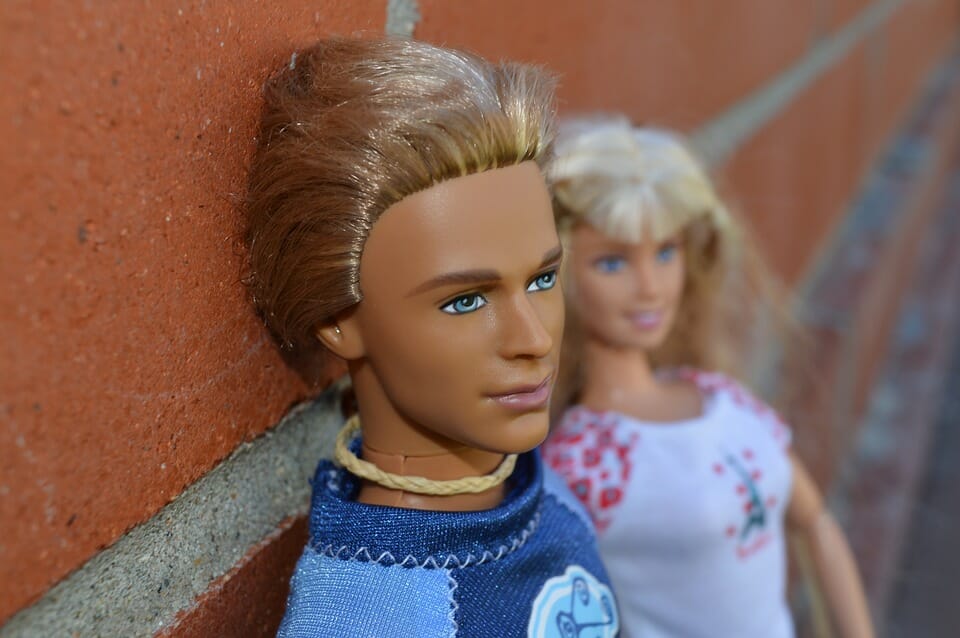 19) Barbie evolved into a feminist hero—but Ken's gender roles stayed put
While Mattel has attempted to make Barbie somewhat of a feminist hero with her myriad occupations, some of her Ken companions seem to solidify the gendered double standards impressed upon children.
In the Good, the Bad, and the Barbie: a Doll's History and Her Impact on Us by Tanya Lee Stone, Stone's points to 1965's Slumber Party Barbie. The doll included a miniature scale set to 110 pounds (um, holy s**t) and a book titled How to Lose Weight that advised, "Don't eat!" Slumber Party Ken, however, came with a glass of milk and a bedtime snack. The doll's 1966 reissue came without the scale. In the 2006 reissue, the title of the book was removed, as was a silhouette of Barbie stepping onto a scale.
20) There are an estimated 247 versions of the Ken Doll
Of all 247, the rarest and most valuable of the Ken Dolls are the collectible Dressed Box Kens. According to Collectors Week, the Dressed Box Kens were released between 1963 and 1965, with 14 different dolls in the series. (One of them, Ken Arabian Nights, came with a turban and an oil lamp.) However, the first collector-targeted Ken doll was the Hollywood Legends Ken from 1994, featuring Ken as Rhett Butler from Gone With the Wind. Other collectible Kens include those from the Wizard of Oz series, and Barbie's Coca-Cola series.