After a weekend of protests across the U.S., celebrities including Ariana Grande, Tinashe, J. Cole posted their feelings on social media or joined people in the streets to protest. Reggaeton singer Karol G, however, chose to post a photo of her dog with a caption was decried as insensitive.
In a now-deleted tweet, the Colombian artist shared a photo of her black and white puppy and captioned the photo. "El ejemplo perfecto de que el Blanco y el Negro JUNTOS se ven hermosos," she wrote. The comment translates in English to: "The perfect example that Black and White TOGETHER look beautiful."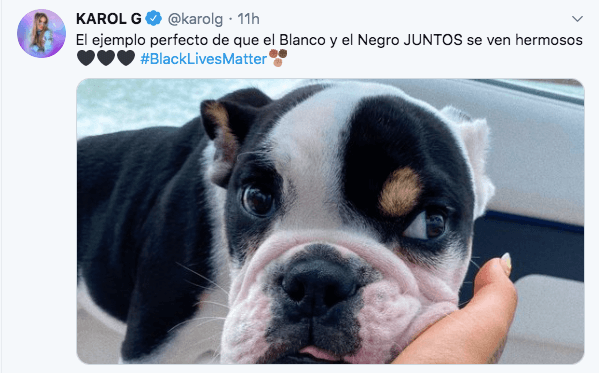 "Karol G posted a pic of her dog thinking she'll end racism," one fan posted, "Her and Anuel deserve [each] [other] for having worms for brains." Karol G's boyfriend, Latin singer Anuel AA, made homophobic comments when rapper Bad Bunny dressed up in drag for his "Yo Perreo Sola" video.
Karol G also faced backlash for a tweet she posted Sunday that said, "I don't know who came up with the idea of dividing society by 'races.' You don't have a white friend, a black cousin or a Caucasian partner. You have a friend, a cousin and a partner. Fuck that," with the middle finger emoji.
Followers reminded the singer that she "speaks from a super privileged position." "Hablas de una posición súper privilegiada," one fan's message said in Spanish. "La raza es una construcción de sociedad ya ok pero tiene consecuencias mortales para la gente negra que está siendo asesinada POR SU RAZA. Ahora no es el tiempo para esa mierda de kumbayah todos somos humanos."
The fan's message translates to: "Race is a societal construct, yeah OK. But it has deadly consequences for black people who are being killed FOR THEIR RACE. Now is not the time for that kumbaya shit, we are all human."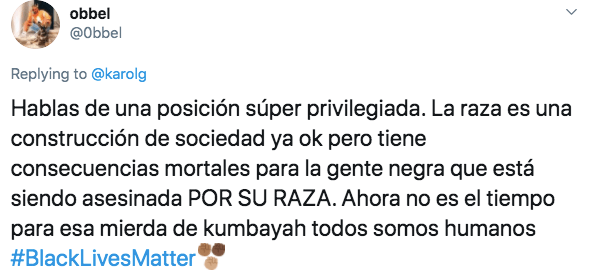 Karol G apologized for her comments on Twitter in English and Spanish. "I was wrong and I apologize," the singer wrote. "I want to make clear that my intentions were right in the photos I posted earlier. I meant to say that racism is terrible and that I cannot begin to understand it."
She went on to vocalize her support for the Black Lives Matter movement and said she is learning and doing what she can to promote the need for change.
Monday marks the sixth day of the protests opposing the death of George Floyd and police brutality.
READ MORE: