A video has surfaced showing a white woman dubbed as Vermont Karen screaming "Black lives don't matter to me!" among other racist speech at a Vermont rally.
Twitter user @davenewworld_2 shared the video in a tweet on Sunday evening that has since garnered over 275,000 views. 
The woman is seen in a pink "Vermont" shirt and holding a pink placard. One side of the placard reads "God Bless our Police Force." The other side reads, "BLM = Terrorist organization."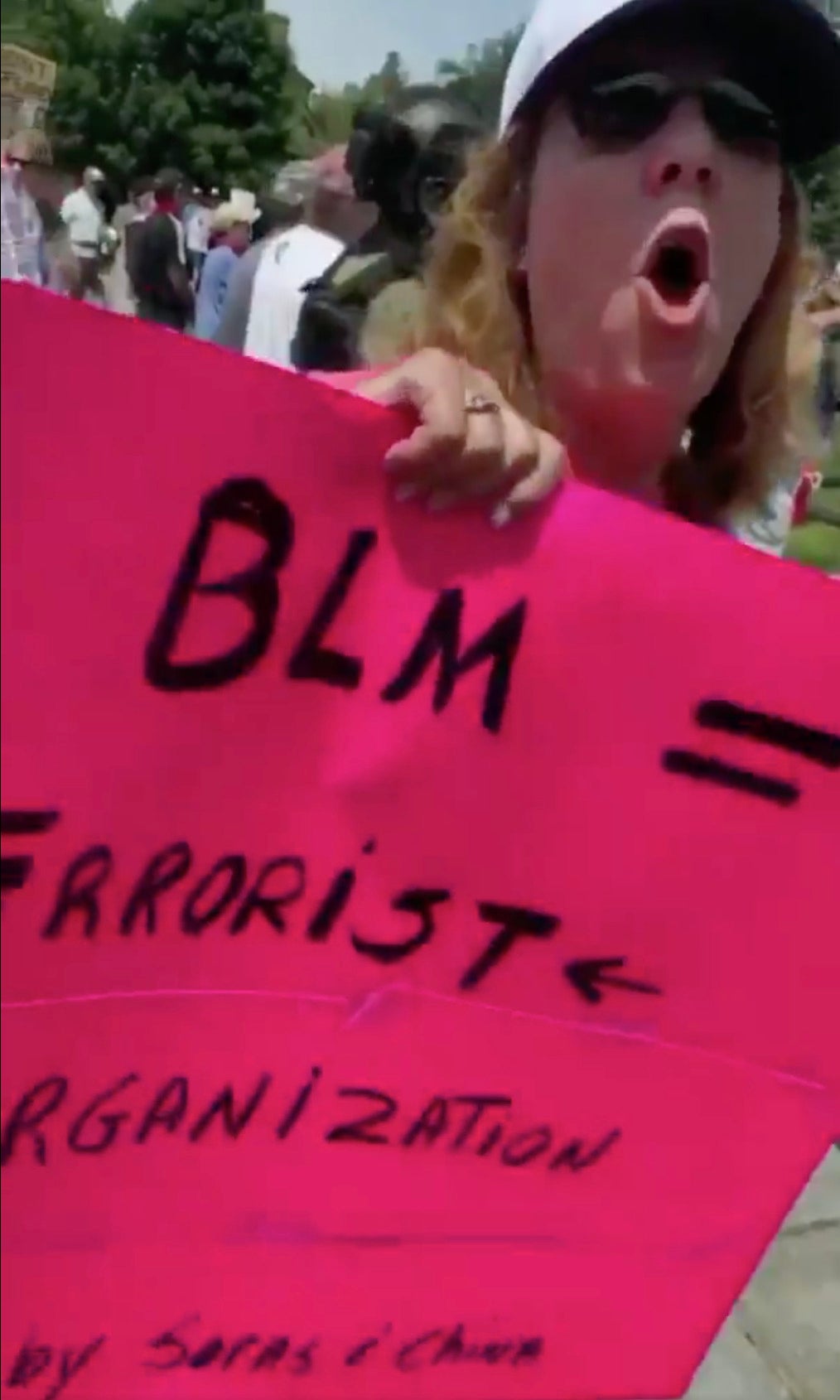 The incident took place at a pro-police rally in Montpelier, Vermont, on Saturday, where protesters "clashed" with counter-protesters, according to nonprofit watchdog news organization VTDigger.
The protest reportedly had about 250 pro-police supporters who shared stories and slogans in support of the police force. It was met with about 150 Black Lives Matter supporters who arrived to counter-protest.
The video, which is less than a minute long, begins with a man in a mask saying something at protesters that is inaudible.
The woman comes over, screaming, "Black lives—Black lives don't matter at all to me!" She is not wearing a mask as she screams at the protesters who appear to be standing in close proximity.
She turns to leave but then turns back and screams, with her finger pointed toward someone not visible in the camera: "White lives matter … You've had everything … Free fucking everything!" 
"Blacks have been coddled for years," she continues, her finger pointing towards different people not seen in the camera. "Free college, free everything!"
While the particular incident was reported at the rally, the "Black lives don't matter" rhetoric—an antidote to the Black Lives Matter movement—is not new. The Daily Dot has previously marked dozens of Instagram pages with the same name that have remained on the platform for months, featuring content that is explicitly anti-Black and/or in support of white supremacy.
In the Vermont video, the woman brandishes her pink placard and continues with her tirade. "Your test scores are higher!" she yells. "Everything! Free college, free everything!"
She continues: "And it's still not enough and never will be. Never will be! Black lives don't fucking matter to me!"
"So you're saying you're a white supremacist that's what I'm hearing," says the person behind the camera. "Sorry, what's your name?" 
The white woman then turns around and walks away.
"Can I get your name, please?" the woman behind the camera calls after her. 
Neither the identity of the woman nor the person who recorded the video were publicly available at the time of publication. The Daily Dot has reached out to the user who posted the video on Twitter and will update the story if they respond. 
---
More Karen News