Beauty YouTuber James Charles has denied the accusation that he sent an unsolicited nude to a straight male TikToker.
TikToker Hussein Beydoun, known on the platform as huss.bey, posted a series of videos alleging Charles that added him on Snapchat. After a few days of chatting, Charles allegedly asked Beydoun if he was gay, and when Beydoun said no, Charles left him on open for 10 hours, only sending him the occasional snap after that.
"I don't blame him, because he did say he was looking for a relationship on a podcast at the time," Beydoun says.
Beydoun, in two follow-up videos, one of which appears to have been removed, goes on to allege that Charles then tried to persuade him that "it was OK" for him to experiment, even though Beydoun previously told him he isn't comfortable with that. Beydoun also posted a video that Charles allegedly sent Beydoun asking him what he was "worried for" and offering to "suck (his) d*ck."
In "part 3," Beydoun claims that he's been in contact with two other straight male TikTokers who are also allegedly on the receiving end of the same sort of behavior from Charles. "We all ended up with the same stories. Like, he tries to make you feel like it's OK to try experimenting, which is wrong," Beydoun says.
Beydoun ends the video by claiming that Charles then sent him a nude "out of the blue" and asked viewers to like the video if they want to see part four.
This isn't the first time Charles has been accused of sexually harassing or even assaulting, people. He has also faced many accusations of specifically trying to pressure or trick straight men into sexual relations with him.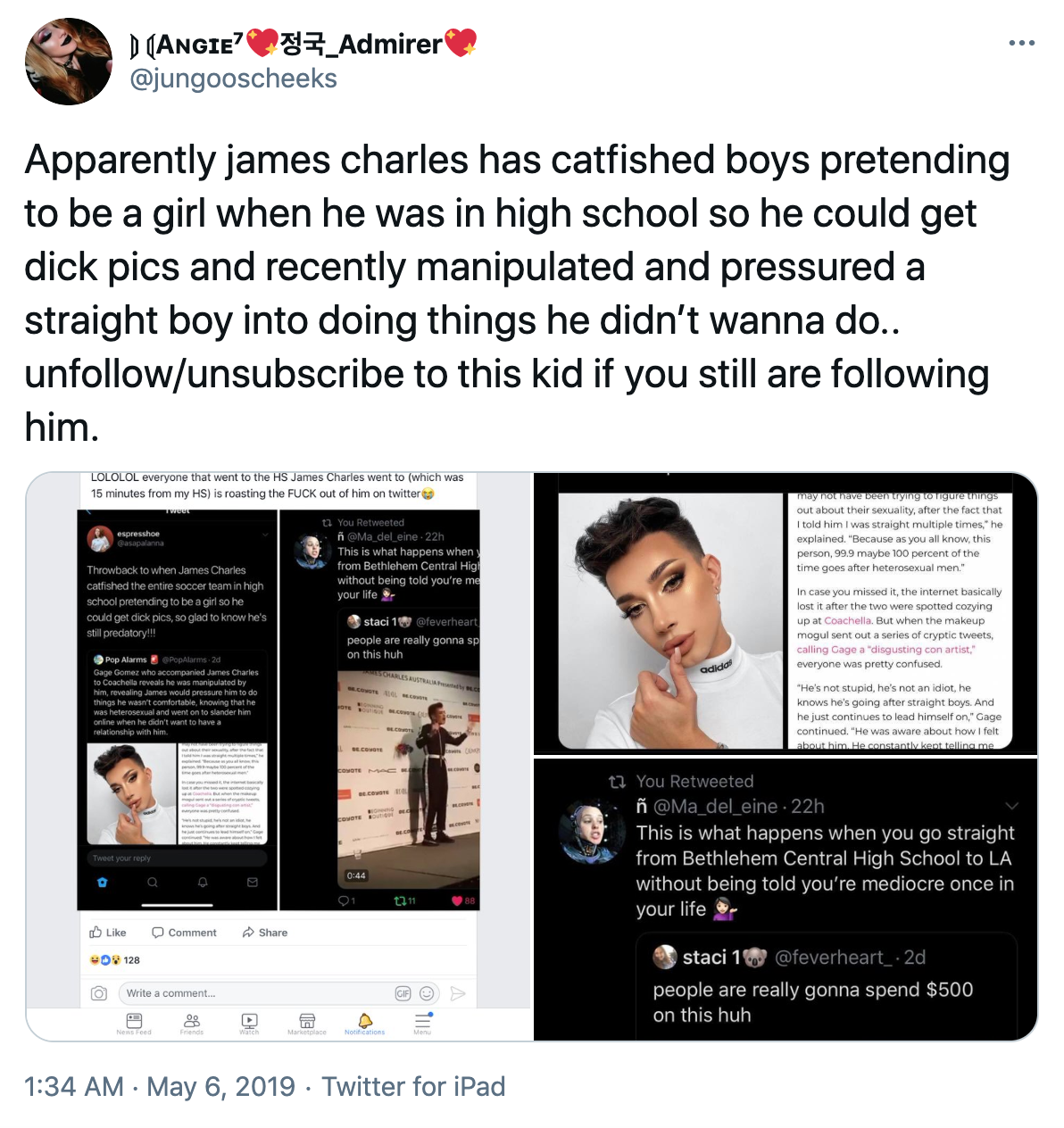 However, Charles released some receipts of his own that seem to suggest Beydoun is playing on Charles' reputation from those allegations in an attempt to use him for clout.
"Nah the guy said he was bi & wanted to experiment but was scared because of his religion so I told him that he shouldn't be. I never sent him a nude, & then stopped talking to him when he told me he was straight a week later. he's upset because I unadded him a few days ago lol," he tweeted.
Charles said he confronted Beydoun and posted screenshots of their conversation.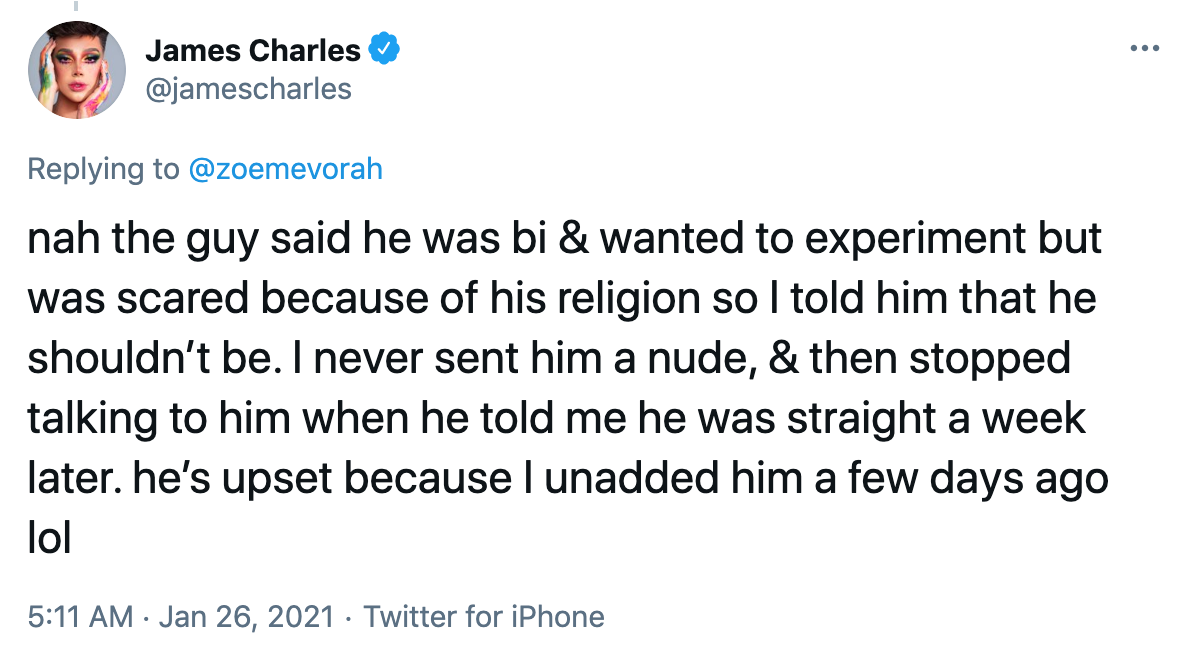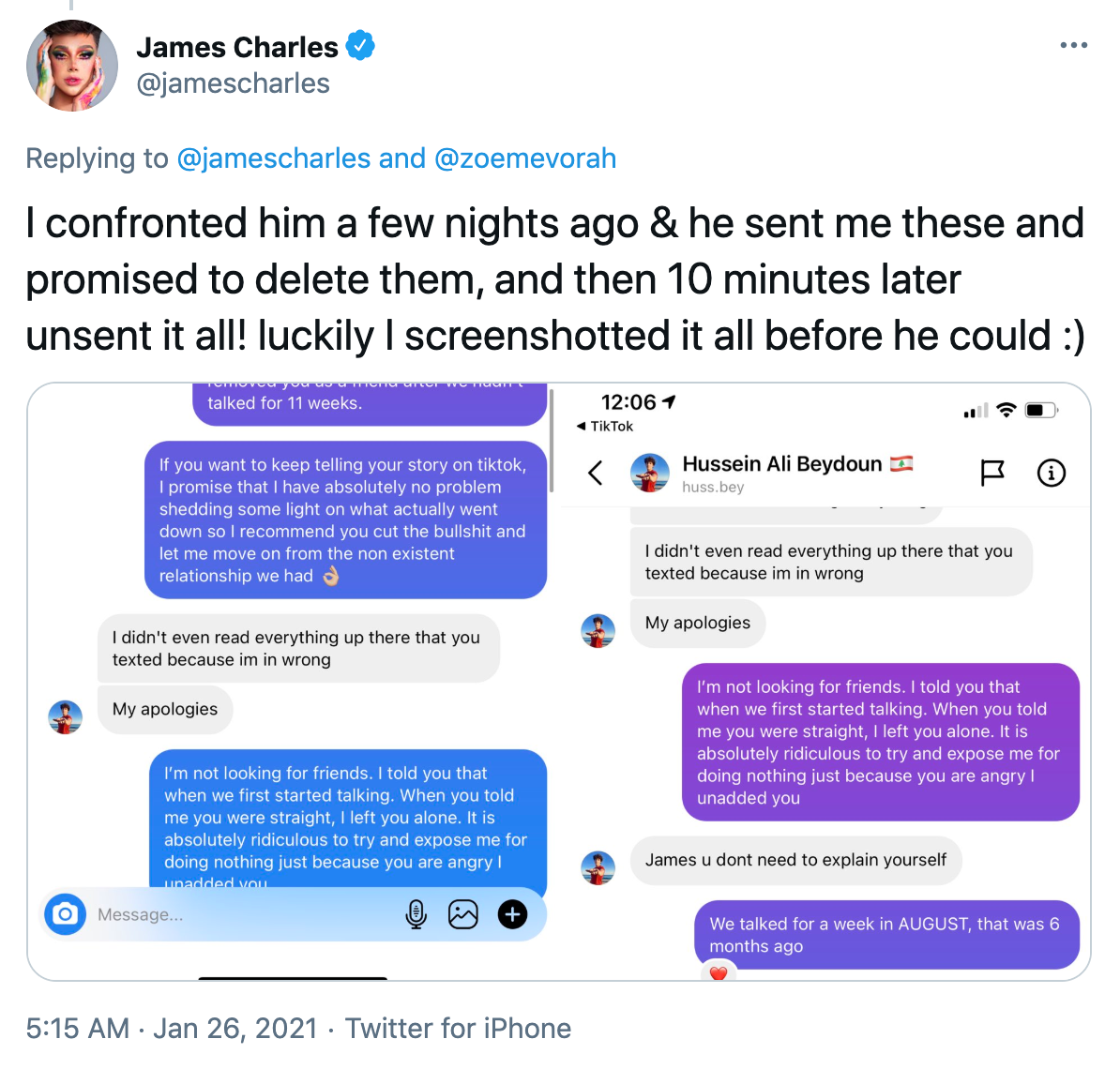 The conversation reads:
"Your TikTok is actually pathetic

It's really embarrassing how desperate you are for clout. I added you & YOU told ME you were Bi but didn't know how to come out. We talked for a few days and then you said you were actually straight so I left you alone… and then after months of not talking or snap chatting I unadded you a few days ago and you get upset and try to "expose" me? For leaving you on open….?? Grow up dude.

I didn't say anything rude to you. I didn't expose you. I didn't out you. I literally removed you as a friend after we hadn't talked for 11 weeks.

If you want to keep telling your story on TikTok I promise that I have absolutely no problem shedding some light on what actually went down so I recommend you cut the bullshit and let me move on from the non existent relationship we had." -James Charles

"I didn't even read everything up there that you texted because I'm in wrong

My apologies" -Beydoun

"I'm not looking for friends. I told you that when we first started talking. When you told me you were straight, I left you alone. It is absolutely ridiculous to try and expose me for doing nothing just because you are angry I unadded you" -James Charles

"James you don't need to explain yourself" -Beydoun

"We talked for a week in AUGUST, that was 6 months ago" -James Charles

"U never did anything wrong

Hopefully everything goes good for you and your relationship life" -Beydoun

"Its not because stupid shit like this happens to me constantly where guys only care about my clout, not me as a person" -James Charles

"Ofc I care about you as a person. As soon as I got a notification that you dm'd me I felt so bad and thought to myself wtf am I doing. Like literally you did not do anything and I don't want to put you in extra drama that you don't need" -Beydoun
As for the clip shown in Beydoun's TikTok video series, Charles claims it was sent in response to Beydoun saying that he wanted to experiment but was afraid to because of his faith.
While some doubt the screenshots shared by James are real, others are calling out Beydoun for perpetuating the stereotype that people in the LGBTQ+ community are predatory, and are even speculating that Jeffree Star had a hand in the allegations.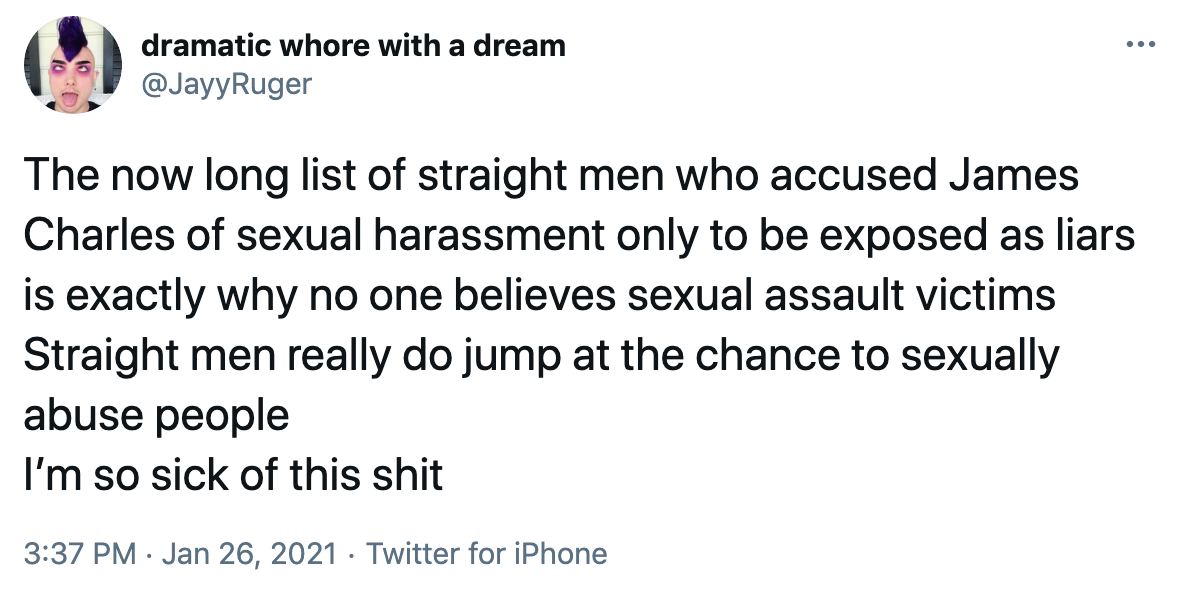 Charles also tweeted about social media platforms needing stronger policies when it comes to misinformation. "It's actually insane how one person can fake a story or screenshot for clout and people will believe it because it's entertaining. It's all fun and laughs until it happens to you," he said.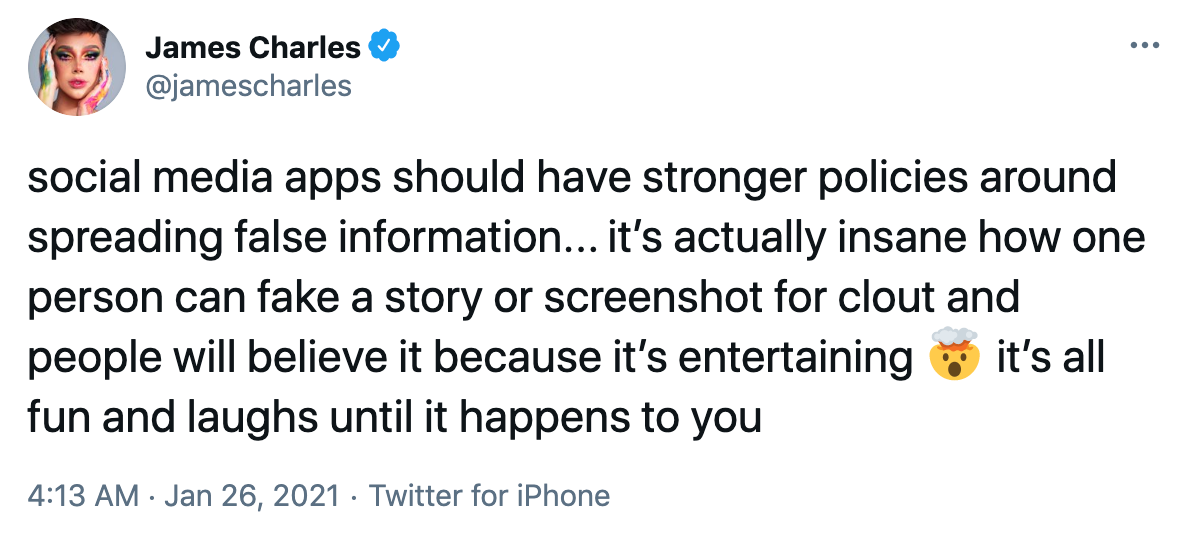 The Daily Dot has reached out to James Charles.
---
Today's top stories