In a video uploaded Sunday, YouTuber Blaire White said she's been made aware of credible evidence that James Charles—another YouTuber and makeup artist—molested someone else in the YouTube community.
White's video primarily targets beauty vlogger and cosmetics entrepreneur Jeffree Star, who White alleges has been using incriminating evidence against popular YouTubers as blackmail rather than releasing the information or reporting it to the authorities. White says that Star is doing just that with an allegation against Charles.
White begins her video by highlighting a tweet from last year where Star indicated he had evidence of "disgusting" behavior by Charles.
"Everyone keeps asking me for my RECEIPTS," Star tweeted on May 18, 2019. "I have so much to say and some really sad, disgusting things to show you guys. James Charles tried to mass manipulate you all today. When I show you the proof and WHY I tweeted that tweet about him, you will all finally understand."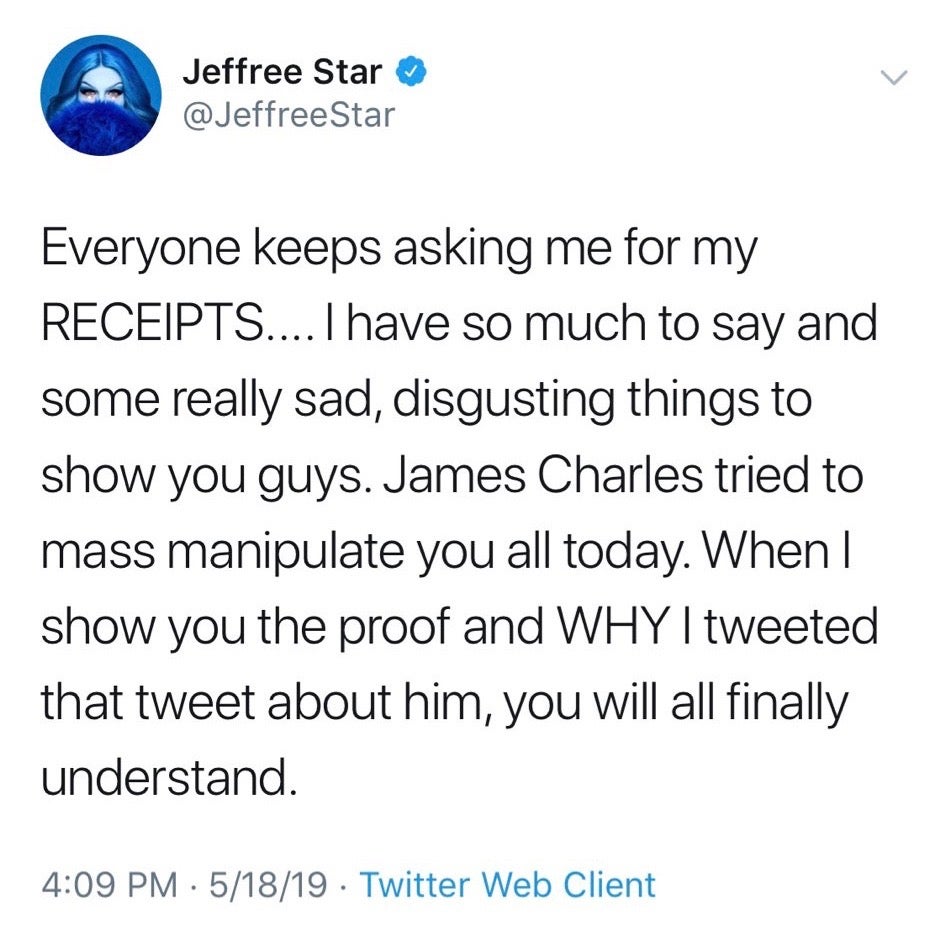 Star tweeted this after makeup vlogger Tati Westbrook made a video in which she accused Charles of predatory behavior toward straight men, appearing to confirm her characterization of Charles. But Star never came forward with his evidence, and White herself said at the time she didn't believe Star's allegations to be true. 
However, White says her opinion changed months later when Star reached out to her over FaceTime to clear up an unrelated conflict between the two. According to White, this FaceTime call was the first time the two had ever spoken, and during the call, Star revealed the evidence he had teased about Charles on his Twitter account. 
"He then provided me with receipts of a voice memo from a YouTuber who was allegedly sexually molested by James Charles," White said in her video. "And it's credible. It's a YouTuber. It's credible. It is not my place to out this YouTuber's name at all." 
White proceeds to point out that Star hinted at the same voice memo during an April appearance on the Mom's Basement podcast, though he did not share that the voice memo contained evidence of a sexual assault. White condemned Star for holding onto the voice memo as blackmail and not speaking out about the allegation it contained. 
"I don't view this as gossip that you hold over someone's head or whatever," White continued. "This is something serious. This is a crime, and just the fact that he's blackmailing people with this is disgusting." 
White expressed shock that Star disclosed the voice memo during her first-ever conversation with him, and said she wondered how many other people knew and remained silent about the allegation. She also said she struggled with coming forward with the information out of respect for Charles' alleged victim.  
"I want to be very clear this is not my place to out this person, the victim's name, because this is clearly their story to tell," White said. "If I receive credible information that a very famous, very powerful YouTuber is a sexual molester or a sexual predator…am I complicit with helping cover-up for a sexual predator by not saying that at least that much is true?" 
White said Star told her about an unrelated rape allegation made against another YouTube community member, but she did not release their name.
Both Star and Charles have yet to respond to White's video, which has nearly one million views as of Monday afternoon.
READ MORE: