People will find anything to get upset about.
Last week, the internet exploded in outrage over Billie Eilish liking a meme. This week, people are directing that same irrational ire at Halle Berry, after she posted a video to her Instagram. In the video, Berry's 6-year-old son Maceo can be seen playing in a pair of her leather heels. The trolls of the internet quickly swooped on the post but were soundly rebuffed by Berry.
The brief video shows Maceo tromping around the house with surprising grace, considering the length of the heels on those boots. He even attempts to conquer the uncarpeted stairs, something even weathered heel-wearers might balk at. Despite a few moments of hesitation, Maceo performed spectacularly. The video ends with him successfully reaching the top of the landing. Berry simply captioned the video, "#Quarantine Day 12."
Plenty of people were thoroughly charmed by the relatable video. They shared their delight in the comments but were soon overshadowed by angry internet users eager to share their negative opinions. "That's how it starts," one user wrote.
One user noted that few people would have an issue with the same situation in reverse. "Kids will be kids if it was a girl walking around in her dads boots no one would have an issue," msbosswoman wrote. "@halleberry keep posting cute videos.. and ignore the ignorance."
Other charmed users shared their own messages of encouragement. "It's perfectly normal for boys to play in moms heels," another user agreed.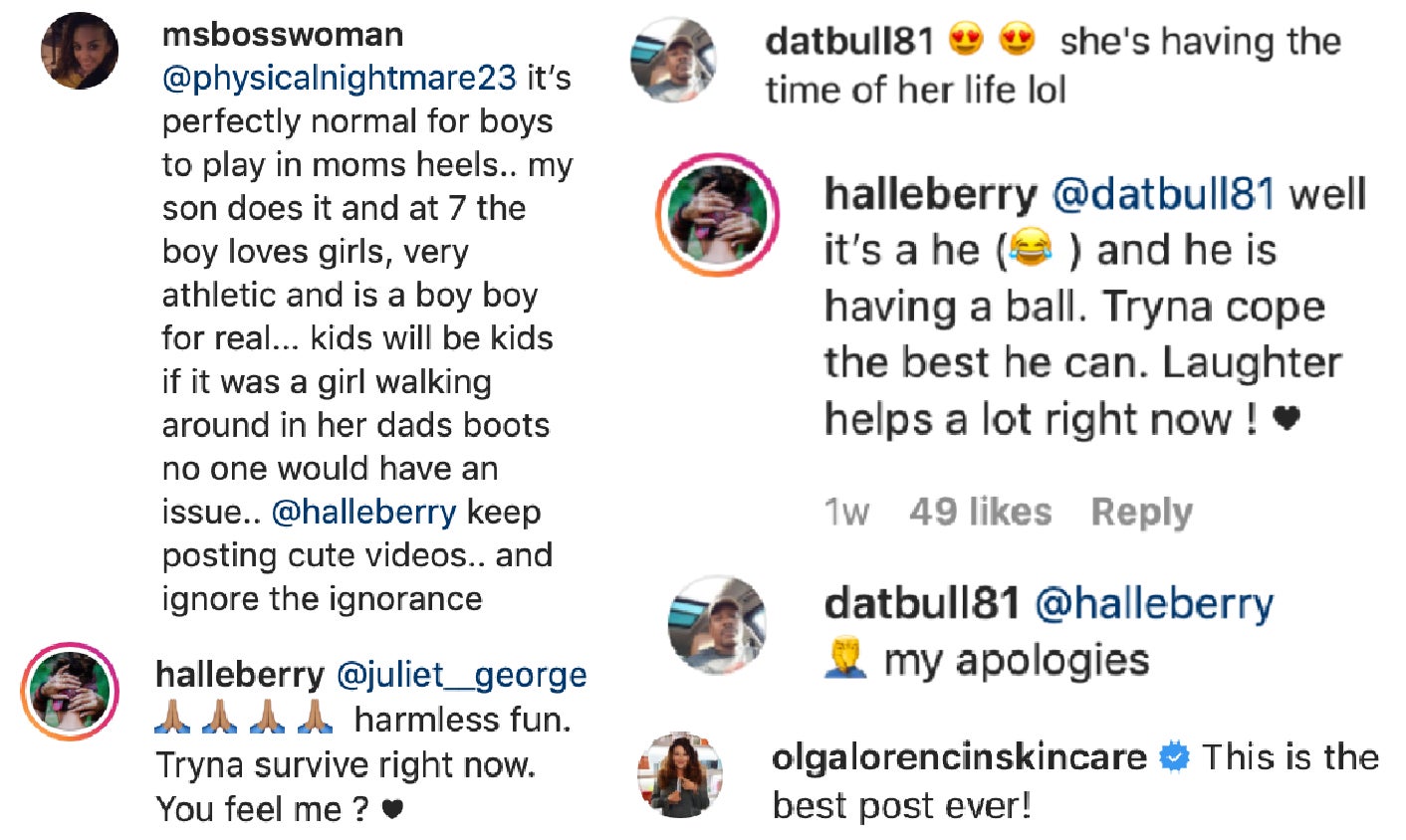 Thankfully the trolls couldn't persist past Berry's pure grace. "Well it's a he (😂) and he is having a ball," Berry responded to a commenter who accidentally mistook Maceo for a girl. "Tryna cope the best he can. Laughter helps a lot right now !" She responded to another string of comments denigrating the LGBTQ community with similar poise. She wrote, "Harmless fun. Tryna survive right now. You feel me ?"
Hopefully, the trolls listened to Berry and can take a page out of her book next time.
READ MORE:
H/T BuzzFeed