This story contains content regarding suicide.
Farhan Towhid reportedly posted a letter on Instagram before he and his older brother died by suicide after allegedly killing the other four members of their family. In response, students from the college he attended are making demands for greater mental health support.
Towhid, a 19-year-old former computer science student at the University of Texas at Austin, said he dropped out of college in January, one week after getting evicted from his dorm. In a statement to the Daily Dot, the university said Towhid canceled his housing contract himself after withdrawing from the university.
"The news of this story is devastating, and we express our deepest sympathies to the extended family and friends of Farhan Towhid," the statement said.
After dropping out of college, Towhid reportedly spent the next few weeks watching TV shows with his 21-year-old brother, Tanvir Towhid, who also struggled with depression and anxiety. Farhan had reportedly battled depression since ninth grade, and it continued into college as he started falling behind in classes. According to the letter, Tanvir made a suicide proposal to Farhan on Feb. 21.
The tragedy of his and his family's death prompted students at UT Austin to speak out on the need for greater funding for and accessibility to mental health services. According to a 2020 survey by the Journal of Medical Internet Research, 71% of participating college students experienced heightened stress and anxiety due to the pandemic. Stressors included worrying about their health, social isolation, and concerns about academic performance.
James Counihan, a government junior minoring in social work at UT Austin, told the Daily Dot that he first heard about the incident on social media and by talking to students in group chats.
"There's a lot of heartbreak in the community that it was a student that passed," Counihan told the Daily Dot. "One of the common threads is that we're all struggling. It's hard not to see yourself reflected in the tragedy."
Counihan said it would be a failure on everyone's part not to take this tragedy as a learning experience to provide students with the support they need.
"There's just a lot of concern amongst the community seeing someone slip through the cracks so tragically," Counihan said. "Can this happen again? Could it happen to me?"
Other students on social media voiced their frustration at the university's alleged failure to ensure that students struggling with mental health feel safe and supported.
"There will be no future generation to change the world if half of them want to die and you just watch," @vee_sh tweeted.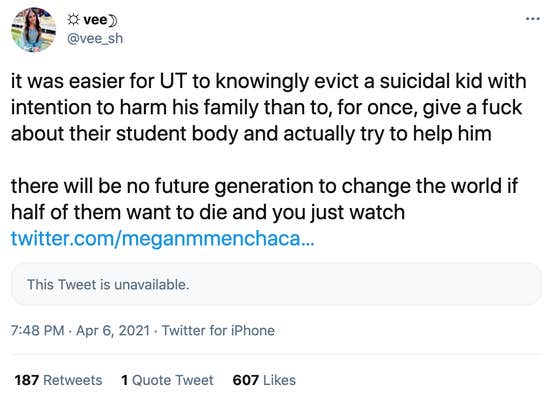 "Mental health is at an all time low for students and the audacity to hit us with the 'thoughts and prayers' and continue to hoard money for low-quality, overrated and elitist education is infuriating," another student tweeted.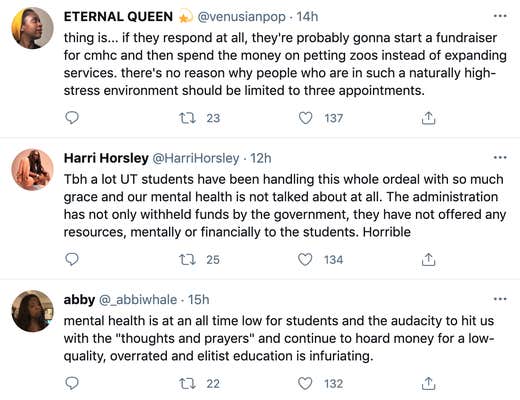 Counihan said although the mental health services at UT Austin have been extremely helpful to those who have access to them, he wants to see changes made to ensure that students receive follow-up communication and are informed about the services offered.
In addition to recommendations for better marketing, Counihan said greater funding, hiring more identity-affirming and culturally-competent counselors, expanding services to around-the-clock care, and more support groups would improve the care provided for students.
"An internal look at the systems that were in play in this situation is important to determine how much responsibility the university shares and what they could have done differently to prevent it," Counihan said.
Although Counihan said the letter should not be read by those who may be triggered by its candid content, he said he hopes it can serve as a reminder that it is not depression that kills but hopelessness.
"It's important for the university to inspire that hope in students to cultivate a culture that prioritizes mental health and lets people know that there is a light at the end of the tunnel," Counihan said.
The Islamic Association of Allen will be holding an in-person and live-streamed funeral prayer service for the family on Thursday at 2pm CT.
For more information about suicide prevention or to speak with someone confidentially, contact the National Suicide Prevention Lifeline (U.S.) or Samaritans (U.K.).
If you are a teen dealing with depression or other mental health issues, see PBS.org for a list of resources and organizations that can help you. If you are an adult, see Mental Health Resources.
---
Today's top stories