Every parent wants to keep their kids safe on the Internet. But downloading software provided by the police is the wrong way to do it.
A widely circulated, so-called "Internet safety" software endorsed and distributed by local police departments is just spyware that likely puts children at greater risk of being targeted by the kind of online predators parents fear the most.
"For years, local law enforcement agencies around the country have told parents that installing ComputerCOP software is the 'first step' in protecting their children online," writes David Maass, an investigative researcher at the Electronic Frontier Foundation (EFF). 
During an interview with Fox News, Sheriff Don Fleming of the Flagler County Sheriff's Department told reporters that he learned about the nanny software at a statewide law enforcement gathering.
"It gives you information on what types of photographs they have on the Internet, who they're looking at, who they're talking to, it watches out for cyber stalking, bullying, sexual predators," Fleming said. "It gives the parents an idea of who's there and who they're chatting to."
Police advertisement for ComputerCop
According to the EFF, however, ComputerCOP may actually expose kids to "the same predators, identity thieves, and bullies that police claim the the software protects against."
Maass elaborates: 
As security software goes, we observed a product with a keystroke-capturing function, also called a "keylogger," that could place a family's personal information at extreme risk by transmitting what a user types over the Internet to third-party servers without encryption.
But the safety of children isn't all that the makers of ComputerCOP have in mind, apparently. According to Maass, the company markets the software as the "perfect election and fundraising tool" for elected law enforcement officials. The cover for the spyware's installation disc typically features individualized photos of department heads, which are taken by ComputerCOP's own camera crews.
An example of this most popular with Google image search is a copy of ComputerCOP featuring District Attorney Bonnie Dumanis.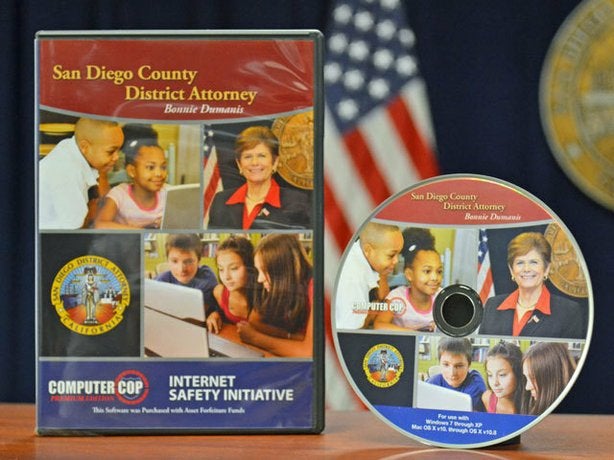 Regarding the software, Dumanis' press office pointed the Daily Dot to a press release informing San Diego residents of the security flaw, which advised parents to uninstall the keystroke-capturing "KeyAlert" component, or simply "do not agree to the terms of service regarding privacy."
"Finally, when not using ComputerCop software, it is advised that you remove the disc from the computer," the press release suggests. The DA's letter noticeably stops short of telling people to avoid the software all together.
David Maass tells the Daily Dot that the steps recommended by the San Diego District Attorney's office are inadequate. "It's like saying 'hey we gave out contaminated donuts, all you need to do is squeeze out the jam and keep eating,'" he said. 
"Even having the software around your house is dangerous because it could fall into the wrong hands and someone else could use it."
The award for the worst response to the ComputerCOP spyware revelations, however, must go to Sheriff Mike Blakely of Limestone County, Ala., who told members of the press that use of the software would have prevented the 1999 Columbine High School massacre. 
"There are some parents out in Columbine Colorado, if they had this kind of software, things would have turned out differently," he said.
Blakely went on to call the EFF an "ultra-liberal organization that is not in any way credible on this," adding: "They're more interested in protecting predators and pedophiles than in protecting our children."
Perhaps law enforcement agencies should cease and desist with the distribution of this software and stop promoting it at their conferences. And media companies endorsing it with coverage should put the safety of their audience first, following up with these findings. Finally, let's not rely solely on a piece of sketchy software featuring a politicians visage to do all our parenting where the Internet is concerned.
It's a world wide web out there. Take the time to talk to your kids about cyberbullying, 4chan, and what it really means when a stranger asks if you "got kik?"
You can learn more about how ComputerCOP (doesn't) work on the EFF website, as well as how to safely remove it from your hardware. 
Update 5:55pm ET, Oct. 2: Comments from Maass and Sheriff Mike Blakely.
Photo via Lars Plougmann/Flickr (CC BY-SA 2.0)