Imagine being a small business owner who manages a company almost entirely online. You communicate with clients, process payments, and organize meetings all through the Internet. Think about just how many steps would really be involved. There'd be countless login screens and dropdown menus to be navigated. And searching for the right Web pages in the first place could even be a challenge.
Now imagine doing all that while wearing a blindfold.
That's the life led by millions of blind or visually impaired individuals who navigate the Web every day. The Internet is as critical to these individuals as it is for anyone else—if not more so, since the Web is often used to avoid the challenges and transit that accompanies daily activities like shopping.
But gaining access can often be a costly, frustrating, and litigious matter.
Though using the Internet, a primarily visual medium, can be difficult for those who lack the power of sight, its not altogether impossible. The technology exists, mostly in the form of screen reader programs that do just that: read out the contents of a Web page and convert them into an audio or braille format. These programs are essential for people like T.J. Olsen, who are visually impaired but depend on the Internet for their livelihood.
"My business is done almost entirely online," said Olsen, 26, who works as a self-employed music promoter and marketer in New York City.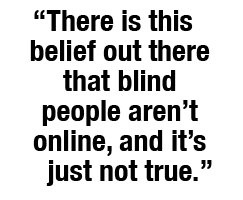 Blind for as long as he can remember, Olsen has been able to trace the progress of online accessibility since the Internet went mainstream in the mid-90s. He received his first computer at the age of 8. Back then, the only way for him to "surf the 'net" was to copy and paste text into a speech program.
The screen readers used today are much more advanced and automated than what Olsen had to utilize back then. The programs automatically decipher pages, including text, photos, and links. Some can even delineate between headers, link menus, and body text to help better organize the information for navigational purposes.
The tools, however, are only as good as the information they receive from the websites to which they connect. If a website is designed without accessibility in mind, or new features of the site have not be geared for screen reader interface, it can be a major challenge.
"It's constantly catching up. The technology that allows me to go online is always one or two steps behind," Olsen told the Daily Dot. "Adapting sites for people like me is an afterthought a lot of the times."
The experience of any visually impaired person online will vary based on the severity of their disability, type of program they use, and other technical specifications. But most who talked with the Daily Dot say their experience is hit or miss. For instance, Olsen said the chances of landing on a site he can easily navigate are about "50/50."
His anecdotal experience is backed up by a study from researchers at the University of Illinois at Urbana-Champaign. In their study of higher education and government Web pages from 181 different U.N. member states, the researchers found that less than half the websites would receive a passable grade for accessibility. And virtually all the websites had room for improvement in some area.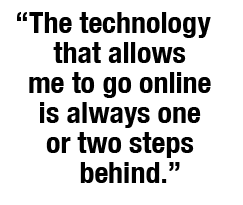 In many ways, accessibility for websites is like accessibility for a building: It's a few key changes that can make all the difference.
Since the early '90s, business have been required to meet access requirements laid out in the Americans with Disabilities Act. For brick-and-mortar companies, that's wheelchair ramps, automatic doors, and braille placards. Similarly, courts have found the ADA applies to the virtual realm in some instances as well. But instead of focusing on ramps and automated doors, online accessibility is focused on coding descriptions and page layout.
"There are lots of little things that can be annoying," said Meredith Ballard, a senior at Appalachian State University in North Carolina.
Ballard was born with albinism and her vision has slowly deteriorated to the point where she is now legally blind. She said there a lots of slight glitches that can prove to be stumbling blocks for the visually impaired online.
"The biggest difference is, we just can't scan a page for the information we want," Ballard said. "If there are a dozen links on a page and we want the one at the bottom, it's going to take listening to all the links be read in order."
Other major obstacles can include link and photo descriptions that are often lacking in clarity. They are usually a byproduct of programmers not taking the time to consider how important such descriptions are to a small portion of their visitors. CAPTCHA security verification can also be a burden if not formated with a useful audio alternative, as the White House recently learned when it failed to provide a decipherable audio CAPTCHA option on its We the People petition site.
Ballard said one of the biggest obstacles can be the cost involved in getting screen reader programs. The program and its updates can cost hundreds of dollars depending on the brand. JAWS, the most commonly used program for PCs, retails at nearly $900 for a standard package and more than $1,000 for professional-grade software.
Government assistance for this kind of software can be spotty. As a student, Ballard has never had much trouble getting subsidies for screen-reader technologies. Similarly, blind people who can demonstrate a need to used computers for work can obtain assistance readily. However, that still leaves many out in the cold.
"As a student, I'm lucky in that I've not had to worry about obtaining these things," Ballard said. "But if I'd lost my vision as an adult, that would have been a completely different story."
Part of what makes the situation so frustrating is that Web accessibility is often needed long before a person even lands a job that would require him or her to use a computer.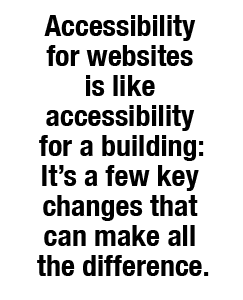 Jonathan Lazar is a computer science professor specializing in Web accessibility. In a recent study he conducted of 16 online job boards, he found that job seekers who were visually impaired required assistance more than two-thirds of the time.
"There is this belief out there that blind people aren't online, and it's just not true," Lazar said. 
Lazar's work began on the technical side of Web accessibility, working on programs and hardware that allow disabled individuals to go online. But over time, the Towson University professor and Harvard fellow has shifted his focus away from technological development to legal implementation.
"The technology is there," he said. "The battle has been getting websites to comply."
The shift toward universal Web accessibility has occurred in spurts over the past decade. International guidelines for Web accessibility date back to 1999. Around that same time, courts ruled that the ADA extended to government websites. Lazar said the U.S. Department of Justice (DOJ) was tasked with enforcing these legal standards, but that enforcement dropped off around 2003. Under the Obama administration, DOJ enforcement has picked up again. In the meantime, though, disability advocates have focused their energies on the private sector.
Last year, a Massachusetts Federal Court found that the ADA applied to Netflix as a "place of public accommodation." That suit was filed by the National Association of the Deaf. Likewise, the National Federation of the Blind won a similar judgement against retail giant Target in 2006. Since then, Target has worked with the NFB to move their website into compliance."
"It was really this bizarre situation where you had a company fighting people who wanted to be their customers," Lazar said.
Lazar said most companies that fail to provide accessible websites are acting from a place of ignorance. In his experience, he said many companies just assume they don't have blind or otherwise impaired customers using their website. He said that's a mistaken belief, since many blind people have used websites to better plan trips to retail locations or avoid the hassle of going to stores altogether.
There is also a fear that acknowledging the problem will bring on a lawsuit. But Lazar, who works with the NFB, said the organizations goal is compliance, not litigation.
"No company that is actively working toward compliance, working with the National Federation for the Blind, is going to be sued," he said. "It's always the best option long-term to make your website compliant on it's own. You gain customers and avoid legal trouble. It's a win-win."
The online accessibility landscape is slowly improving, Lazar said. The lawsuits against Target, Netflix, and others have spurred even more companies into voluntary action.
"It's something that's not on people's radars, and I don't necessarily blame them for that," Ballard said. "But if you're serious about your business, you should be working at this. It's not an unsolvable problem."
Correction: The National Association of the Deaf filed suit against Netflix, but not Target, as previously reported. We regret the error. 
Photo via Tdmalone/Wikipedia | Illustration by Jason Reed