"Today, security is everybody's business," America's passenger train service Amtrak tells their employees. Unfortunately for the rest of us, security has been consigned to a meth-like state of everlasting paranoia. 
Do you travel light? Use legal tender of the dollar variety? Make phone calls? Last minute reservations? Congratulations: You are a suspicious person and Amtrak's staff has been trained to call the cops on you. 
"Ticket Agents may come into contact with passengers and travelers whose conduct is questionable," says the guidelines for Amtrak customer service employees, made public through an American Civil Liberties Union (ACLU) Freedom of Information Act (FOIA) request. "Some individuals can have characteristics that may or may not be indicative of criminal activity, such as illegal drug trafficking. When taken alone, certain characteristics are not illegal per se, however, one or more may form the basis for suspicious criminal activity."
Other 'suspicious' behaviors, as defined by Amtrak, include passengers who are too calm, or too nervous, or stare straight ahead, or look around.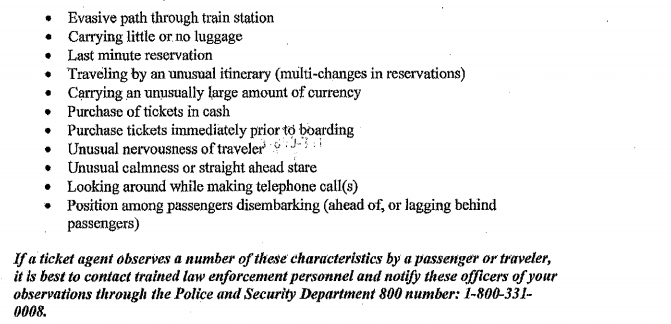 But it's not only Amtrak employees who are being asked to maintain a hyper-vigilant state of mistrust. Passengers are also being urged to report one another to the authorities in campaign that makes it sound like it's better safe than sorry to call the cops on people. "If you see something, say something," Amtrak posters say. "Hopefully, it's nothing."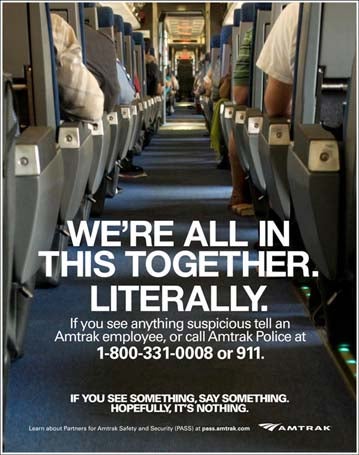 "While Amtrak certainly has an interest in keeping its passengers safe, it is using the same heavy-handed, dragnet approach that we've seen in many of the government's other counter-terrorism and drug trafficking prevention efforts," writes Samia Hossain of ACLU's Privacy & Technology Project.
"As we have seen with Suspicious Activity Reports and the TSA's SPOT program, reporting based on broad categories of 'suspicious' behavior is problematic because it almost always results in racial and religious profiling, as well as the targeting of perfectly innocent activity," Hossain adds. 
If you have been a victim of Amtrak police profiling or harassment, Hossain recommends contacting the ACLU. Hopefully, it's nothing.
H/T Techdirt | Photo by wonderlane/Flickr (CC BY 2.0)