I can't tell you how many times in my life I have dug through my travel makeup bag in frustration, unable to find the thing I was looking for and smearing eyeshadow on my fingers in the process. Traveling with your makeup (not to mention your skincare, don't even get me started) is a pain in the ass. But those of us who wear it still load up on travel sizes, fumble through our stuff, and wish there was a better way.
Texas-based architect René Graham saw a solution to the problem. She envisioned and created a modular system that would put an end to dumping her travel makeup bag out on the counter. Not only is it a clean, attractive solution, but it's also an eco-friendly one thanks to the partnerships Graham is building with the biggest names in the makeup world.
I got to spend some time creating and using my own Renzoe Box in preparation for this article, and I won't mince words: I was pretty impressed from the moment I opened it. I won't spoil the packaging for you, but the experience truly feels like gifting yourself something luxurious. That said, the real fun started for me when I got the Renzoe Box in my hand.
One major complaint I have as a makeup user—and one I know many other women also have—is that I am easily seduced by the packaging of eye shadow palettes, but find after I buy them I use a handful of colors at most, and many are never used at all. This makes it inefficient to jam one into a travel makeup bag. It makes more sense to pack only what I need, but those tend to all be separate items, which creates a lot of packaging bulk.
Of course, the ability to make a custom palette is not new, but creating one out of all my favorite brands in order to create a complete face of makeup sure is. Add in that the system keeps me from wasting tons of packaging, and it makes Renzoe Box a VERY desirable solution.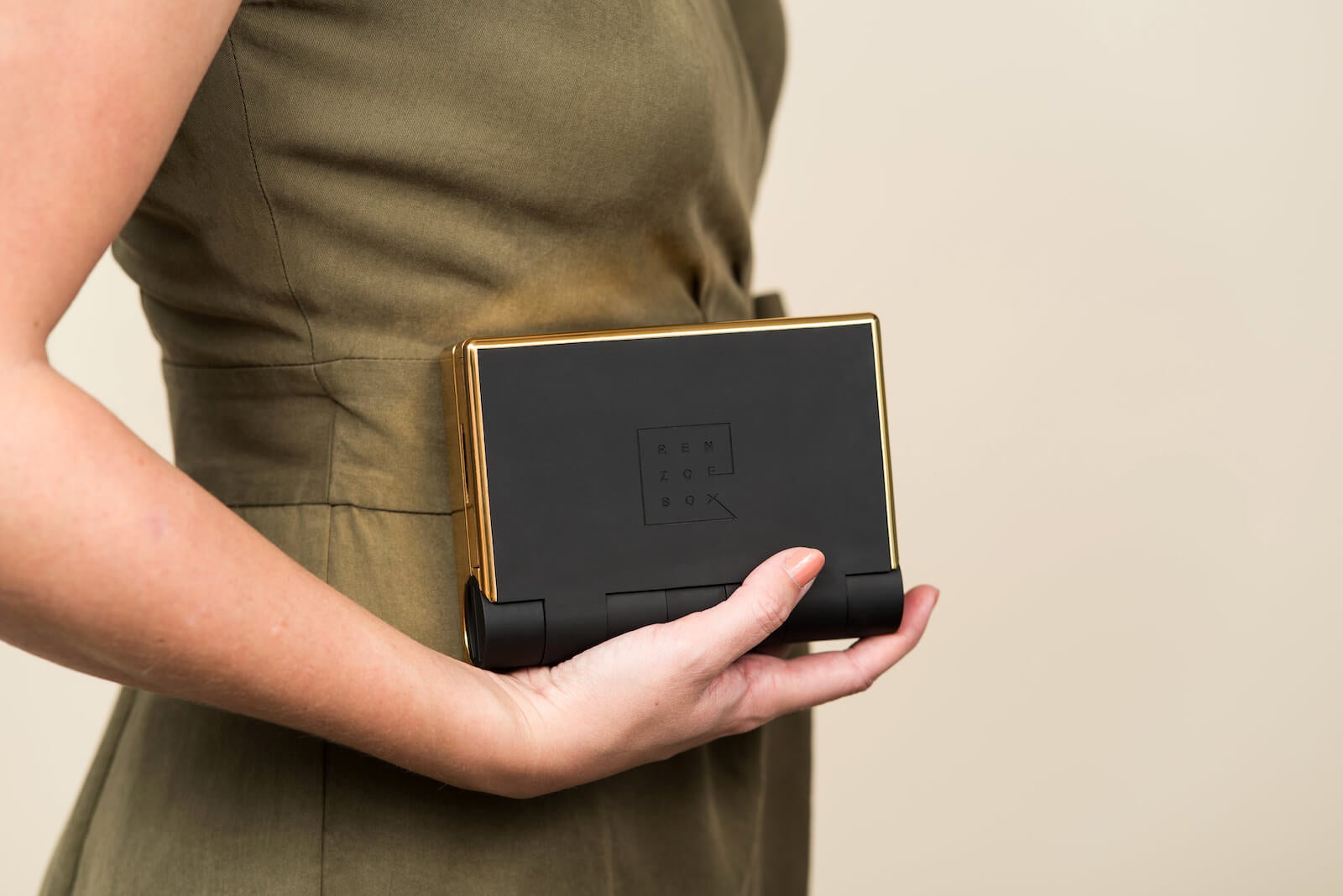 The top part of Renzoe Box contains a small drawer that is easy to slide in and out. This is where you get to do your palette building with "Renzoe Pods," which come in three different sizes. The brands you can choose from are plentiful and include classics like Clinique, Lancome, Chanel, Urban Decay, Stila, and more. Renzoe Box users can also choose from budget-friendly brands like Cover Girl, Almay, and E.L.F. to name a few. If your favorite product is not available on the Renzoe Box site, you can create a custom one for a small upcharge.
For my own box, I chose a highlighter, a blush, a brow powder, and five shadow colors. They pop in and out using an easy-to-use snap system. If you want more variety, just add in some new options. Graham mentioned that she plans to create additional trays for purchase so users can store other complete palettes as well, making it easy to swap them in and out if you'd like to go from a neutral theme to a daring one for evening looks.
The lower portion of the box opens to reveal a small storage space, which you can use for whatever suits you best. I was able to tuck a travel bottle of foundation, a mascara, and a liquid eyeliner into this area. It would be an ideal place for travel brushes too–but you don't need to use it for that because the Renzoe Box's hinge was specifically designed to house them. Unscrew the top and you'll find four mini-brushes: one for face, eyes/brows, concealer, and lips. While the entire design is extremely clever, this part really impressed me.
The Renzoe Box itself is also very attractive overall with its matte black shell and polished golden border. Any woman with a sense of style would be happy to use it in a public place. And while you still can pull out a big ol' travel makeup bag and start digging around in it, why would you want to?
I can't see myself going back to the old way I traveled with makeup after using this product. Having all of my favorite options in one palette–and not having to dig around in a travel makeup bag– was game-changing for me. Nars Orgasm blush, right next to my beloved Benefit Dandelion Twinkle? Anastasia brow powder right next to that? Amazing. Plus it'll save me the time of picking through my makeup to sort out what to bring the next time I travel. I'll just toss my Renzoe Box into my suitcase and move on. Time saved!
You can reserve a Renzoe Box from the next release wave for $149, which will ship in December. The price includes two eyeshadows and a blush of your choice, as well as the brush kit. Additional Pod prices vary depending on the brand. You can also opt for a subscription format with them and get new ones every 30, 60, or 90 days. And the box also comes with a 45-day money-back guarantee, so if you don't love it, you can return it. But the truth is, you're probably going to love it. We sure did.
The Daily Dot may receive a payment in connection with purchases of products or services featured in this article. Click here to learn more.