Warning: This article contains language and photos that you may find offensive.
The cartoon characters of the Westboro Baptist Church have have successfully completed their mission to pester Silicon Valley.
The group spent Tuesday protesting in front of the offices of tech companies, including Facebook, Apple, and Twitter. The church's tour neared it conclusion in San Francisco's SoMa district, outside the local headquarters of social news site Reddit, where about a dozen protestors, and about an equal number of counter-protestors, gathered for a few minutes to cause a scene on a street corner.
The stated goal of the effort was to decry the companies' facilitation of ?fag propaganda."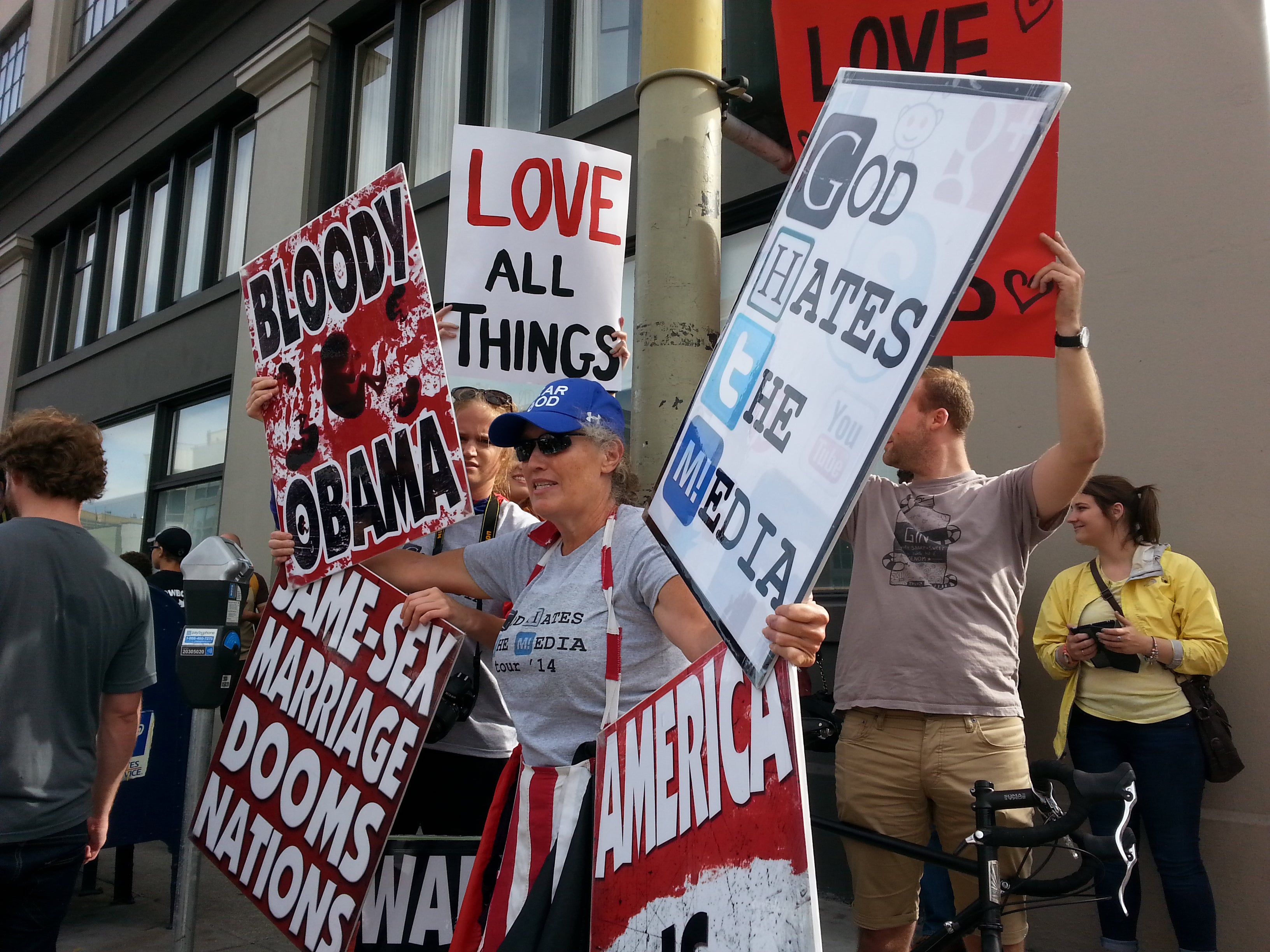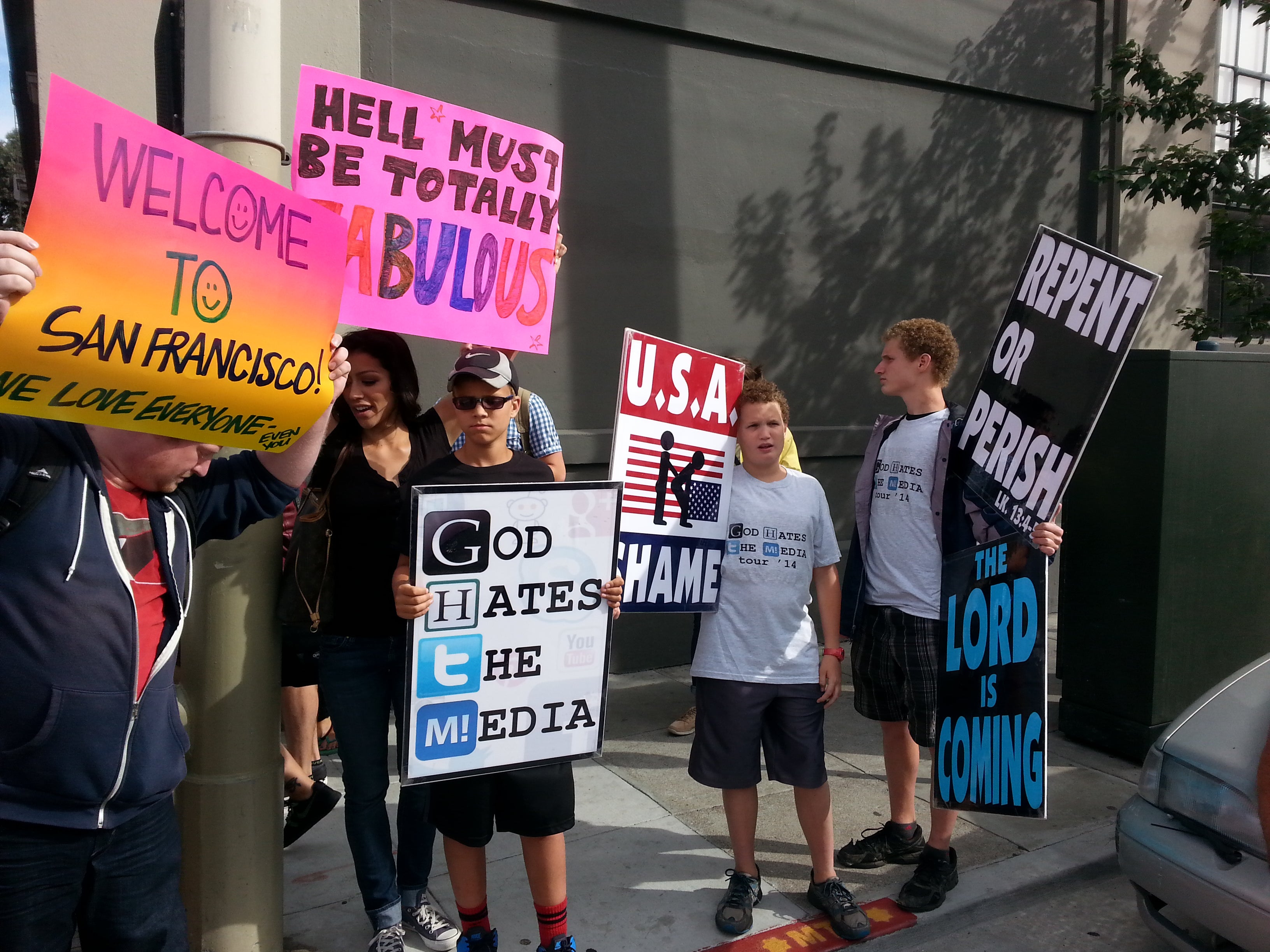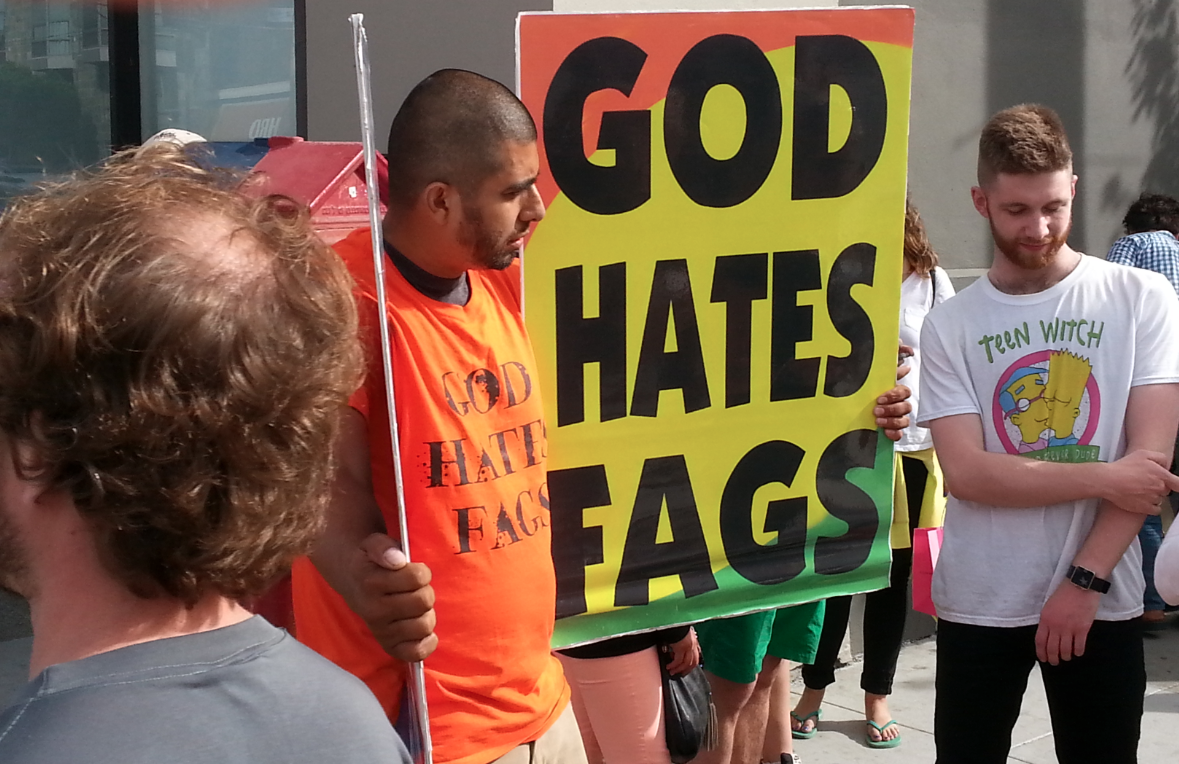 The group exchanged in civil, albeit pointed, conversations with a crowd of onlookers. When someone asked a church member pictured in the orange shirt above why he was protesting Reddit, he replied, ?Because we hate social media."
What was striking about the protest was how young most of the protestors were. There were a few older people, but the majority appeared to be in their early- or mid-20s.
A counter-protestor from the Sisters of Perpetual Indulgence, a San Francisco-based satirical collective known for dressing in drag as nuns and hosting an annual ?Hunky Jesus" competition every Easter Sunday, said that some members of his organization had been following the church's string of protests all day; however, there wasn't an overwhelming turnout because, ?a lot of people just thought it wasn't worth our time."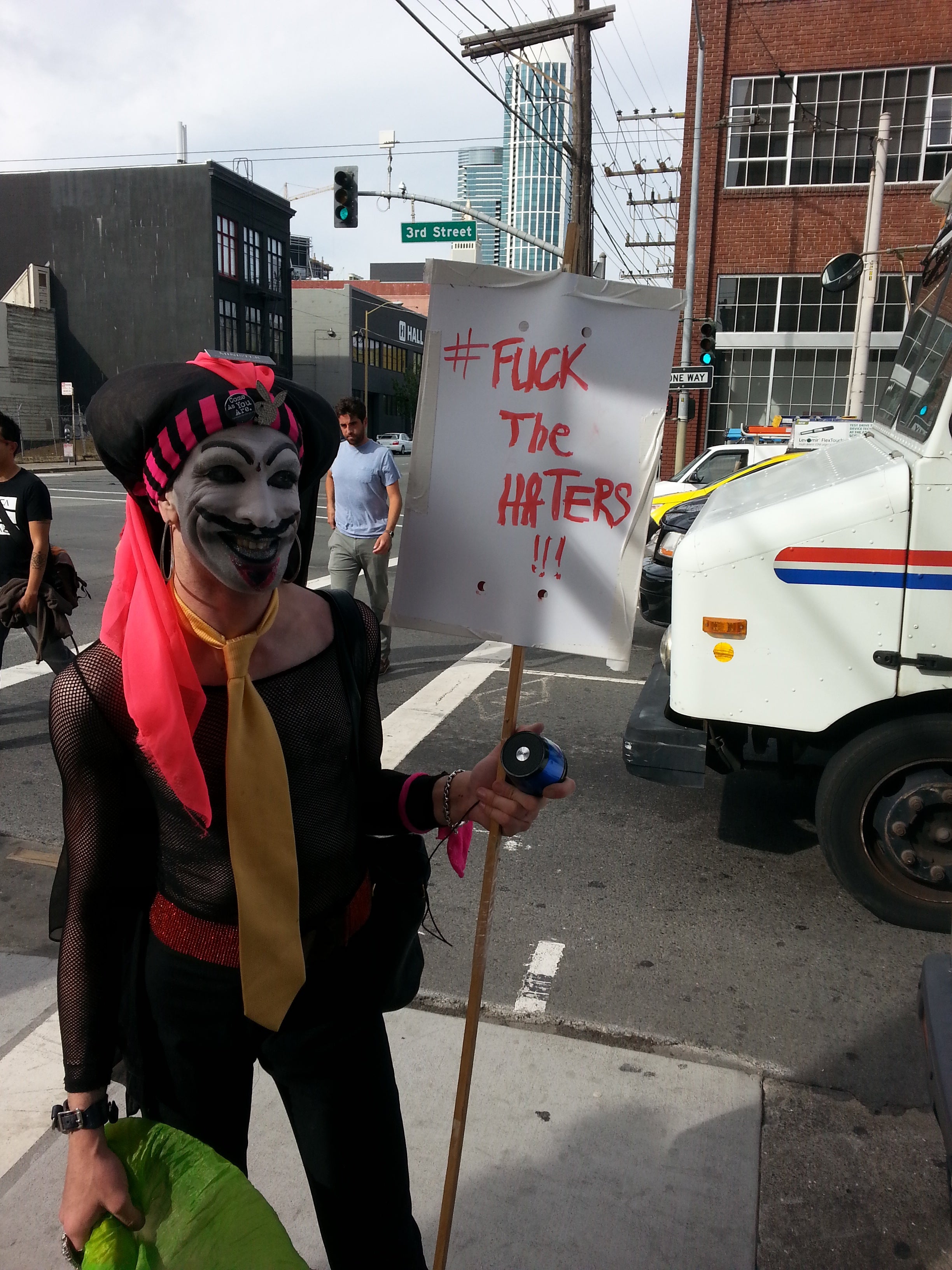 The group's actions were alternately mocked and met with anger outside the campuses of the famously LGBT-friendly tech giants. The Silicon Valley Business Journal reports that people at Google snapped selfies in front of the demonstrators and counter-protestors outside of Facebook's Menlo Park campus matched church members' infamous ?God Hates Fags" banners with plackards of their own reading, ?God Hates Signs."
In a email to the Daily Dot, Reddit spokesperson Victoria Taylor shrugged off the protest, saying that the company had been aware of the planned action for some time. ?We try not to feed the trolls," she said.
For an organization that is almost universally derided as being composed of some of the worst human beings on the planet, one cannot claim that Westboro doesn't know how to Internet.
The Topeka, Kansas-based hate group, which is know for protesting soldiers' funerals and having colorfully offensive signage, has been using its surprisingly robust online presence to gain attention for its message that everything bad happening in the world is God's punishment for the growing acceptance of the homosexuals.
For example, the group has an active presence the micro-video sharing site Vine. Despite using social media tools to get their terrible message out, it also hates the companies that make them because of course they do.
Members of Westboro, whose founder Fred Phelps passed away earlier this year, participated in a Reddit AMA earlier this week, where redditors mostly made sly jokes at the expense of church's anachronistic belief system. Users downvoted most of the group's responses to the point where they were difficult to find.
The group did, however, manage to make one comment that resonated with Redditors. In response to one user's question, "How do magnets work?," a reference to a lyric in an Insane Clown Posse song, the group responded, "Effectively." The comment earned them over 1,000 karma points and someone even shelled out a few bucks for Reddit Gold, a set of bonus features tyically awarded to redditors for particularly insightful or humorous comments.
Offline, there have been numerous legal attempts to prevent the church from protesting, but none have been successful.
Westboro is closely aligned with a law firm founded by Phelps in the mid-1960s. The firm specializes in—you guessed it—First Amendment law and has successfully defended the church's right to protest soldiers' funerals as constitutional in front of the U.S. Supreme Court. Phelps himself was disbarred in the 1970s for making false statements.
Despite Westboro's decisive 8-1 victory in the 2011 Supreme Court case, the court's prevailing majority made clear that its ruling was about defending the right to free speech, especially in the political realm, rather than endorsing the group's views in any way. "Given that Westboro's speech was at a public place on a matter of public concern, that speech is entitled to special protection under the First Amendment," Chief Justice John Roberts wrote.
If anything, the group's whistle-stop tour through Silicon Valley may end up doing some good. A passing Facebook employees told the Business Journal that he used the opportunity to fundraise for the Trevor Project, a nonprofit that operates a suicide help line for LGBT youth.
If you'd like to commemorate the Westboro Baptist Church's sad little protest tour by donating to the Trevor Project yourself, you can do so here.
Photo by Aaron Sankin