The Westboro Church's Reddit AMA ("ask me anything") was a disaster of biblical proportions.
Members of the Topeka, Kan.-based organization, infamous for picketing veterans' funerals while holding signs reading "God Hates Fags," hosted a Q&A session on r/IAmA Sunday as a way to promote its protest Tuesday at Reddit headquarters. The protest is specifically against the late hacker and activist Aaron Swartz whom Westboro claims was a "a fag, an atheist and a thief."
"Westboro Baptist Church is only interested in two things: 1.) loving God & 2.) loving our neighbours," the organization stated. " In order to do this, we use every resource available, up to and including using Reddit itself and going to Reddit headquarters in person to preach outside to warn against the dangers of a life of unrepentant sin."
The AMA was immediately overrun by "downvote trolls," Reddit users who indiscriminately downvote comments no matter what is written. As such, nearly every response from WBCmembers was hidden from the public by Reddit's algorithm.
Here's a sampling of some of Westboro answers that were downvoted to hell.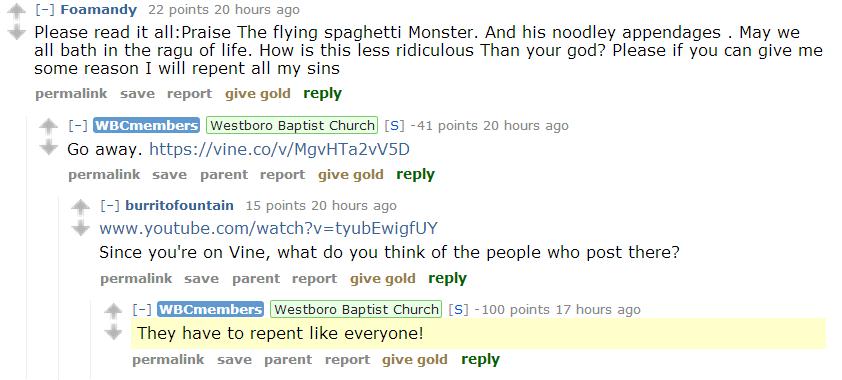 A handful of other responses from Westboro were not only heavily upvoted, but even collected Reddit Gold, a set of features people can gift to one another for a few dollars a month.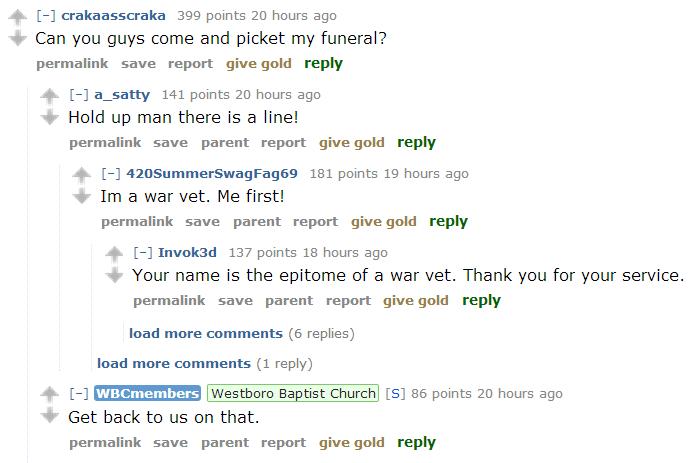 On r/changemyview, a subreddit where people seek out opposing points of view on any given subject, redditor mugglesj argued that the way Westboro was treated on Reddit amounts to to harrassment and violates Reddiquete, the sites unofficial set of values.
"Reddit has known about the AMA, and has been hostile to the very idea. The fact that we are a big enough community to attract the attention of such a big name is very impressive," mugglesj added. "To spoil these chances shows our immaturity, and our inability to do these sorts of things again. Don't fight hate with hate. Thats what we did, and we should be ashamed."
Westboro will be protesting in front of Reddit's San Francisco headquarters Tuesday at 5:35pm to 6pm. The church will also protest Apple, Facebook, Twitter, and Google because they proliferate "fag propaganda."
Photo by John Lemieux (CC BY-SA 2.0) | Remix by Jason Reed