A viral video that purportedly shows an Uighur man being tortured in China is real—but it didn't take place in China and the man is not Uighur.
In the last few years, China has begun detaining Muslim minorities, including the Uighur (also spelled Uyghur), under the guise of reeducating them to assimilate into secular society and protecting against terrorism.
Many have reported that the Uighur, Kazakhs, and others are being subjected to torture, brainwashing, and other human rights abuses in these concentration camps. Allegations of their treatment range from forcing detainees to eat pork (which is prohibited in Islam), to beatings, sterilizations, organ harvesting, and genocide.
China denies abusing anyone in the camps.
Based on such reports, the United Kingdom has accused China of "gross and egregious" human rights violations and threatened to sanction it. The United States is also reportedly considering accusing it of genocide.
A video circulating on social media purports to be further proof of torture in one of the camps in China. The video, which the Daily Dot isn't linking to or embedding because of its graphic nature, shows a nearly nude man being beaten by authorities.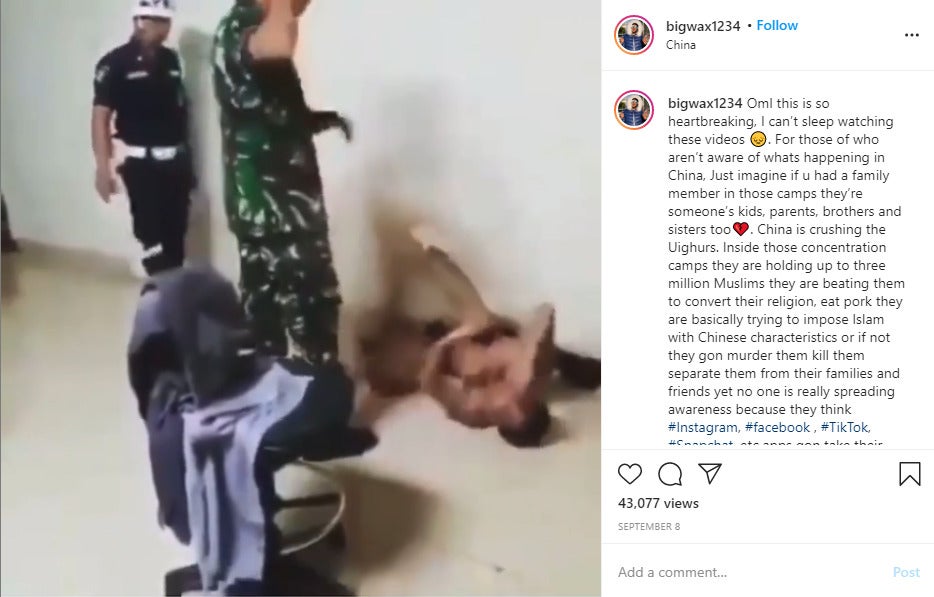 While the video itself is reportedly real, it's not from China, nor is there any reason to believe that the man is Uighur.
AltNews reports that the video originated in Indonesia. Authorities reportedly beat the man after arresting him for being in a gang and involved in "street crimes," including stabbings.
The video appears to have originally been posted to YouTube in 2017. Its caption says that Indonesian National Armed Forces captured gangsters.
AltNews found that also in 2017, Tribun-Medan included a still from the video in a story about a viral video of officials whipping and kicking "gangster members."
The helmet one of the authorities wears in the video has the initials "PKD" on it, which an Indonesian academic told AltNews refers to Petugas Pengamanan Dalam. That translates to Internal Security Officer, or a security guard.
Nevertheless, since 2017, numerous people have posted the video and falsely claimed that it is from China and the man is Uighur. The video has been viewed thousands of times.
In 2019, one Twitter user posted it and claimed that it showed "the most heinous torture in Chinese prisons against #Uighur_Muslims."
On Sept. 9, an Instagram user posted the video and also claimed that it was an Uighur man in a Chinese concentration camp. That post has more than 43,000 views as of this writing.
There is plenty of evidence that China is imprisoning and torturing the Uighur people. But this video isn't among it.
You can read the AltNews report here.
---
Read more of the Daily Dot's tech and politics coverage