Sharing a hoax Joe Biden ad can now get your Twitter account locked.
Earlier this week, a fake Biden campaign ad went viral on social media.
In the ad, a burst of light emanates from Biden's chest alongside the caption, "His brain? No. His heart." The ad is an apparent play on accusations that Biden's mental faculties are failing.
Although its message was clearly not one a campaign would intentionally convey, on its face the ad appeared authentic. It used a photo of Biden taken by a Washington Post photographer and included the campaign's official logo, as well as, "Approved by Joe Biden. Paid for by Biden for president."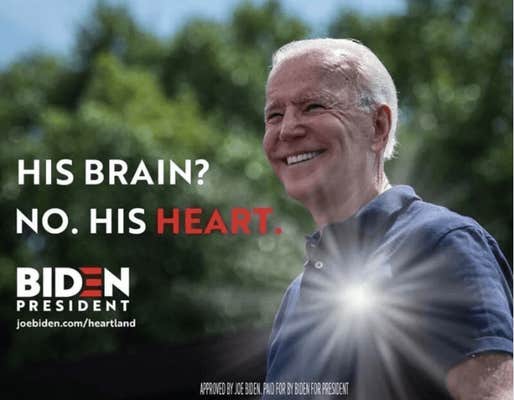 Biden's opponents had a field day with it. "Not exactly a ringing endorsement for a prospective leader of the free world," laughed right-wing Liberty Unyielding.
"Apparently his marketing team has dementia too," commented a redditor.
Although many doubted its veracity, the ad quickly garnered tens of thousands of shares and comments.
Current and former members of President Donald Trump's campaign were among those who shared it.
The Verge reports that Tim Murtaugh, communications director for Trump's reelection campaign, tweeted the ad and said, "Is this fake? Can't trust Twitter, but this would seem to be the Biden campaign leaning in on the fact that ol' Joe has lost his fastball."
Yesterday, the Biden campaign confirmed that it was a fake.
Then Twitter began locking accounts of those who shared it. A company spokesperson told the Verge that the fake ad violated its election integrity policy.
Twitter's more specific reason for removing the ad from its platform appears to be its "manipulated media" ban that went into effect March 5.
Since then, the company has flagged content that it deems deceptive, like doctored videos of Biden, such as one that was shared by Dan Scavino, White House communications director.
Conservatives nevertheless fumed.
Far-right site the Post Millennial huffed that Twitter was trying to swing the election in Biden's favor. "The suspension of accounts that are guilty of sharing this meme may meet with current Twitter rules, but it is also a marked dismissal of users' ability to make political statements," it claimed.
Brietbart jumped on the "it's a meme" bandwagon and again displayed its ignorance of First Amendment jurisprudence, whining that Twitter had committed "censorship" of Trump earlier this week by deleting a video he shared of Biden and former President Barack Obama that reportedly ripped off an All-State ad—otherwise known as copyright infringement.
In spite of Twitter's efforts, various versions of the hoax ad continue circulating on the platform.
With the presidential campaign heating up, it's likely that more fake ads and videos will show up online.
READ MORE: