President Donald Trump's insistence that his 2020 election loss is the result of massive voter fraud probably wasn't intended as a touring improv comedy, though it has undoubtedly materialized as one.
Luckily though, for the president, he isn't joking. He takes it very seriously. Because as rampant fraud has apparently swept through four states (and only four states), Trump has the findings of a blue-ribbon commission to fall back on and prove his point, one he'd long ago established to prep for this exact moment: the Presidential Commission on Election Integrity (PEIC).
So why hasn't he been hyping the efforts of a panel he said would unearth 3 million illegal voters in 2016 and safeguard our election from the exact same fraud? That commission didn't find anything.
The commission was established when Trump inked Executive Order no. 13799 on May 11, 2017 and it was serious in name only. It was disbanded on Jan. 8, 2018 without finding any evidence of widespread fraud or even submitting a report to the president. PEIC's brief history as a Kafkaesque microcosm of bureaucracy under a president who seems to enjoy nothing more than announcing and signing executive orders is now useful as weighty counterpoint to the Trump campaign's assertions that actually, Donald Trump beat Joe Biden in the 2020 election if it weren't for millions of "illegal" ballots.
Executive Order no. 13799 tasked PEIC with "study[ing] the registration and voting processes used in federal elections." Its final report was expected to detail the "laws, rules, policies, activities, strategies, and practices that enhance the American people's confidence in the integrity of the voting processes used in Federal elections." PEIC never submitted a final report, and the president has spent the past year undermining the American people's confidence in the integrity of elections. The commission went out with a whimper, another punchline on Twitter.
When Trump brought together the commission in 2017, it appeared to be either an honest attempt at solving problems with the election system or a way to wash out the exact amount of votes Trump lost the 2016 election by. You are free to decide which you think it waas. PEIC was led by Vice President Mike Pence and Kansas Secretary of State Kris Kobach but included a number of Democrats like Maine Secretary of State Matthew Dunlap and New Hampshire Secretary of State Bill Gardner. There were also Republicans like lawyers J. Christian Adams and Hans von Spakovsky, neither of whom responded to a request to comment.
You would think, right now, they'd be screaming from the hilltops if they'd found fraud.
Asked whether he sees similarities between PEIC and Trump's current push to undermine the results of the 2020 election, the Democrat Dunlap told the Daily Dot, "[Trump] has already been saying that there's widespread fraud without any real situational evidence to back it up … in that regard, it's pretty similar to what he did in 2016 when he came out after the election when he said that he would have won the popular vote as well as the electoral vote if not for the three to five million illegal votes that have been cast without having anything to back up that statement."
The Maine secretary of state added, "the difference was, then he was the president. And when you're in a position of authority that way, it gave him some momentum. Because people listen to the president."
Dunlap eventually had a falling-out with PEIC, which was chronicled in a string of court filings. He alleged that he had been cut out of the commission's discussion, a violation of the Federal Advisory Committee Act. Federal Judge Colleen Kollar-Kotelly agreed with Dunlap and ruled that he could not be excluded from the commission. The correspondences from which Dunlap was excluded were eventually released and posted on the Maine secretary of state's website; they were reported on at the time but only so much as they confirmed that the commission wasn't able to find any evidence of fraud.
Those documents paint a comical tale of PEIC as a group of conservative lawyers and activists hunting for Bigfoot isn't real while knowing it isn't real but determined to scam outlets into publishing their grainy footage. Internally, there was little indication that the committee was aimed at a higher purpose of furthering election integrity but instead that the committee's Republican members hoped to save face for Trump's popular vote loss and elevate their own reputations.
More than anything else, the members of the commission seemed interested in plugging their own columns; sometimes those columns appeared on conspiracy theory websites. Heritage Foundation lawyer Hans von Spakovsky sent around his columns in conservative outlets like The Daily Signal (the Heritage Foundation's media arm) and National Review. J. Christian Adams sent his editorial in PJ Media, a conspiracy site that accused Congresswoman Ilhan Omar (D-Minn.) of giving military advice to Iran. PEIC member Ken Blackwell sent his column in the Daily Caller to a batch of people in the office of the Vice President and wrote "please tweet, share on FB and other social media." In one email chain with the subject "at least our supporters are fired up," Kansas Secretary of State Kris Kobach plugged an editorial that he authored for Breitbart and boasted "top article at the moment, with over 5,000 comments."
Also in the correspondences is an Aug. 30, 2017 email from Steve Bannon to PEIC Vice Chair Kris Kobach—Bannon was a chief strategist at the White House until Aug. 18, 2017. In his email, the former Breitbart editor sent the text of a Politico article from Aug. 30 that outlined how Justice Department lawyers were forced to apologize for the commission's screw-ups. Bannon, who was then a private citizen, appeared to be under the impression that PEIC was incompetent and added the addendum "WTF" to the story.
One figure associated with PEIC was guns-rights activist John R. Lott — while Lott was never on the commission, he appeared on panels with its members and one of his presentations to PEIC is posted on WhiteHouse.gov. Lott fell in well with the commission members hoping to elevate their reputations. And he appears to have gotten close to the commission simply by sending an email on May 17, 2017 with the first line, "I was hoping to get ahold of Chris Kobach." Throughout the email, Lott continued to refer to PEIC Vice-Chair Kris Kobach as "Chris." 
Reached via phone, Lott said that he's unable to talk to the press because he's currently a member of the Justice Department.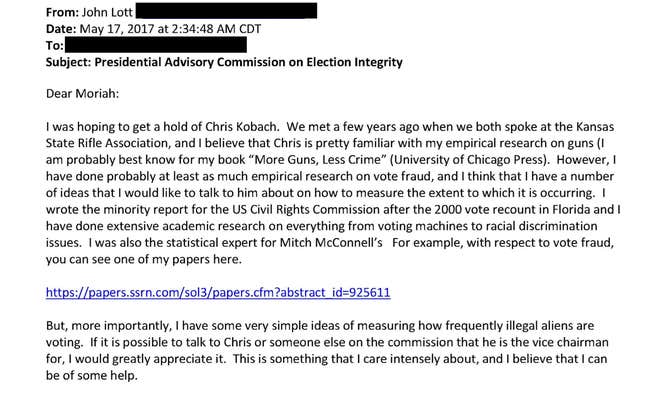 The only participating member of the commission competent of more intellectual plays than public buffoonery is von Spakovsky, a man usually credited as one of the architects behind the Republican talking point that voter fraud is a rampant danger lurking behind every ballot box. The Heritage Foundation lawyer served in the Bush administration before being nominated and eventually withdrawing his nomination to serve on the Federal Election Commission. In September, ProPublica reported that von Spakovsky has been holding private meetings on voter fraud for Republicans, including GOP congressional staffers. And von Spakovsky has admitted in court that he is unable to cite a single case where "non-citizen voting" changed the outcome of an election. He also admitted during the same court appearance that an editorial that he authored asserting that a 2010 Missouri election was decided by citizens of Somalia was false. In 2012, the late civil rights icon Congressman John Lewis said of von Spakovsky, "over the years he's been hellbent to make it more difficult—always, always—for people to vote. It's like he goes to bed dreaming about this, and gets up in the morning wondering, What can I do today to make it more difficult for people to vote?"
While PEIC was one of a number of comical footnotes to Trump presidency Trump, its resolution should give Democrats lying awake at night a bit of solace in the fact that Trump's current motley crew of lawyers and defenders are no more competent than the last batch. And the last batch was staffed with pedigreed Republican lawyers and secretaries of state, a batch more capable of acting as catalysts in a democratic backslide. This pieced-together patch of misfits is led by Rudy Giuliani. One of its main talking heads is Richard Grenell, who famously hid his PR work for a foreign oligarch who is barred from entering the United States on charges of corruption.
Its lack of findings prove the audacity and absurdity of Trump's attempts to dismiss the results of the election. If his commission, one brought into being with an executive order, had found even the slightest provable elements of fraud, Trump would be hollering them from on high. Again and again and again.
Instead, he's tweeting stories from conspiracy networks, because the lack of results proves the point. Voter fraud isn't real.
The White House did not respond to questions by the Daily Dot about the commission.
More election 2020 coverage

More election 2020 coverage