President Donald Trump's executive order that will effectively ban TikTok accused the app of collecting "vast swaths of information" from users—but so does his own official 2020 app.
The administration and others have raised concerns about TikTok because it is owned by a Chinese company, ByteDance. The Chinese government has forced tech companies in the country to hand over user data, which has led to speculation that it could do the same with TikTok.
TikTok, which has become immensely popular over the past few years, has vehemently defended itself against those concerns. The company says it stores U.S. user data within the country.
The executive order is paving the way for a sale of the U.S. operations of TikTok to an American company, which brings up its own set of questions about the handling of data and big tech's relationship with the government. TikTok has sued the Trump administration over the executive order.
However, it's no secret that TikTok does collect a lot of information about its users, just like countless other social media apps. Trump's executive order seems to focus on this data collection specifically.
"TikTok automatically captures vast swaths of information from its users, including Internet and other network activity information such as location data and browsing and search histories," Trump's executive order reads.
Despite its parent company's origins and past privacy bugs—including saving user clipboard content—data experts compare TikTok's policies to industry standards.
"When you look at the app, it's no better or worse than any other major social media platforms that have had major privacy snafus over the last decade," Heather Federman, vice president of privacy and policy at the data company BigID, told Digital Trends. "The difference is it's a Chinese-owned app. In terms of the perception, that's not great. But in terms of reality, this is the same thing you get with any app."
TikTok, like any social media platform, collects user data which is outlined in its privacy policy.
In addition to saving login information, TikTok automatically gathers shared information from third-party platforms like Instagram.
The privacy policy also states that TikTok collects "technical and behavioral information about your use of the platform." This information caters a "For You" page suitable for each individual user. TikTok also collects data sent in direct messages.
TikTok users then choose to share more information like age, payment info, or content depending on how they use the app.
The collection of location and device information typically is what makes people uncomfortable. It is something that TikTok, Facebook, and Twitter partake in.
Location and even GPS data is collected by a multitude of apps and third-party services for the purpose of advertisements, according to the New York Times.
While Trump has lambasted the amount of data TikTok collects on users, its not all that much different than his official Trump 2020 app, which has been downloaded by at least 1.4 million people, according to CBS.
Trump's app also collects this information
While TikTok does collect a lot of user data—so does Trump's 2020 app.
The Trump campaign has been obsessed with data. In fact, the president's former re-election campaign manager Brad Parscale gloated over the "biggest data haul and rally signup of all time" ahead of the Trump's rally in Tulsa, Oklahoma in June.
The app's extensive requests are well documented, including by the MIT Technology Review.
For example, the latest version of the app on Android requests access to a user's contacts, precise location, approximate location, phone status and identity, the ability to modify and delete SD card contents, the ability to read SD card contents, run at the startup of the phone, have network access, view network connections, view Wi-Fi connections, receive data from the internet, and prevent the phone from sleeping, among other things.
TikTok requests for many of the same permissions on Android, adding access to a phone's camera and microphone, but not asking for location.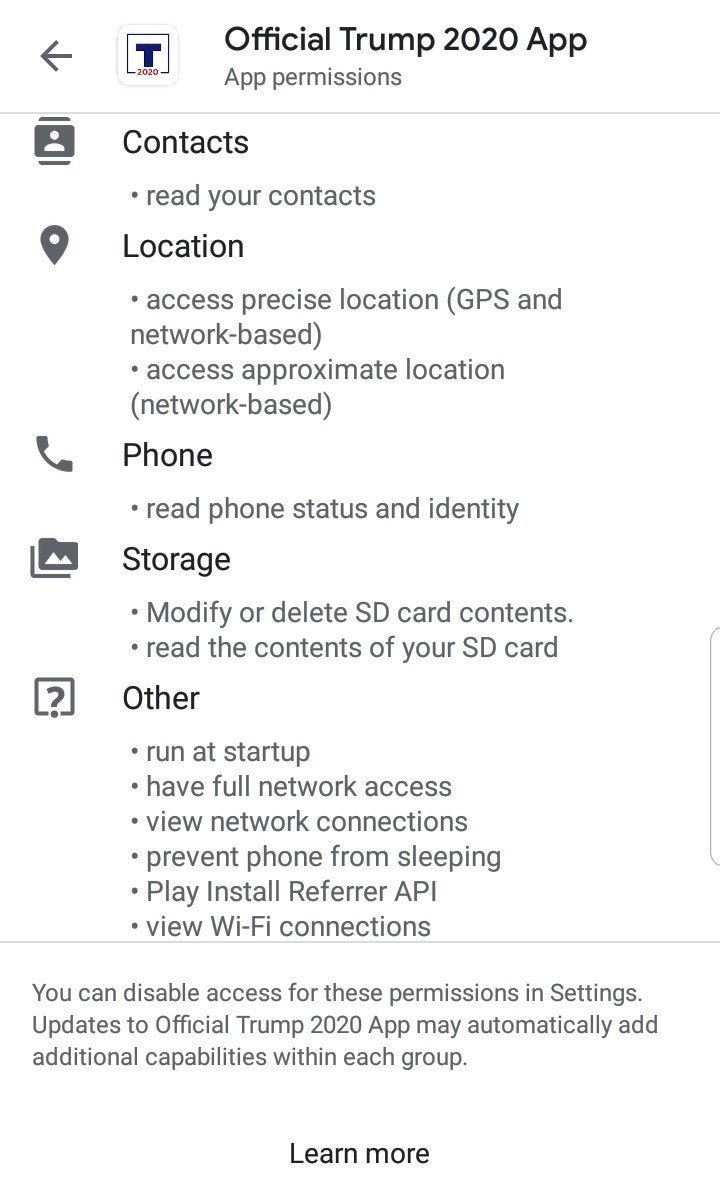 To register for Trump's app, users must provide a phone number, name, email address, and zip code. To sign up for TikTok, users are only required to provide age, username and password, language, and email or phone number. The registration email can be an anonymous Apple email addresses if preferred by the user.
In April 2019, Parscale told Face the Nation that he hoped to have "40 to 50 million people's direct contacts" by the 2020 election. At the time he said the campaign had 30 million cell phone numbers.
Approving access to contacts gives up the names, numbers, and any other saved information in user contact lists. The app is not legally required to tell the new contact that it now has its information.
"Regardless of political perspective, this app raises several privacy-related concerns," Sean Wright, an independent cybersecurity researcher, told Newsweek earlier this year. "In some aspects, it does appear to be more like a spy in a pocket rather than an app to help make an informed decision who to vote for in the next presidential election."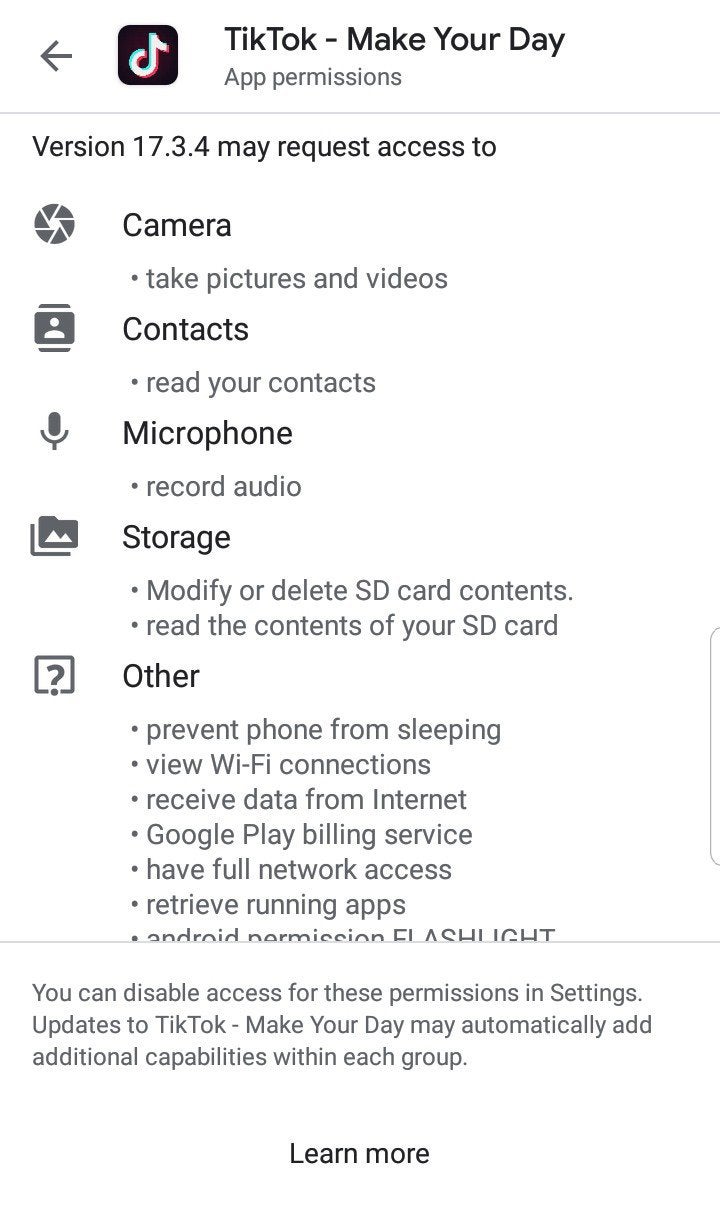 Gaining access to the device identification number allows Trump's app, and others like TikTok, to send targeted ads to specific individuals. The Wall Street Journal in 2019 highlighted how campaigns are using the unique identification number of people at rallies to target ads at people to go to polls.
Trump's app was developed by software company Phunware. The company describes itself as a "mobile application, location tracking, and advertising" service with access to one billion mobile devices per month, according to its website.
A former Phunware executive, Ian Karnell, told CBS that the company has more data access than Facebook.
Karnell told the news outlet the Trump app's permission requests were "egregious" and that the campaign wants "access to everything."
So while Trump lambasted how TikTok "automatically captures vast swaths of information from its users" (and even campaigned against TikTok doing so) its worth noting that his own campaign app does essentially the same thing.
Maybe Trump should consider banning his own app?
---
Read more of the Daily Dot's tech and politics coverage