It's no secret that President Donald Trump supporters are really into the Civil War. They're so into it, in fact, that some have threatened a second Civil War in the event of Trump's impeachment.
In late September, Trump himself gleefully warned of civil war if he's removed from office.
….If the Democrats are successful in removing the President from office (which they will never be), it will cause a Civil War like fracture in this Nation from which our Country will never heal." Pastor Robert Jeffress, @FoxNews

— Donald J. Trump (@realDonaldTrump) September 30, 2019
Armed militias ate up every word of the warning. The Oath Keepers retweeted the president and added, "We ARE on the verge of a HOT civil war. Like in 1859. That's where we are. And the Right has ZERO trust or respect for anything the left is doing. We see THEM as illegitimate too."
As the president was impeached yesterday and no war has (thankfully) yet broken out, either those threats were hollow or they misunderstood that a president is only removed from office following impeachment and a conviction in the Senate.
That hasn't stopped many from continuing to threaten taking up arms against their country in Trump's honor.
Trump Supporters are basically saying they are going to be attacking random black men, women and children if Trump is impeached. pic.twitter.com/tv1F3fvaYP

— SAVOY (@thesavoyshow) December 12, 2019
If Trump is removed from office, a Civil War will start.

— Joey Saladino (@JoeySalads) December 18, 2019
Again and again we see that the nougat center of all that chocolatey Trumpism is grabbing a gun and murdering your neighbor because they're a Democrat. #CivilWar2 pic.twitter.com/7qCzOZ3p9y

— Mike Rothschild, Perfumed Prince of the Illuminati (@rothschildmd) December 19, 2019
On social media, Trump supporters' threats of violence and murder in the event of either his ouster or a constitutional amendment repealing the right to bear arms—which many inexplicably and incorrectly think will happen if he's ousted—have been common for the last few years.

The president has seized on such rhetoric. This morning, a Trump campaign email begging for money began, "Democrats have declared open war on American democracy. 229 Democratic TRAITORS voted to impeach President Trump for NO REASON other than the fact that they don't like him."
One of Trump Republicans' favored talking points regarding impeachment of late has been to argue that it's based entirely on Democrats' dislike of the president, and not his withholding vital military aid from Ukraine unless they investigated Joe Biden.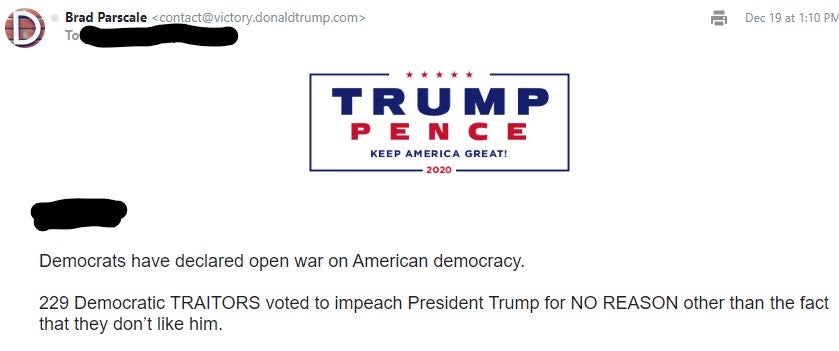 Reactions to the threats of civil war run the gambit. Some keyboard MAGA warriors urged violence from the safety of their computers and phones. A few liberals were afraid, but more took to social media to mock the idea, such as by cheekily wondering if Trump's alleged bone spurs would allow him to serve, and pointing out that trying to start a civil war is terrorism.
Every day, I'm more convinced a successful Trump impeachment would cause an outright #CivilWar2 – scares the shit out of me too.

— Dave Kempa (@davekempa) August 25, 2017
if you hate #TRUMP
YOU ARE THE ENEMY!
YOU ARE ON THE WRONG SIDE! YOU ARE WEAK AND FOOLISH!
YOU ARE UNAMERICAN! #CivilWarSignup YES#CivilWar2 YES WE CAN!#TrumpForPrison2020 LOL#TruthExposed CNN FAKE #TrumpLandslide2020 YES#TrumpCivilWarThreat FACT!#TrumpImpeachment LOL

— 954z (@954Z) October 1, 2019
So whats the game plan for #civilwar2 ? Are you going to shoot anyone who didn't vote Republican?
Pull your neighbor's out of there houses and execute them? What about their children?
Trump is CIC, he has control of the military, who exactly are you going to war with?

— Cindy Taylor (@drumpftsucks) December 19, 2019
AYE TF YOOOO niggas really did it. Racist boutta go crazay #CivilWar2 pic.twitter.com/DkuOrv8hFM

— cdel_l (@Cdell_) December 19, 2019
No #CivilWar2 just a bunch of #Snowflakes melting down over #TrumpImpeachment

— VOTE IN THE PRIMARIES (@WatchTheCrapFly) December 19, 2019
#CivilWar2 is an entire joke and whoever actually does anything about this is a domestic terrorist.

— _01 (@kamikazewtrmeln) December 19, 2019
Trumpers are swarming Twitter & Facebook threatening #CivilWar2, but they don't understand the consequences & the US military. The military will not murder its own citizens. They're also threatening domestic terror attacks on power & food supplies. Hopefully the @FBI is on this. https://t.co/eVkE1Grvuq

— ᗰᗩᖇIᗩ (@BeBraveAndTrue) December 19, 2019
https://twitter.com/JkwalkerAuthor/status/1207684145377370112?s=20
Facts Matter. The right is crying #CivilWar2 but they fail to understand the red is rural areas, 3 million more people voted against Trump, there is more manpower in the blue major cities. The right would only prove they're domestic terrorists if they start a civil war. https://t.co/UETFhCBSs9

— Texas Twirl (@mouthofdasouth6) December 18, 2019
A few penned amusing Civil War 2 letters to make fun of the seemingly hollow threats.
#CivilWar2 #CivilWar2letters "Dear Martha, Things have been quiet. Not very much going on. I got up and had a latte at Starbucks then had a scone too. But low, I hear the familiar sounds of Russian trolls.Kiss the children for me" -Zebadia Kowalski

— Mr Jack (@JAfredderf) December 19, 2019
Dearest Susan,

We have slept little this night. The unearthly wailing of #MAGA and "Lock Her Up" from the next homestead, echoed through the clear night and kept many awake.

We are sending a patrol to the Starbucks. Pray it is standing.#CivilWar2 #secondcivilwarletters

— Topher Ruggles (@TopherRuggles) December 19, 2019
As of Thursday afternoon, there had been no reports of the beginnings of a second civil war.
READ MORE: