On Thursday President Donald Trump seemed pretty happy about an "agricultural roundtable" he had with lawmakers and governors. He even posted about it on Twitter.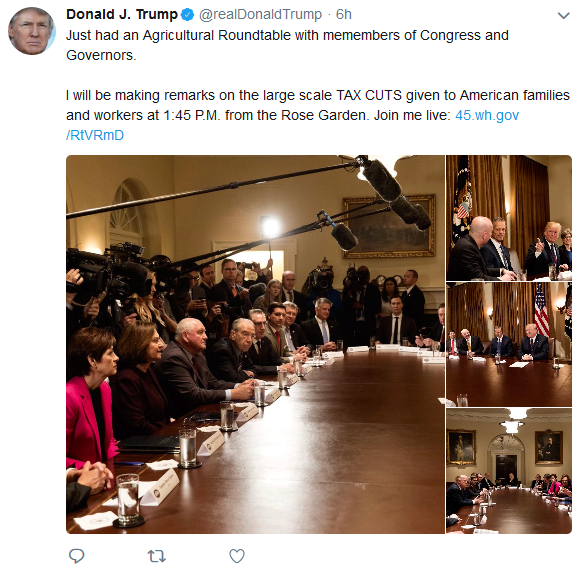 But on Friday morning, Trump's tweet was deleted.
While Trump has deleted tweets in the past, it appears that Chief of Staff John Kelly's expression in one of the photos he posted may have been the reason for taking it down.
Hidden within the photos the president posted was Kelly, who was caught with his head buried in his palm–something he's been known to do on camera in the past.
The internet, of course, noticed Kelly's expression.
I wonder if @realDonaldTrump noticed John Kelly before he tweeted out this photo? pic.twitter.com/rlYAGPP1r7

— Red T Raccoon (@RedTRaccoon) April 12, 2018
John Kelly contemplating the presidency of Donald Trump. pic.twitter.com/xfSxqaIIrL

— Bill Kristol (@BillKristol) April 12, 2018
https://twitter.com/pacelattin/status/984589482245603328
This is John Kelly, @Whitehouse Chief of Staff, realizing that he sold his soul to the devil…for a moron.#TrumpRussia #MoronDon #PeeTape #Trump pic.twitter.com/duSJm36l36

— Private Joker, USMC (@Infantry0300) April 12, 2018
Kelly, who reportedly has a rocky relationship with the president right now, has been spotted making an exasperated face at the behest of the president in the past.
During Trump's wild press conference following the white supremacist rally in Charlottesville, Virginia last year, where the president said there was blame on "both sides" for the violence, a photo was taken of Kelly with his face slumped and arms crossed, which instantly became a meme.
But maybe Kelly's photo in Trump's tweet on Thursday was just him reflecting on when he said "God punished" him by sending him to be part of the president's administration?