President Donald Trump made his first-ever tweet as president about Africa late Tuesday. It is about the white people being treated unfairly.
I have asked Secretary of State @SecPompeo to closely study the South Africa land and farm seizures and expropriations and the large scale killing of farmers. "South African Government is now seizing land from white farmers." @TuckerCarlson @FoxNews

— Donald J. Trump (@realDonaldTrump) August 23, 2018
Trump's order to Secretary of State Mike Pompeo, on the words of cable news host Tucker Carlson, to investigate the seizing of farms from white people in South Africa was read online as an explicit overture to the president's white nationalist supporters.
From 1960-1983, 3,500,000 Non-White South Africans were removed from their homes and forced into segregated neighbourhoods, in one of the largest mass evictions in modern history.

— Irishrygirl (@irishrygirl) August 23, 2018
And it is mired in inaccuracy.
The idea that South Africa is being racist against white farmers has been percolating online, and finally worked its way up to one of Trump's favorite pundits.
Recently, South African President Cyril Ramaphosa proposed altering the country's constitution to begin a process of land reforms—think reparations—to right the decades-long wrongs and atrocities wrought by apartheid. The South African government has not yet seized any land, and still needs a two-thirds majority in Congress to even begin to do so.
The reason for wanting redistribution? According to studies, despite whites making up 8 percent of the South African population, they control 74 percent of the farmland in the country. If implemented, the government would be able to seize farmland without compensating the owners.
After watching a segment on Fox about it, where Carlson—whose show has been criticized for dog-whistling white nationalists—said the South African government was taking land from people with the wrong skin color, Trump said on Twitter he would ask Pompeo to look into it. He did so by tagging the wrong Pompeo account on Twitter.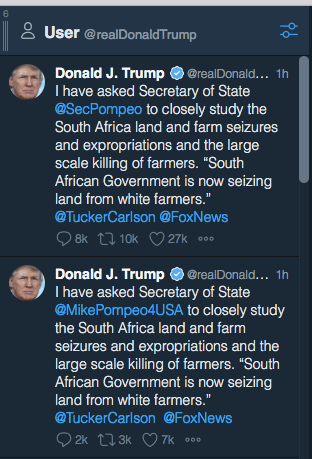 South Africa's has long attempted to right the wrongs of apartheid in its country, owning up to its racist past. Over on r/The_Donald, Reddit's pro-Trump forum, the tweet was celebrated.
KmartSuperCenter: I teared up reading that tweet. Nice to know this is finally on Trump's radar, what is happening to those people is terrible. Props to Tucker for covering it.

fastmandan: POTUS needs to send in aircraft and ships and USMC to south africa and evacuate all the white farmers of south africa. would be a monumental moment of his presidency if we save those millions of innocent people.

our military saving people's lives would be better than that garbageass waste of time and money in afghanistan.
The South African government was also called racist for wanting to right long-time historical wrongs.
africanized:  As a South African, who fled the country because of the racist government, but still has friends and family in there, this leaves me speechless. I thought we'd have to go it alone, abandoned by the west, but Trump has me tearing up, God bless him and America.

BOMBTHROWINGGENIUS: I guarantee you they were working on this well before this tweet. They didn't want to seem to quick to rescue evil white people though otherwise the media would turn the white supremacist narrative back on again. They probably will anyway but atleast it will steal breath from this Cohen BS.
On Twitter, Trump's tweet was met with resistance from the South African government.
South Africa totally rejects this narrow perception which only seeks to divide our nation and reminds us of our colonial past. #landexpropriation @realDonaldTrump @PresidencyZA

— South African Government (@GovernmentZA) August 23, 2018
In Trump's tweet, he also mentioned the killing of "white farmers," a nod to white genocide claims that have been pushed by far-right media in South Africa, much like far-right media have done similarly in the U.S. The high crime rate in South Africa has nothing to do with race, CBS News reports.