Country crooner Travis Tritt has found that he doesn't much appreciate it when folks clap back on his political rants. Now, he's getting mocked for complaining about a Photoshopped image.
Fresh off being named a Diamond Resorts celebrity ambassador, Tritt has lately started letting loose on liberals. Most didn't seem bothered when he attacked Bill Maher's fans.
There was likewise hardly a ripple when he repeatedly tweeted about Rep. Nancy Pelosi (D-Calif.), or when the "T-R-O-U-B-L-E" singer weighed in on the Alyssa Milano versus Rose McGowan feud for some reason. (Spoiler: he's team Rose.)
Emboldened, over Labor Day weekend, Tritt offered some advice to help his followers own the libs: Block everyone with "resist" in their profile.
"Per my friend @RealJamesWoods, type #resist in your Twitter search bar. Block at least twenty of these accounts per day. We will soon make them as irrelevant as they have tried to make the rest of us," the singer tweeted Saturday.

Tritt claimed that he's been blocking #resist accounts for "months now."
"I get sick and tired of arguing with sheeple who automatically subscribe to any fake news story from anonymous sources without researching anything on their own," Tritt explained, a likely reference to stories that President Donald Trump called the military dead "losers" and "suckers."
Lots of people made fun of Tritt or pointed out that the ostrich technique isn't a great way to understand the other side's viewpoints. Several noted that liberals also buy music and attend concerts.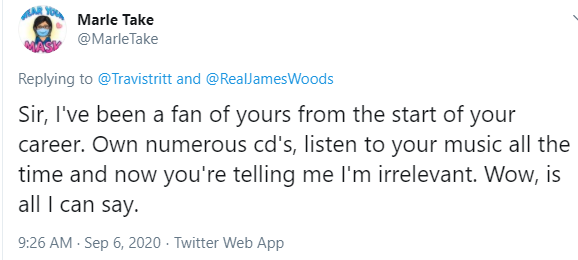 The $35 million man took all this in stride. But when some started trolling him with a picture photoshopped to look as if he was wearing makeup, like any man who is extremely secure in his masculinity, Tritt decided this was a bridge too far.
Tritt claimed it was "proof of the dishonesty of the left" that they would "attempt to try to humiliate" him with the Photoshopped picture.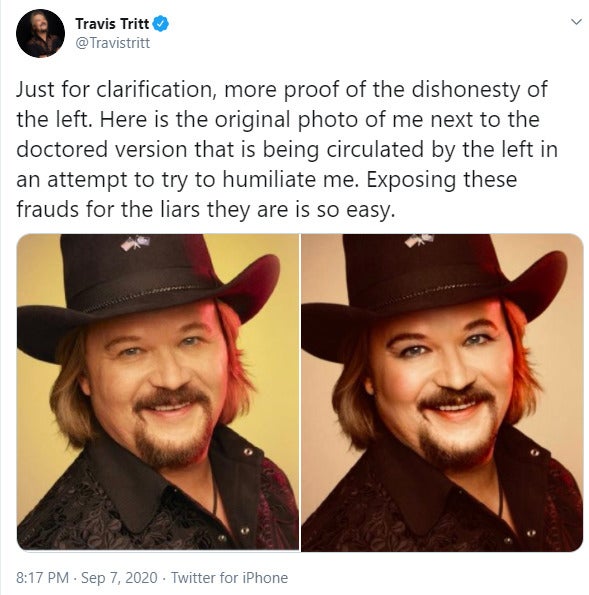 If his hope was to keep the Photoshopped image from circulating, Tritt may have wanted to look up the Streisand effect, in which an attempt to suppress something only leads it to circulate more.
"Thank you for sharing these photographs Travis," Bridger Winegar said.
Tritt's tweet only encouraged the dragging.
Many joked that they couldn't tell which one was authentic, or used actual photos of Tritt to troll him.
"I'm sorry they made you pretty, sir," another said.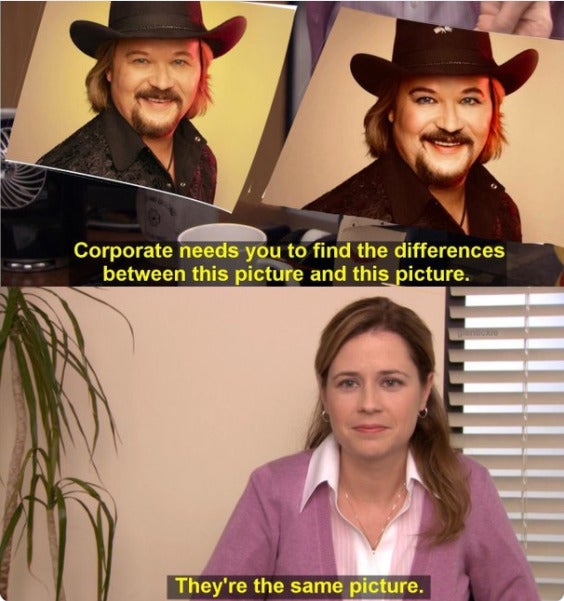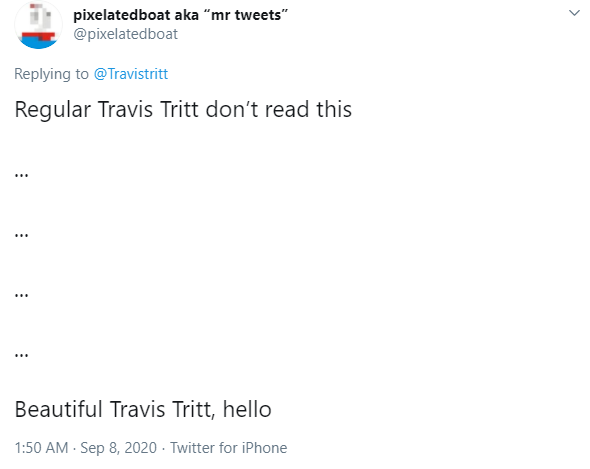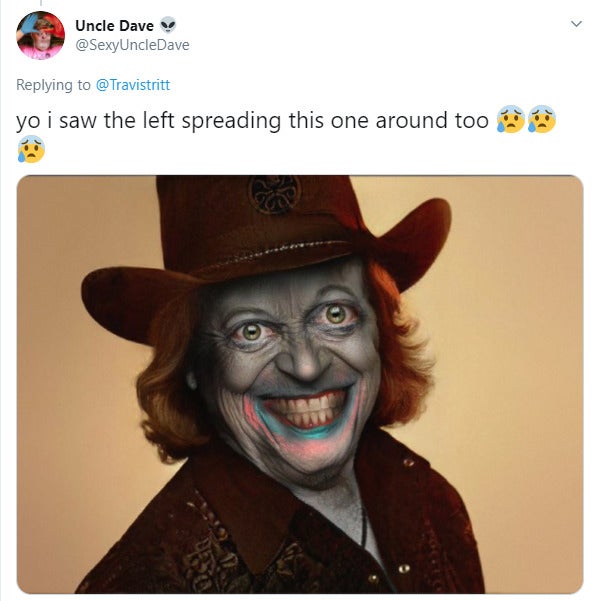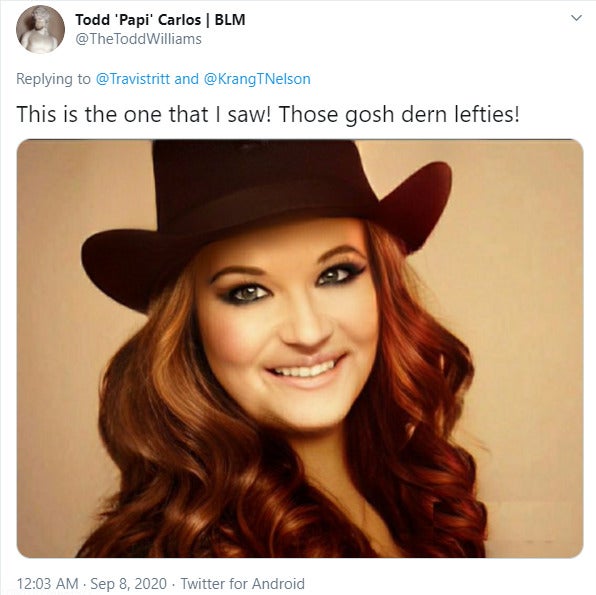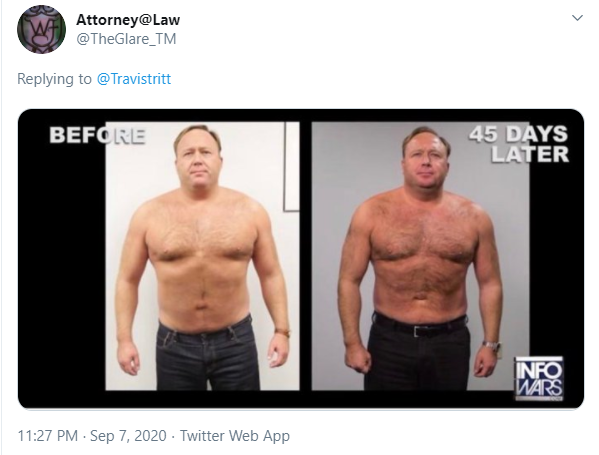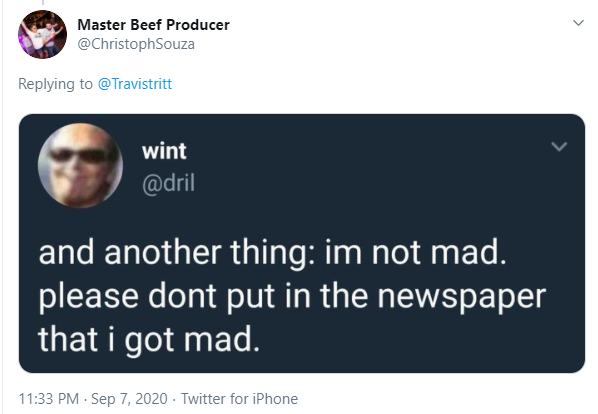 Tritt can at least take comfort in the fact that Larry the Cable Guy responded to his tweet to ask for a copy.