During a recent meeting between top Turkish leaders and a delegation from a pair of journalism advocacy groups, Turkish president Tayyip Erdo?an did not mince words. "I am increasingly against the Internet every day," he said.
Erdo?an's meeting with representatives from the Committee to Protect Journalists and the International Press Institute, organizations concerned with the country's record as the world's leading jailor of journalists, comes on the heels of Istanbul hosting the United Nations-sponsored Internet Governance Forum. Hosting what's arguably the most important gathering on the the future of the Internet in a country whose leader is outspoken against it unsurprisingly raised hackles among online activists—especially because when Erdo?an says he's "against the Internet," he really means it.
Erdo?an, who served as Turkey's prime minister for just over a decade before being elected president earlier this year, is known for both his Islam-tinged populism and a blunt style that's won him strong support from the nation's conservatives. "Democracy is like a train," he famously  said. "You take it where you have to go, and then you get off."
Over the past few years, Erdo?an's government has reacted to large-scale protests against his regime as well as a series of scandalous audio recordings that reportedly showed Erdo?an instructing his son to hide millions of dollars worth of ill-gotten gains from corruption investigators with serious crackdowns on social media channels like Twitter and YouTube.
The most high-profile anti-Internet action happened in March, when Erdo?an banned Twitter as a way to disrupt the primary communication platform used by the throngs of demonstrators who had filled the streets of Istanbul. A court overturned the ban, but not before cracks started appearing on their own.
Almost immediately after the microblogging service was banned, representatives from the San Francisco-based company started pushing out information on how users could use text messages to get their tweets onto the network.
Turkish users: you can send Tweets using SMS. Avea and Vodafone text START to 2444. Turkcell text START to 2555.

— Policy (@policy) March 20, 2014
Texting wasn't the only way Turks were able to get around the Twitter ban. Usage of Tor, a service that allowed them skirt restrictions by routing  Internet traffic through a global network to disguise its origin, more than doubled as soon as the prohibition was imposed.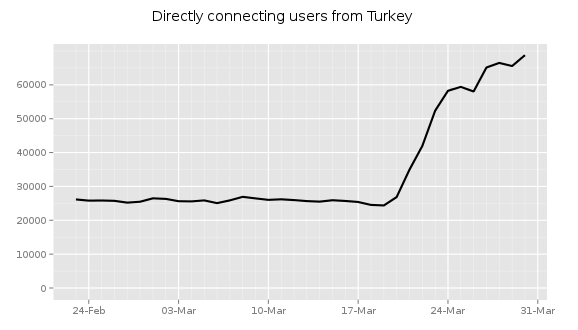 Screengrab via Tor Metrics
A similar blockage was levvied on YouTube the following week, after a secret recording of a meeting of Turkey's top military and intelligence officials talking about direct intervention in Syria's civil war was leaked onto the video-sharing site. Apparently never having heard of the Streisand Effect, the country's leaders prevented citizens from viewing YouTube in an effort to stop the recordings from spreading.
Major sites like YouTube and Twitter were once again made accessible within a span of weeks, thanks to decisions by the country's Constitutional Court. But a litany of others remain out of reach. For example, there were reports that the question-and-answer service Ask.fm was still blocked after the ban.
The government's ability to block websites it deems problematic was dealt a blow last week when Turkey's top court overturned a law, enacted last year with Erdo?an's enthusiastic support, which allowed regulators to not only unilaterally block websites but monitor and store online communications for up to two years without the need for a court order.
Even when services like Twitter are accessible in Turkey, they're not entirely safe places for people to say whatever they want. Turkish police arrested more than two dozen young adults for using social media to foment political unrest. At the time, Erdo?an labeled Twitter a "menace to society."
They were all acquitted by a judge and released last month. However, scores of others haven't been so lucky.
In May, a man was sentenced to 15 months in prison for maintaining a satirical Twitter account where he tweeted in the character of God. Last September, world-renowned Turkish composer Fazil Say was sentenced to 10 months in prison for tweets that were critical of Islam.
While Erdo?an has repeatedly slammed social media, his government hasn't been above using it to further its own agenda. During last year's massive protests, Erdo?an's AKP party announced plans to hire a 6,000-member team to flood sites like Twitter, Facebook, Instagram and YouTube with pro-government propaganda.
Ironically, Erdo?an himself is actually on Twitter and does tweet regularly.
A report issued earlier this year by global watchdog group Freedom House called Turkey a "swing state," meaning that it is a country where "a young population, improving technology, and international connections could result in a free Internet the world might envy, or where government tactics might provide a model for shutting down a vibrant online sphere."
The report noted that the Turkish population is one of the most wired in all of Europe. Its citizens spend the second most time online per capita of any nation on the continent, only surpassed by the the United Kingdom. More than 90 percent of the population has a Facebook account and more than 70 percent are on Twitter.
As a result, Freedom House argued that Turkey will likely serve as a model for other Eurasian nations negotiating how to deal with the increased freedom of expression provided by online social media platforms.
The report seemed hopeful that a set of factors—both within the structure of the Turkish government and outside economic and cultural forces—has the potential to push the country toward openness. It noted that public institutions like the Constitutional Court, which has consistently been a thorn in the side of Erdo?an's efforts to control the Internet, has considerably more power than in autocratic states. There's also a vocal and connected citizen opposition movement, one that made international headlines when it jammed Istanbul's cosmopolitan Istiklal Street for months following the government's announcement that it would bulldoze nearby Gezi Park, the only large, publicly accessible green space in that area of the city.
The report's authors' continued:
Just as important, Turkey cannot count on filling its budget with hydrocarbon revenues. Instead, the country's economy is heavily reliant on Western investment and trade, especially its customs union with the EU. The EU is Turkey's number one import and export partner, and provides the overwhelming majority of Turkey's foreign direct investment. To the extent that Turkey's European economic partners find the lack of telecommunications infrastructure development and censorship online problematic for their investments, Turkey will face pressure to improve its approach to the online sphere.
Photo by Kremlin.ru/Wikimedia Commons