On Jan. 21, Amy Brown tweeted that the "most relatable thing" President Joe Biden has done is get "conned into using Sprinklr," a social media management and monitoring tool.
Much to her surprise, this casual joke launched a threat to her employment (Sprinklr disagrees with that assessment) and unleashed criticisms about the company's services and its history of closely policing online commentary about it. The backlash was led in part by social media professionals like Brown, who spent five years working on social media at Wendy's, where she was responsible for one of the most viral internet burns of all time.
Unbeknownst to Brown, at the time her then-employer, Figma, was in the process of inking a deal with Spinklr. It didn't take too kindly to her remark about Biden getting "conned" into using its service.
"The next afternoon, a colleague from our sales team slacked me to let me know his contact at Sprinklr had complained about my tweet, and asked if Figma could have me delete it," Brown wrote in a recent blog.
She didn't take it seriously.
"And honestly? I laughed," she wrote.
Brown added that it wasn't the first time a tweet had been brought to her employer's attention, and she felt bad and somewhat embarrassed. Nevertheless, she was unmoved.
"So I politely told our sales guy sorry, but that I didn't think I'd broken company policy by tweeting that Sprinklr sucks," she wrote.
She told her boss what'd happened. Her boss, she says, also laughed. She did delete her responses to comments on it, but left the original tweet up. And that, Brown assumed, would be the end of that.
She was wrong.
A few hours later, she says she received an email from the sales representative. They said that Ryan Parr, a vice president at Sprinklr, had called them directly.
She posted portions of the email on her blog. "Ryan said that if we don't have Amy delete her tweet, it's going to be escalated to Sprinklr's legal team," the email reportedly read. "If it goes to their legal team, the legal team will request that we have her take it down. If we don't, they will investigate cancelling the contract."
Parr added that Sprinklr works with nine of the top 10 brands in the world, and claimed her tweet "puts those relationships at risk." According to Brown, he also described her as "juvenile and unnecessarily aggressive."
Brown told the Daily Dot that Figma, which she's since left for unrelated reasons, had her back. "On the communications side they were sort of on my team from the very beginning. I think Figma handled it really well," she said.
She remains incredulous about Sprinklr's conduct, however. "It feels like the real unnecessary aggression is escalating it to threats of legal action," she said. To her and others, the episode and Sprinklr's subsequent actions point to a larger cultural problem at the company, and raises questions about who else they've tried to bully into deleting criticisms.
"I have a voice, and I've dealt with a major company's legal team before, so they don't really scare me, but I imagine a lot of people would be scared in this situation," Brown said.
Sprinklr, which just this week announced its plans to go public, did not respond to multiple requests for comment sent Wednesday.
People rallied behind Brown after she blogged about the experience earlier this month.
They shared tales of "relentless" sales representatives, dissatisfaction with the software, and other complaints about Sprinklr.
Some weren't willing to take the risk. "I'm afraid to share my experiences with them because I don't feel like getting fired from a job I love very much," tweeted one.
Such complaints go completely against the grain of articles and reviews about Sprinklr. The multinational company was recently named a leader in sales social engagement solutions, Business Wire reports. Last summer, it was included in a list of the most valuable startups in the world. In November, it was hailed as a top private cloud company to work for during the pandemic.
Its Glassdoor ratings are remarkably high, and include descriptions like, "Highly recommend Sprinklr to anyone that is looking for inclusive culture of winning together and growing as individuals." A significant number praise the snacks there.
But there are also multiple claims on Glassdoor that the company pressures new hires into reviewing it.
One reviewer recently wrote, "It really sucks that I have to post a public post to get your attention. But all you actually care about is vanity metrics like this." The company responded by accusing them of multiple inaccuracies and offering to have a discussion about the issues they'd raised, which include sexism and problematic racial relations.
Being in the brand management business means that Sprinklr has an arguably even more intense interest in managing its own brand. Brown told the Daily Dot that Sprinklr has a reputation for closely monitoring its mentions. "They are known for reading every single tweet about themselves and taking it personally," she said.
Conduct of people identifying themselves as Sprinklr employees supports this characterization.
Audra Williams was among those tweeting sympathetically about Brown's allegations. Soon thereafter, a message popped up in her inbox. It was from a woman identifying herself as Rachel Alvarez, a member of Sprinklr's public relations team. Alvarez pushed back against Brown's claims that Parr tried to get her fired, and reportedly wrote that she was hoping Williams was open to "learning more" about the company.
According to screenshots of their exchange that Williams tweeted, Alvarez also brought up Brown's fertility issues, which were referenced in her blog, and implied that perhaps this was why she said bad things about Sprinklr.
"…[I]f that's the reason why she wanted to take it out on us, I feel terrible," Alvarez wrote. "I'm so sorry she's having trouble and just hope things get better for her."
Williams, who has written for the Daily Dot, was appalled.
"Like if Rachel had JUST said that no one tried to get Amy fired, that would have been bad enough," Williams said via Twitter message. "But once she brought Amy's fertility into it, it feels like something they can't be like 'AGREE TO DISAGREE' about??"
They went back and forth a bit, she says, then Alvarez blocked her. She later unblocked her and apologized, Williams said.
Alvarez wasn't the only Sprinklr employee addressing the situation on Twitter. On Monday, Kelly Lang responded to Brown's original tweet from January to defend the company. "We are proud of our culture and focused on treating others with dignity, respect and making people happier," she wrote.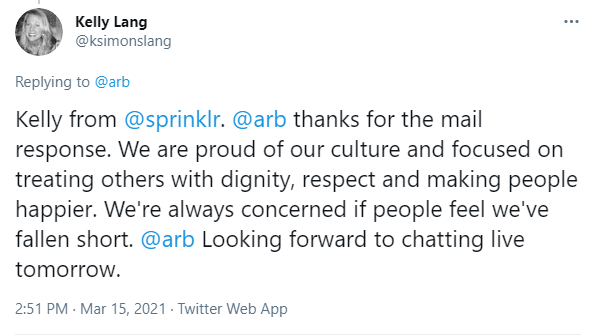 The online thrashing of Sprinklr has now been sustained over a number of days. Many of its critics see the situation as an entirely unforced error brought about by the company's oversized reaction to criticisms, as if it and its employees take everything written on the internet personally. "I've worked in brand social media for 10 years now and the worst thing you can do is take everything people say about you on the internet seriously," said Brown.
A thread of incredulousness is woven through the outrage over Sprinklr's and its employees' behavior. The company is in the communications business, after all.
"This was one tweet that could have easily been yesterday's news a long time ago," commented Andy Vale. "We all would have chuckled, then forgotten about it.
"I am astounded at how badly this has been handled."
Williams put it succinctly. "How did a social media company botch a social media situation so entirely?" she said.
---
Read more of the Daily Dot's tech and politics coverage