A glance down at the average living room coffee table will reveal not just one, not two, but an entire arsenal of remote controls. There's one for the TV, one for the cable box, one for the Blu-Ray player, one for the stereo system, one for the connected home lighting system. Honestly, it's a miracle these gadgets don't get lost more often than they do.
These days though, you don't have to keep track of all those different remotes. Instead, you can use one single smart remote to control any other smart home devices you may have. Here's everything you should know before purchasing a smart remote.
What is a smart remote?
If you've heard the term "universal remote" before, a smart remote is basically the same thing. The difference is that a smart remote should also be able to control more than just TV-related electronics.
A smart remote can often control five or more devices in your home, from home media staples like your TV and speakers to connected devices such as a smart lighting system or a thermostat. It can do this by including a range of infrared (IR) sensors and radios for commanding the TV, Wi-Fi, and Bluetooth for connected home devices. A smart remote may also have a screen onboard that adapts depending on which device you're controlling. Some smart remotes are physical gadgets that can take up a singular spot on your coffee table while others are apps that make use of your phone's built-in capabilities.
What are the best features of a smart remote?
If your smart remote is a good one, hopefully, you can toss out all your other confusing controls and replace them with just one. Its best feature is that it can operate whatever electronic device in your home needs operating, without having to navigate a bunch of menus or tapping tons of buttons. They come in a variety of shapes and sizes, which you can select based on your preferences. If you do prefer tapping a button over swiping a screen—which is nice for watching movies in the dark—you have that option too, depending on which model you buy.
READ MORE:
Are there any downsides to a smart remote?
Unlike smart TVs and connected home cameras, smart remotes shouldn't be an Internet of Things (IoT) home security risk. If your home is filled with connected devices, the main security risk lies in their connection to the internet. Adding a smart remote to the mix shouldn't increase the vulnerability of one of these other devices getting hacked, especially if you follow basic home security tips.
Now, if you purchase a physical smart remote, it will have some of the same downsides as a normal remote control: it needs to be recharged periodically, you definitely can't spill beer or soda on it, and it can still get lost between the couch cushions. A smartphone-based smart remote is great because it's always on-hand, but it also has its downsides: Without an IR sensor or transmitter, it likely won't be able to communicate with your TV (or other devices that use IR). And if you somehow misplace your phone, well, you've also lost your universal remote.
What are the best smart remotes?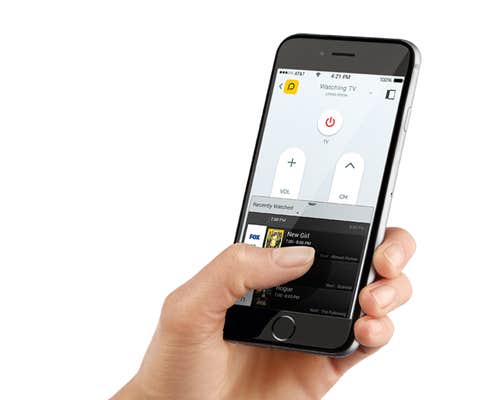 Peel lets you easily control a variety of home products with your phone, including smart TVs, set top boxes, Blu-Ray, DVD players, and audio systems. Peel also helps you manage your watching experience by setting reminders to watch things. After a while, it's able to recommend shows based on your past viewing patterns.
However, the Peel app doesn't yet control smart home devices outside of the media sphere. For example, if you have a connected lighting system, thermostat, or other Wi-Fi connected devices, Peel won't support those. There's also no hardware purchase required unless your phone doesn't include an IR blaster. While some Android phones include IR, iPhones don't, so you'll need to purchase an IR blaster such as the Pronto ($49.99) to fulfill that function.
There are other smart remote apps out there too, but Peel is the most popular despite its limitations. Apps like ASmart Remote IR (available for free on Android), are gaining popularity because they can easily connect with a variety of devices around your home, including Canon DSLR cameras.
Sevenhugs' smart remote debuted at CES this year to serious critical acclaim. It won the "most innovative product" in the Smart Home category, with good reason. Of all the smart remote options out there, this one seems to be the most all-encompassing and easiest to use.
However, this smart remote hasn't shipped yet—it's still available for pre-order for $229. Until it actually gets in buyers' hands, it's difficult to know if this remote will live up to the hype.
The Sevenhugs remote doesn't have any physical buttons—its interface is a long touchscreen. The screen automatically changes depending on where you point it, which gives the device a magically futuristic feel. If you point it at the thermostat, it will show control options for that device; if you point it at the TV, it will display those controls. You can customize which controls pop up when you point in different directions. According to Sevenhugs, the device works with a wide range of other products, including lights, cameras, thermostats, locks, fans, and televisions, among other things. Once it's made available for purchase, you can also use it to order an Uber.
READ MORE:
Still, it's useful. You can use to control the TV's control box or a connected gaming console. It also includes a voice recognition function, so you can request a favorite TV show or search for YouTube videos. The Samsung smartphone companion app, called Smart View, also lets you control the TV from your phone screen.
If you're in the market for a new TV and don't already have smart home products in your home, Samsung's smart remote and TV could be a better option.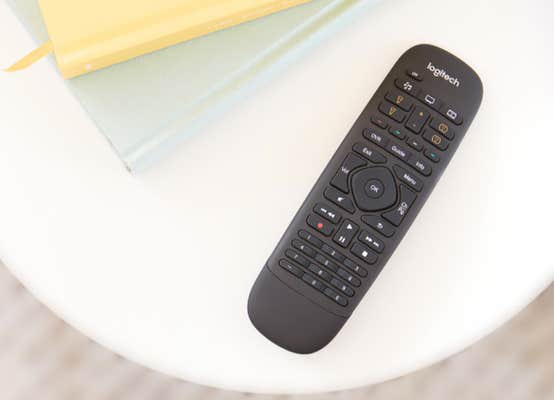 If you prefer buttons to touchscreen controls, the Logitech Harmony Companion may better suit your needs. For $129.99, the Harmony Companion works with a variety of brands and products: Sonos, Apple TV, Sony, Roku, and Nest, to name a few. It also works with Amazon's Alexa for voice control. You can use its accompanying Harmony App to quickly and easily set up the remote control to your liking with "custom activities." For instance, if you want to roll the blinds down and turn on the lights after you get home from work each day, the app can program this or add it to your favorites.
You can also purchase the Harmony Hub so that you can hide gaming consoles, receivers, and other electronics away out of sight, and still successfully control them.
Harmony's remotes are excellent quality—its media-focused sister the Harmony 650 is continually rated as one of the best universal remotes out there. However, if you want to future proof your smart remote for all the possible smart home products you may purchase in the future, the Harmony Companion makes more sense.
Editor's note: This article is regularly updated for relevance.