If you've ever wanted to block someone from following you on Instagram without causing social media drama, you might soon be able to do just that. Instagram confirmed it's testing a new feature that will allow users with public accounts to remove followers, the Verge reports.
The feature doesn't notify followers when you remove them, giving you more power over who can see you account even if it's public while (hopefully) letting you avoid the extreme measure of a block.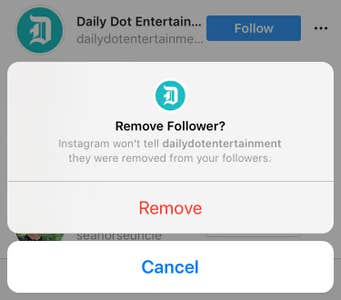 Until recently, Instagram only let private users delete followers, but in recent months, public users, mostly on Android, have seen the feature pop up on their apps.
Instagram now lets you manually remove followers!?!

h/t @blueasyraff pic.twitter.com/McIXETlR7I

— Matt Navarra (@MattNavarra) July 17, 2018
Instagram now lets you remove your followers. ITS FKN LIT. imma go down to like 300 followers after i filter through all of you.

— 6 (@cherrikillz) June 11, 2018
https://twitter.com/yungeveliitt/status/874006439307599873
The old-fashioned version of this feature was "soft-blocking," that is, blocking someone and then unblocking them in order to stop them from following your account. But this comes with the risk of someone potentially finding out that you blocked them if you don't unblock quick enough.
Another passive approach is the newly implemented mute function, which allows you to mute posts and stories from people you want to keep following but whose content you don't want to see.
From favorite followers to chronological timelines, Instagram users will always have new requests. Although it's unknown if and when the platform will roll out the "remove followers" option for everyone, testing of the feature indicates Instagram is taking note of users' wishlists.
READ MORE:
H/T the Verge