A viral video shows members of the hate group Proud Boys entering a New York City subway station on Saturday without paying their fares, a scene particularly ironic given the city's history of harassment of Black and brown passengers for anything from fare evasion to selling food.
The video was produced by Freedom News TV and begins with over a dozen men, some in jackets that had "Proud Boys" embroidered on them, walking through the station. Members of the group were reportedly attending a protest against vaccine mandates.
The incident took place at the Grand Central station, according to signs in the video. A group of men, who are wearing face coverings, including one of an American flag, are seen calling out to the group to tell them the door is "open over there," motioning them towards the entrance to the platform where the emergency door is.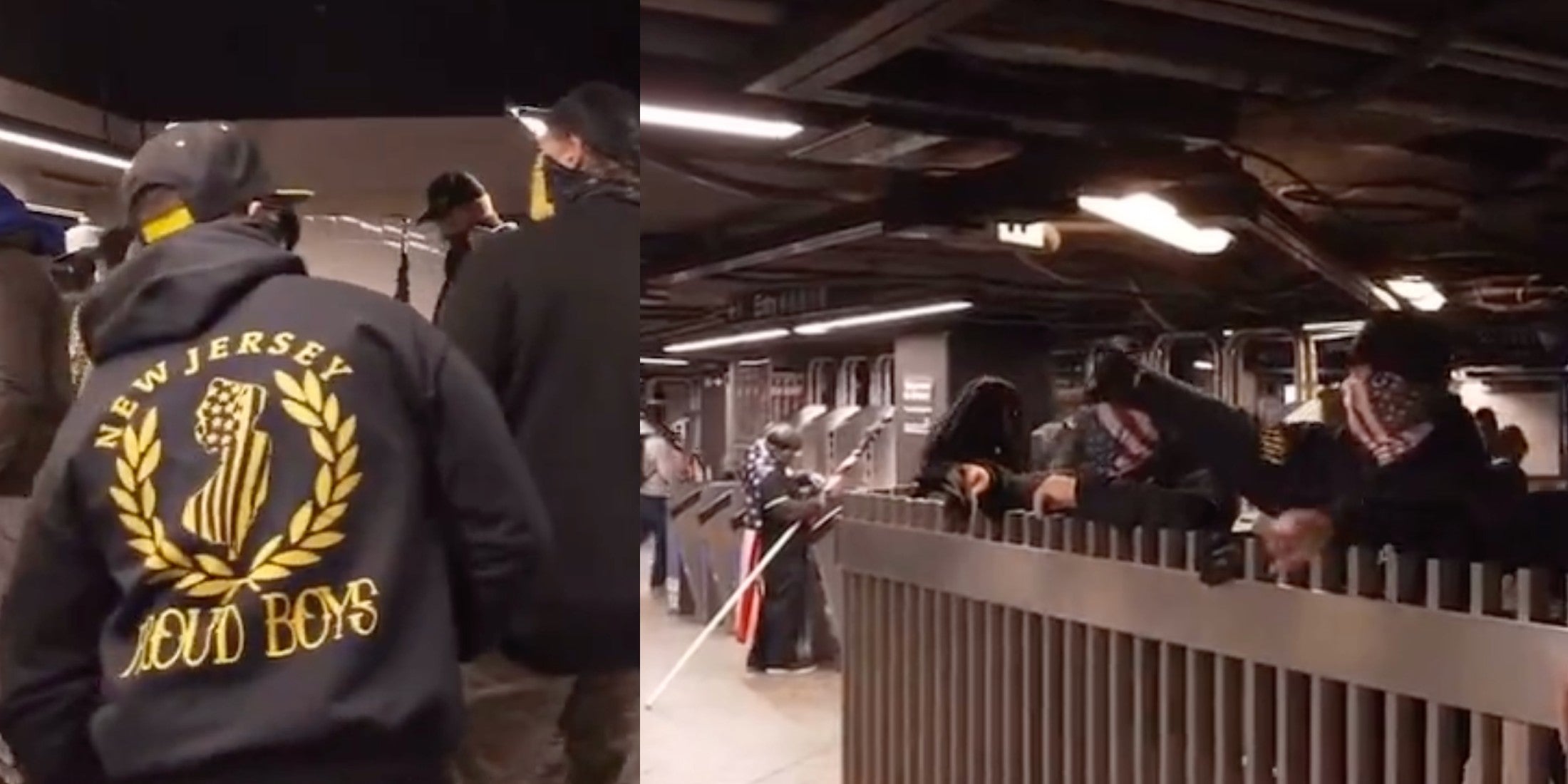 The group of men who were outside are then seen filing into the platform through the emergency door. They walk in calmly and quietly, with seemingly no concern about whether they might be apprehended for it.
The Metropolitan Transportation Authority (MTA) that runs the subway prohibits fare evasion, and any individual doing so is subject to a $100 fine.
The New York Police Department (NYPD), which enforces fare evasion, is notorious for cracking down on Black subway passengers, as well as immigrant vendors selling food legally on the platforms.
The inconsistent treatment of Black and brown passengers against members of a hate group infuriated many.
Some shared their own experiences of being fined after they evaded the subway for reasons that were seemingly more valid than Proud Boys entering just because the exit was open.
The MTA declined a request for comment from the Daily Dot. When it comes to enforcing the rules, it's the NYPD, not the MTA, that has jurisdiction to issue fines and summons. When contacted, an NYPD spokesperson said they would review the video; the Daily Dot will update the report if they respond.
The spokesperson also said fare evasions are addressed based on different factors such as if there's an officer to witness the incident, if the passenger has any disability that limits them from entering the platform through the turnstiles, or if they have permission from an MTA personnel to let them enter without swiping.
It wouldn't appear the Proud Boys meet any of these qualifications.
---
Read more of the Daily Dot's tech and politics coverage