This week, as dubious claims of voter fraud raced around right-wing internet circles, one organization promised it could deliver the goods.
Project Veritas, an organization with its own long, dubious past, spoke with a U.S. Postal Service (USPS) worker who claimed that he witnessed his supervisor discussing backdating ballots so it would appear that they were mailed by Election Day.
After whistleblower Richard Hopkins came forward, a GoFundMe was launched for him, which raised over $115,000 before being taken down by the site. Hopkins has since recanted his statements—although James O'Keefe, the founder of Project Veritas, is disputing reporting that Hopkins recanted.
The story also fits another pattern for the organization, which is that just about every whistleblower who comes to the organization simultaneously winds up with tens of thousands of dollars on GoFundMe.
Online, a viral allegation was made that Veritas had paid for the scoop in a now-deleted tweet. O'Keefe, who has helmed the right-wing organization since its existence, viciously denounced the claim and threatened to sue people who said Veritas had given money to a source to allege voter fraud.
But according to an analysis conducted by the Daily Dot, O'Keefe's alleged "whistleblowers" almost all establish crowdfunding pages hyped by Project Veritas within days and hours of going public with their allegations.
. . .
The latest blow to O'Keefe's sting operations on Democrats came Tuesday as his Pennsylvania USPS worker turned "whistleblower" Richard Hopkins recanted his voter fraud charges to a USPS inspector general.
After he recanted, GoFundMe took down the page. But before it was removed, O'Keefe and Veritas hyped the fundraiser repeatedly, and it brought in over $115,000 on GoFundMe.
GoFundMe told the Daily Dot that all the funds given would be refunded. GoFundMe has not yet responded to other questions from the Daily Dot.
But below are recent examples in which Project Veritas published "whistleblower" allegations, and within hours, a corresponding GoFundMe account was launched in the name of their "bravery."
A series of big tech whistleblowers who once worked at companies such as Facebook and Pinterest all share a common thread. They were on the receiving end of large GoFundMe payouts. One even landed a new job at the O'Keefe operation.
Facebook "insider" Zach McElroy, on June 23, blew the whistle on the company alleging bias against conservatives. His GoFundMe campaign sprang up within minutes of the allegations coming out. It is up to over $43,000.
Veritas hyped his GoFundMe the same day. While the fundraiser was started by McElroy, according to GoFundMe, the shortened URL created for the page includes the name "ExposeFacebook," which is Veritas' branding of its reporting.
Interestingly, McElroy published a Medium post as it went live, which he said he wrote a week beforehand, saying that a GoFundMe has been set up "for" him.
"As a man who takes pride in working to earn his living, having to deal with this upheaval has been more than a little difficult. As such, with humility, a GoFundMe campaign (linked here) has been set up to help secure my ability to provide a strong foundation for the future of my better half and I," he wrote, while plugging the ExposeFacebook URL.
Why he chose to use Project Veritas' branding for the URL is unknown, but his campaign is not the only one to crib the publisher's framing.
Pinterest whistleblower Eric Cochran had a GoFundMe started called "Pinterest Whistleblower" on June 12, 2019. A big Project Veritas Pinterest scoop ran just a day before.
And the woman who started the GoFundMe on behalf of Cochran? A friendly interview subject of O'Keefe, Terrisa Bukovinac, who has been featured on Veritas.
That GoFundMe raised $67,000. It is currently not accepting donations.
Cochran, the Pinterest "insider," now has a job as a "sources handler" at Project Veritas.
If two is a coincidence and three is a pattern, what is four, five, six, and seven?
Veritas' CNN whistleblower Cary Poarch came forward on Oct. 14, 2019, to discuss the network's bias against President Donald Trump. A GoFundMe launched by Poarch went live the same day. That fundraiser is up to over $108,000.
Greg Copolla came forward from his position at Google to speak with Project Veritas on July 24, 2019, with evidence that big tech is politically biased. His GoFundMe launched the same day and has since raised him over $20,000. It is not currently taking donations.
Another story from another Facebook insider, Ryan Hartwig, dropped on June 25, 2020, on Project Veritas' YouTube channel. His GoFundMe, which has raised $27,000, has the URL "Facebook Insider."
The same goes for Project Veritas' Somalia community insider Omar Jamal in October, who came forward alleging ballot harvesting, which was since debunked. Before his GoFundMe was suspended by the site, he'd raked in $30,000. The funds are currently being held as the site investigates.
Somehow, although the fundraiser says it was started by Jamal, Project Veritas has uploaded its own video, with the pinned video on the top of the GoFundMe page not about Jamal's plight but rather O'Keefe's plan to sue the New York Times over its Minnesota reporting.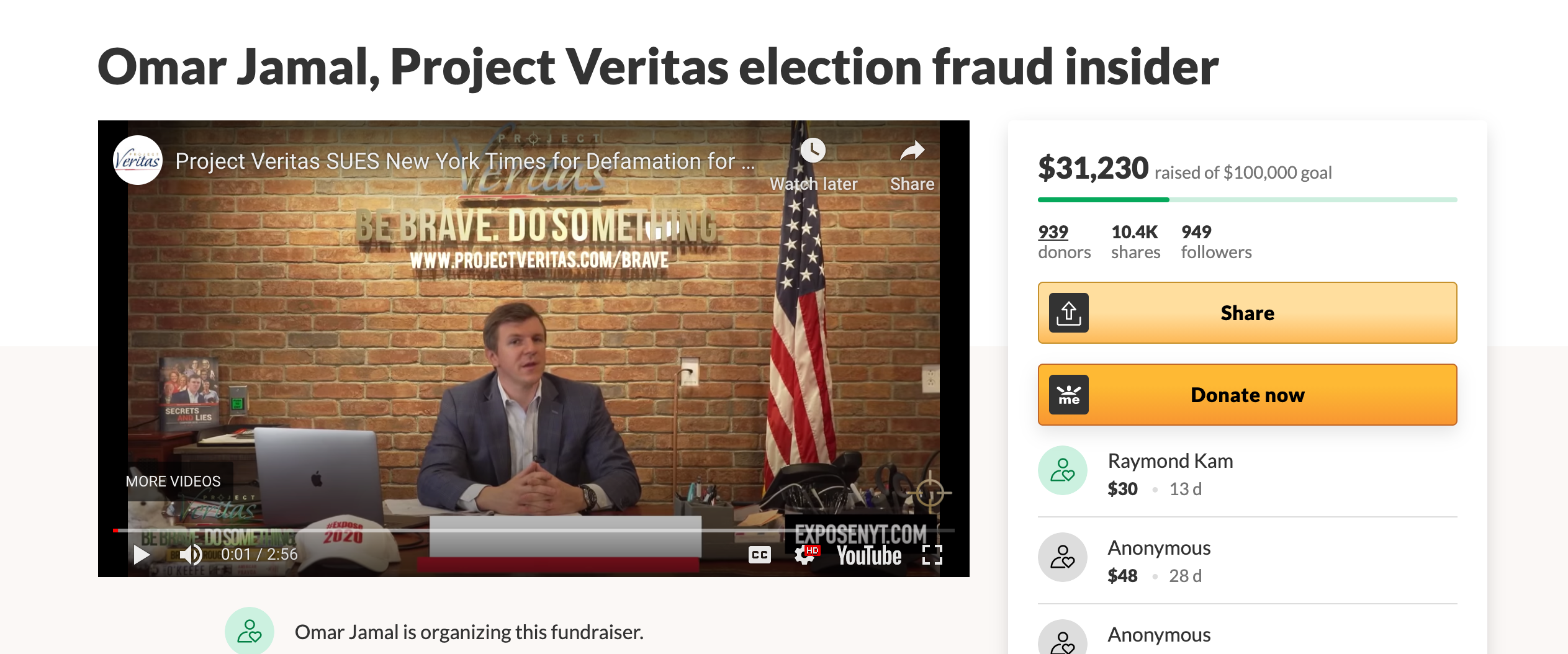 The question is whether Project Veritas, the funding sources of which have never been disclosed, is offering its million-plus followers on social channels as an incentive to sources before and as they come forward.
Project Veritas spokesman Neil McCabe distanced himself from the GoFundMe campaigns put out by the "insiders" that come seemingly simultaneously as the reports do.
"We don't run GoFundMe accounts for people. We're a media outlet and we put out news all the time," he responded when asked about the GoFundMe's and Veritas' tweeting and sharing of them.
Asked if the fundraising was transparent to readers and viewers of its videos, McCabe stated, "I don't know what you're saying… It doesn't sound true to me. We are a media outlet and put out information all the time."
More election 2020 coverage