Bill O'Reilly watched Democratic presidential nominee Joe Biden's town hall last night with shock and awe. The disgraced Fox News host couldn't believe that a candidate could competently answer questions—unless they were cheating.
O'Reilly and his former Fox News colleagues have spent the past few days making excuses for President Donald Trump's CNN town hall performance, which was widely panned. Laura Ingraham even claimed Trump was "sabotaged" by voters' basic questions.
To wit, last night, the man who once said to a law student, "you want me to give you my hard-earned money so you can have sex?" live-tweeted hot takes about Biden's town hall as only he could.
Among them: "Someone help me, I'm lost," "Does anyone know what Anderson Cooper is doing?" and "I'm lost again on the voting-Russia thing." Really riveting stuff.
A few tweets after one about "the cocaine thing," O'Reilly decided that the only way Biden could possibly be doing so well was by cheating.
"Looks to me that Biden had an idea of what the questions would be, at least areas of questioning," O'Reilly tweeted in his best Sherlock Holmes' voice.

To Twitter users, the explanation for Biden seeming prepared for the town hall was really quite elementary: he prepared for the town hall.
Thus commenced a righteous dunking session on O'Reilly. He came to roast Biden but instead he got roasted himself.
A few brought up the $32 million settlement he reportedly paid to just one of the women who accused him of sexual harassment.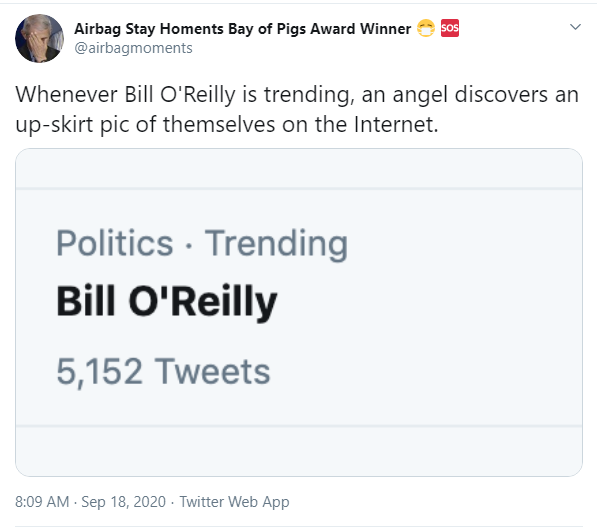 Many were deeply amused that O'Reilly would mistake proficiency for cheating.
"It's sad that you don't recognize competence when you see it," said one.
"Yes, who could have predicted questions about the leading issues of our day!" responded another.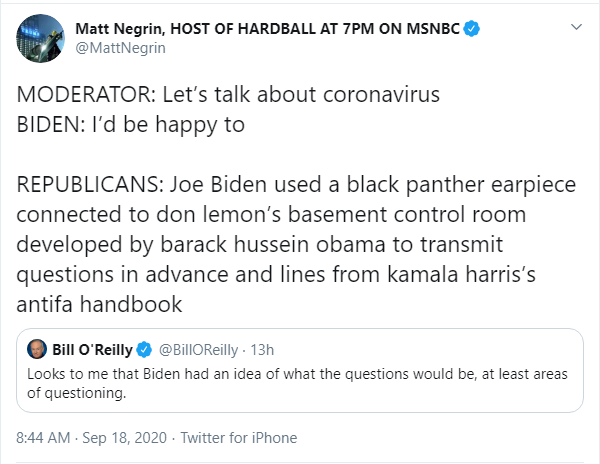 Several pointed out the logical inconsistency between Republicans claiming that Biden's mental faculties are failing and accusing him of memorizing 25 questions for his town hall.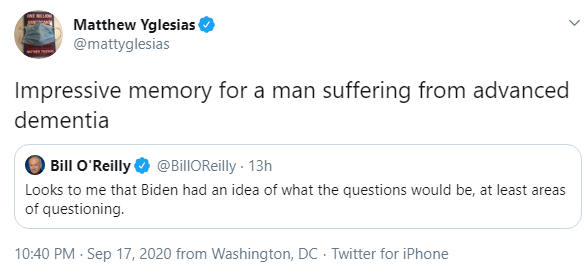 At the conclusion of the town hall, even O'Reilly had to admit that Biden had done well.
"It's over. Joe Biden was semi-lucid but not challenged at all. Pretty dull," he tweeted sadly.
This story has been updated.