The New York City Police Department has debunked a viral claim made essentially by itself, that NYPD officers were "poisoned" by Shake Shack milkshakes.
And it all went down over the course of one night.
Late Monday, reports began circulating on Twitter about several officers being taken to the hospital after stopping by a Shake Shack outpost in downtown Manhattan.
"#BREAKING When NYC police officers cannot even take meal without coming under attack, it is clear that environment in which we work has deteriorated to a critical level. We cannot afford to let our guard down for even a moment," tweeted the New York City Police Benevolent Association (PBA).
In an attached letter, the organization's president, Patrick J. Lynch, claimed the officers had "discovered that a toxic substance, believed to be bleach, had been placed in their beverages."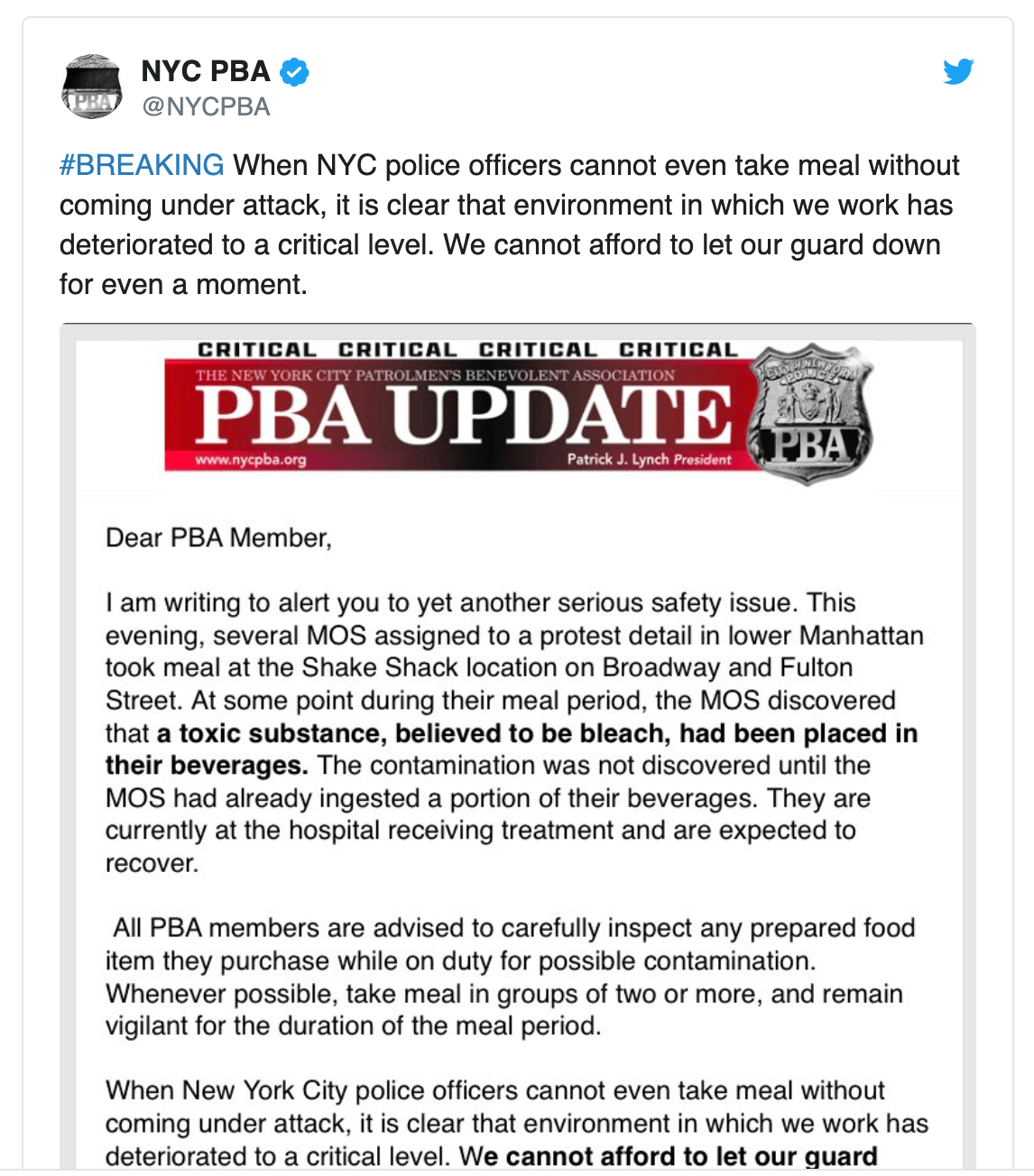 The Detectives' Endowment Association, a labor union representing NYC detectives, offered a more inflammatory view of the events, posting an "urgent safety message."
"Tonight, three of our brothers in blue were intentionally poisoned by one or more workers at the Shake Shack at 200 Broadway in Manhattan," reads the statement from DEA President Paul DiGiacomo and the DEA Board of Officers. "Police in New York City and across the country are under attack by vicious criminals who dislike us simply because of the uniform we wear."
The allegations spread quickly, with Shake Shack tweeting it was "horrified" and "working with the police in their investigation" as others on social media began calling for a boycott and criminal charges for those involved.
That included Donald Trump Jr., who has since deleted his tweet calling out the silence of Democrats while NYPD officers were "getting poisoned on the job."



Except, as the NYPD has since admitted, there's no evidence that the officers were "intentionally poisoned."
Around 4am on Tuesday, NYPD Chief Rodney Harrison tweeted, "After a thorough investigation by the NYPD's Manhattan South investigators, it has been determined that there was no criminality by shake shack's employees."

In a threaded tweet, Chief Harrison then tagged the two police organizations that made the false claims. The DEA has since deleted its tweet (though the statement remains on its website), saying it is now believed a "toxic substance" had "accidentally made its way into the officer's shakes."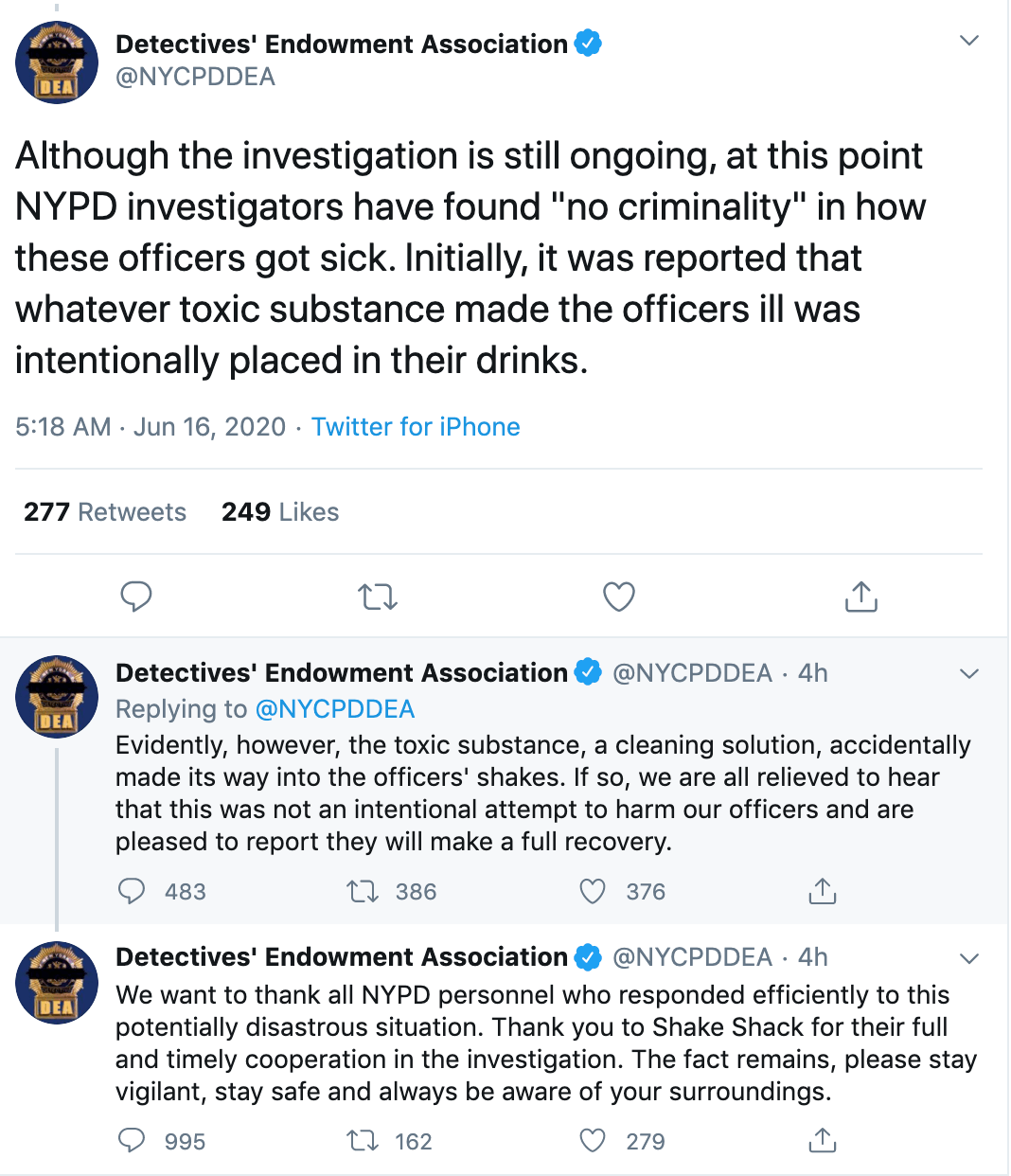 The NYC PBA released a second letter, saying they are "relieved that, based on current evidence, there was no intentional attack."
They also deleted their original tweet.
According to CBS News, the three officers involved were all "treated and released" from the hospital, and a "shake sample" has been sent to a lab for testing.
New York City Mayor Bill de Blasio responded to the rush of accusatory overnight allegations on Tuesday morning, saying, "These union leaders don't want the truth, they just want to sow division, and we have to figure out what the limits are on their right to do that."
This is at least the second time this month top NYPD representatives have circulated rumors presented as fact.
Local news outlet Gothamist noted this is also not the first time the NYPD members have promoted "food tampering" theories that later proved untrue.
READ MORE: