Conservatives are spreading misinformation about Black Lives Matter (BLM), accusing the group of financial malfeasance of various forms.
Republicans have long sought to undermine the movement, which has seen an enormous surge in support in the weeks since George Floyd's death sparked nationwide protests. No one making the allegations has provided any proof it's true.
But now, a recent mix-up with a same-name foundation has resulted in confusion and many donations meant for one going to the other.
It is also likely to add fuel to their criticisms.
Yesterday, BuzzFeed News revealed that millions of dollars in donations had inadvertently been earmarked for the Black Lives Matter Foundation ("the foundation") by people thinking they were donating to BLM.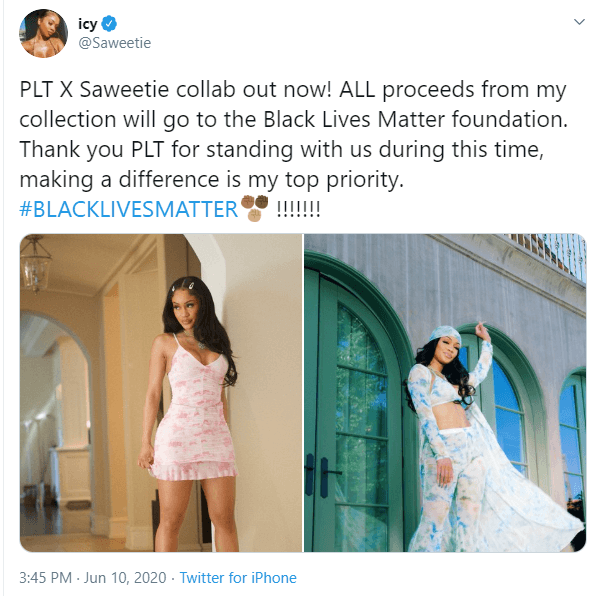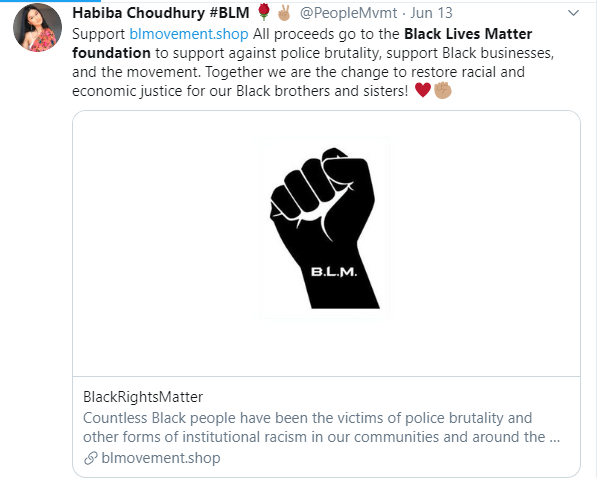 Because no one has trademarked "Black Lives Matter," the two have operated with similar names for years. BLM told BuzzFeed the foundation is improperly using its name.
The head of the foundation, which was registered in 2015, reportedly denied that it was doing anything wrong.
Although the names are similar, their missions are quite different. BLM urges police reform; the foundation seeks to "help bring the police and the community closer together in an effort to save lives," BuzzFeed reported.
The similarities in their names, as well as the fact that the foundation is currently listed as a registered charity (though California, where it's registered, reportedly sent it a cease-and-desist notice in December for failing to file annual financial paperwork), has confused many, including chief executives at Microsoft and Dropbox, who inadvertently listed the foundation in efforts to raise funds for BLM the movement in recent weeks.
Both linked to BLM's website, however, BuzzFeed reports.
Fundraising platforms have begun freezing and returning funds to people who inadvertently donated to the foundation thinking it was the movement.
The mix-up is likely to be capitalized on by people eager to undermine support for BLM. Republicans have long decried the concept of "Black Lives Matter," countering with "all lives matter," and "blue lives matter," which many view as racist.
Most of conservatives' claims about BLM are easily proven false, however, and appear driven more by longstanding opposition to its mission than good-faith concerns.
Yet high-profile conservatives such as Ryan Fournier, co-founder of Students for Trump, Turning Point USA's Charlie Kirk, and far-right pundit Candace Owens continue repeating false claims that BLM is funneling donations to Democrats, among other rumors, without providing any evidence.
In an email to the Daily Dot, BLM characterized the recent wave of attacks on it as "disinformation and miscommunication." Fact-checking groups have debunked some claims.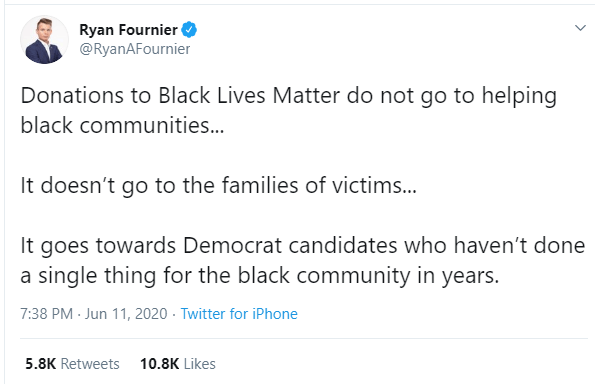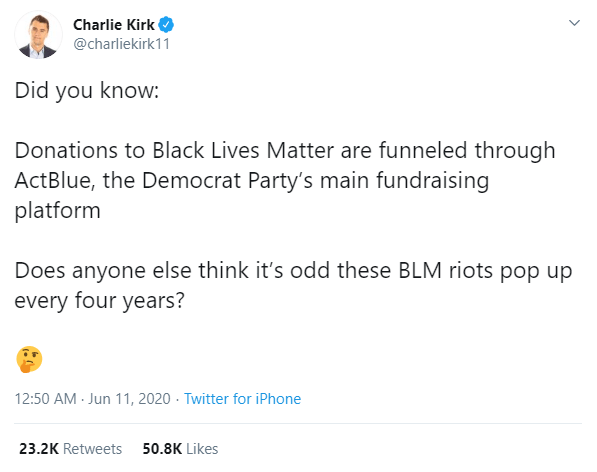 The false claim that BLM is giving donations to Democrats is based on its use of the ActBlue fundraising platform.
ActBlue, akin to GoFundMe, acts as a pass-through for donations. Republicans even have their own version, WinRed.
Contrary to what Kirk, Fournier and others would have people believe, ActBlue is not exclusively used by politicians. As its Wikipedia page notes, it's used by "Democrats, progressive groups, and left-leaning nonprofits."
As BLM has raked in donations and headlines in recent weeks, interest in how it's spending funds has grown.
Some, like Owens, have claimed that local chapters don't receive any portion of the funds. Last week BLM announced a $6.5 million fund for local chapters.
"This fund is available to all chapters affiliated with the BLM Global Network Foundation," the press release states. "Starting July 1, 2020, affiliated chapters may apply for unrestricted grant funding of up to $500,000 in multi-year grants."
A recent Reddit "Ask Me Anything" with BLM's managing director, Kailee Scales, featured numerous allegations that Scales and BLM aren't being financially transparent. Others have leveled the same concerns.
The conflation of BLM and the foundation is likely partly to blame.
This week, the Minnesota Freedom Fund also faced criticism for its use of funds raised in recent weeks.
READ MORE: