Chances are you cannot afford the most expensive gaming computer in the world, but it can't hurt to look, right?
There remains a group of tech fanatics who spend their days trying to make wires look clean while figuring out how the hell they're going to fit beautiful, but admittedly too large, liquid cooling loops in a tiny case they regrettably skimped on.
This crowd, mostly filled with gamers and what Microsoft likes to call "creators," spends dozens of hours staring at spec sheets, crunching numbers like maniacs to penny-pinch their way below a never-enough budget. And all to build a piece of technology no one seems to know the future of.
Custom-PC builders are a passionate folk, made evident by the staggering amounts of money they are willing to shell out on a gaming rig. Here's the most expensive gaming PCs in the world—no gimmicks, just raw power.
The most expensive gaming computers in the world
1) 8Pack OrionX – $30,000
Announced in January 2017, the $30,000 8Pack OrionX is the most expensive gaming computer in the world, and it rightfully looks like it just came out of a top secret lab.
The monstrous machine is actually composed of two diverse systems packed inside a single Phanteks Enthoo Elite ($900) case. The higher-end system is powered by the 10-core Intel i7-6950x processor, which will run you about $1,600. The secondary system operates on a more budget-friendly Intel Core i7-7700K processor, the same chipset you'll find in many new high-end consumer desktops.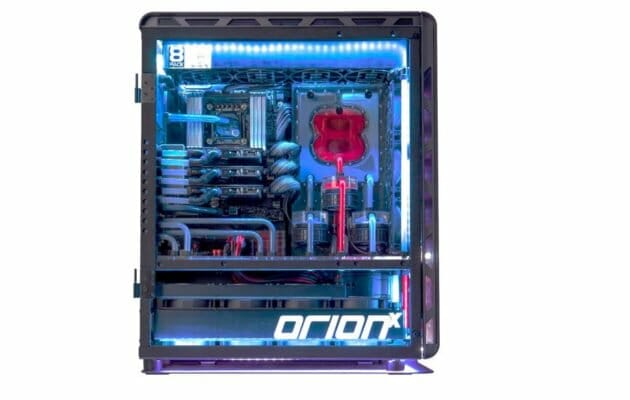 Ian "8Pack" Perry, a famous computer builder and this machine's designer, provided a components list for his extravagant project.
Inside are four Nvidia GeForce Titan X graphics cards ($1,200 each) with a total of 48GB of gaming memory goodness. The primary computer comes with three different storage setups. For speed, you've got a single 1.2 TB Intel 750 solid-state hard drive and two 1TB Samsung Evo 850 SSDs. The third is a 10TB SATA hard drive for good measure. Not to mention, the second system's storage options, which include two 512GB Samsung 960 SSDs and another 10TB of storage, just in case you wanted to download the internet.
Three custom-made liquid cooling loops keep everything inside at a reasonable temperature while looking undeniably high-tech. And of course, there are many, many LEDs.
Overclockers would be happy to sell this to you—even if that means making some sacrifices, as these user reviews point out.
"RE mortgaged my house to buy this PC but apart from my wife leaving me, it was totally worth it !!

I can now play Call of Duty on a 4K TV on Ultra HD !!

5*****"
"This is, hands down, the best decision I've ever made. And the box it came in is incredibly roomy too, which is a huge bonus, because I live in it now."
2) LinusTechTips (7 gamers, 1 CPU)
Early 2016, well-known YouTuber and DIY madman Linus Sebastian of LinusTechTips built a $30,000 gaming rig capable of accommodating seven gaming setups at once. All seven machines are housed within a single case and linked to a $500 Asus motherboard. They are powered by two 14-core Intel Xeon E5-2697 processors. Those chipsets are built for servers and cost more than $2,500 each.
Incredible figures fill this machine's spec sheet, including 256GB of DDR4 RAM ($2,454) and seven 1TB SSDs ($3,267). Of course, gaming PCs are only as good as their graphics cards, and this YouTube star wasn't going to skimp on those. Inside are seven Radeon R9 Nano GPUs, which cost a combined $4,500.
All of these internals are able to play Crysis 3, a particularly graphics-heavy title, at 60 to 100 frames-per-second on seven separate 34-inch Predator X34 monitors at 3400×1400 resolution.
Sadly, the $30,000 7 Gamers, 1 CPU is no longer. Linus posted a 1.5-hour disassembly video of the beast in February last year.
Honorable mentions: The most powerful gaming PCs
3) Yoyotech XDNA Aurum 24K – $13,000
The British desktop company Yoyotech released a gold-and-black desktop for 7,979 pounds (79 is the atomic number of gold) back in 2013. It was powered by the top-of-the-line Intel i7-4960x, which cost about a grand when it was released in Q3 2013, and at the time, it was one of the most expensive gaming computers out there.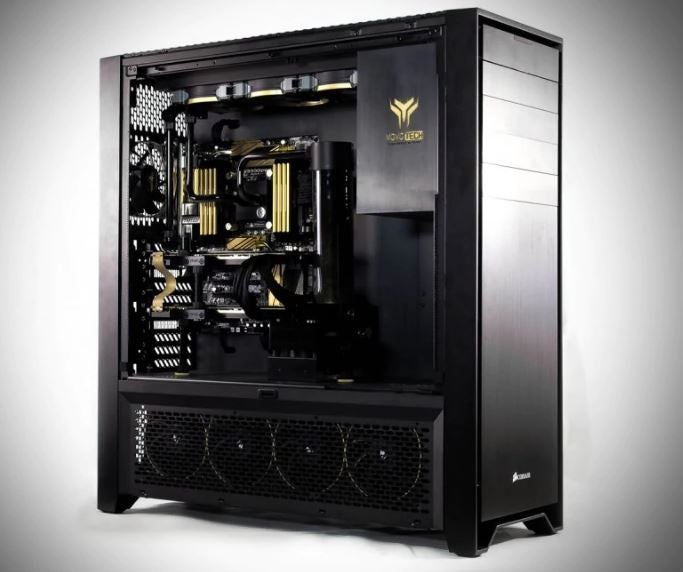 It will still run just about any game on high settings with the desktop's two first-generation Nvidia GeForce Titan GPUs. The Titan has already been improved a few times since its release but shouldn't have any issues powering today's titles. A few other highlights include 64GB of DDR3 memory, 512GB Samsung 840 Pro SSD, and an additional 2TB Seagate hybrid drive all kept comfortable by a custom cooling system.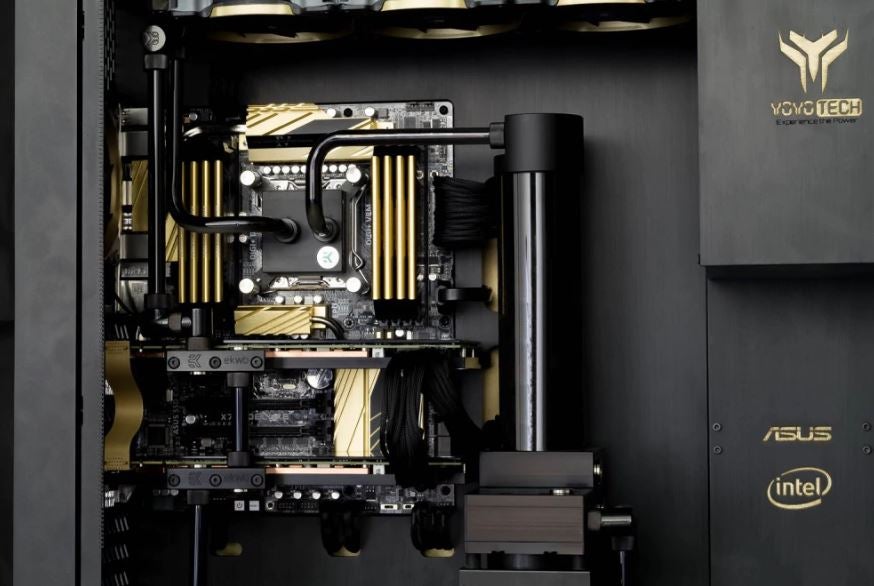 It's the craftsmanship that puts one of the most expensive gaming computer rigs in a class of its own. The unflinching dedication to its black and color aesthetic adds value that goes well beyond its components. Those details include hand-painted fan rings, a custom back-plate, and painted SLI bridge. Stunning.
4) Maingear Epic Force Super Stock X99 – $12,000
Depending on your configuration, the 2015 Maingear Epic Force Super Stock X99 could be purchased for more than $12,000. Unlike the others on this list, the X99 actually ended up in the hands of many tech review sites. They gave it favorable scores but unsurprisingly threw its monstrous price in the "cons" section. Come on, live a little!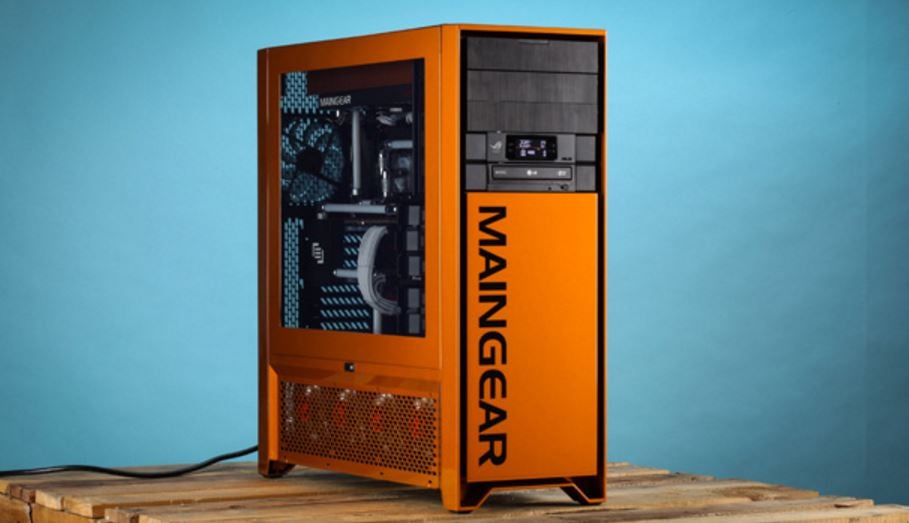 A side panel window shows off the high-end components on the inside, which include an Intel i7-5960x and 16GB of Corsair DDR4 memory. The X99 also goes with an AMD video card. It sports two VisionTek CryoVenom R9 295X2 (a custom version of the AMD Radeon R9 295X2), which will whittle into your wallet another grand each.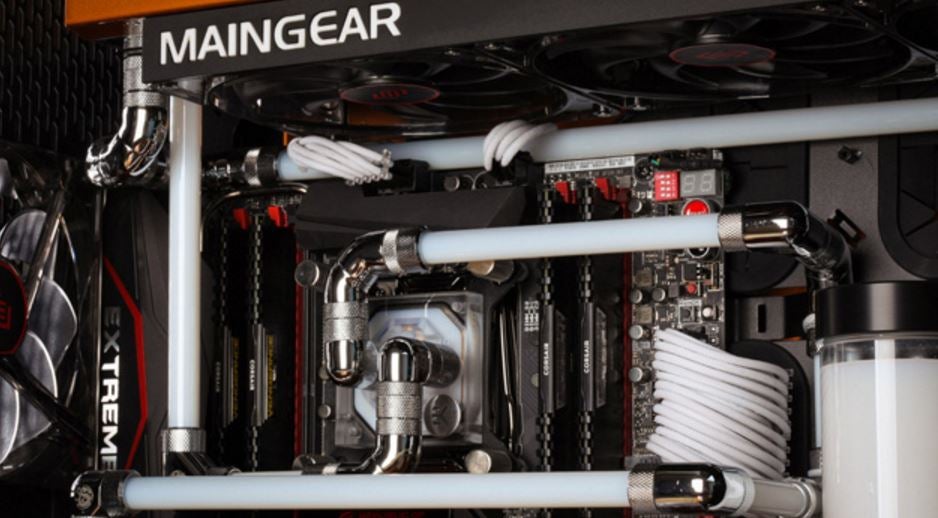 Samsung's 850 Pro makes a return alongside a 2TB Seagate Barracuda hybrid hard drive. All of this is housed in a monstrous steel and aluminum copper-orange Corsair Obsedian 900D tower.
5) Kylaralthor Janus 2.0 – $18,000
Posted on the invaluable PCPartsPicker by Kylaralthor, the Janus 2.0 is one of the most expensive gaming computer rigs that costing $18,000, according to its creator. The desktop itself costs well over $10,000, with accessories bringing the total price to about that of a compact car with an optional package thrown on.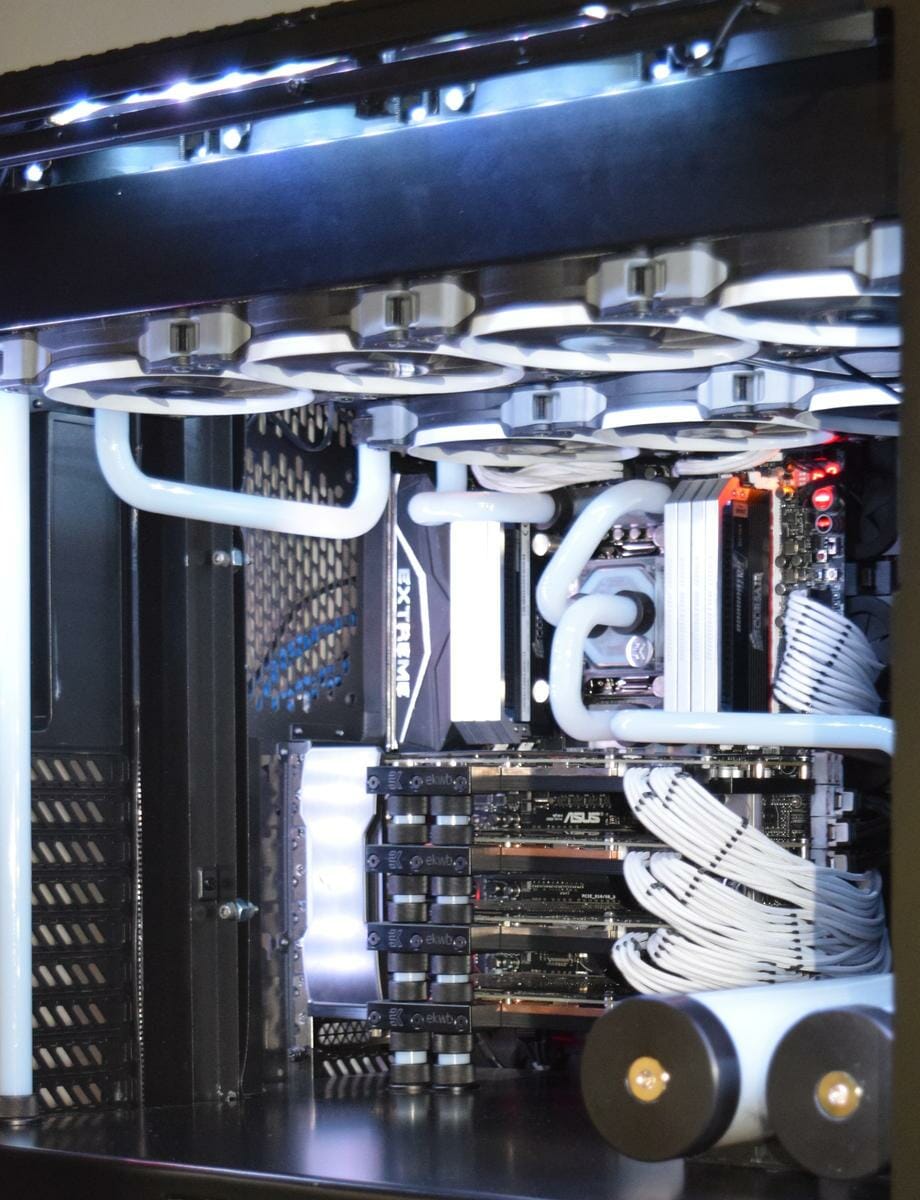 $1,100 of that eye-watering price goes to an Intel i7-6950x, while another $4,400 is filled by four Nvidia GeForce GTX Titan X graphics cards. There is also a 1TB Samsung 850 Pro SSD and 16TB of HHD storage.
All of those components could get pretty hot while you're ranking up on Overwatch or building a world in Minecraft. That's why Kylaralthor put in 26 fans and a $3,181 custom liquid cooling setup.
Accessories include three 27-inch 1080p monitors (we'd like to put in an order for 4K), which will make you wish you had more than two eyes. Rounding out this insane setup are wireless headphones, a gaming mouse and keyboard, and a 4TB external hard drive, because the other 17TB just weren't enough. With add-ons like these, you can make your own most expensive gaming computer.
The Daily Dot may receive a payment in connection with purchases of products or services featured in this article. Click here to learn more.