Merritt Corrigan is leaving her position as the deputy White House liaison for the U.S. Agency for International Development (USAID) and is running into the arms of conspiracy huckster Jacob Wohl.
Corrigan was appointed to the position by President Donald Trump earlier this year and had reportedly been under pressure to step down over comments she made denouncing LGBTQ rights.
Corrigan, whose Twitter account had been locked down for most of June and July, returned to the site this week to attack a Politico reporter who covered her remarks and announce a press conference with Wohl this Thursday.
"I will have more to say about this stalker from Politico at my Press Conference Thursday at Project 1599 HQ with Jacob Wohl and Jack Burkman," Corrigan tweeted.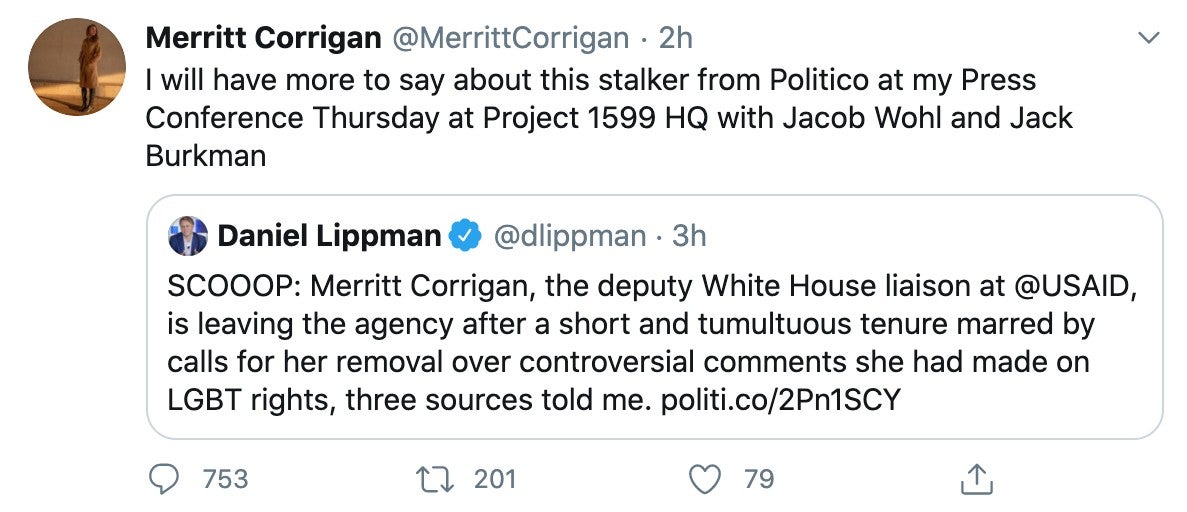 Corrigan then doubled down on her beliefs regarding the LQBTQ community in a six-tweet thread.
"For too long, I've remained silent as the media has attacked me for my Christian beliefs, which are shared by the majority of Americans," she said. "Let me clear: Gay marriage isn't marriage, Men aren't women, US-funded Tunisian LGBT soap operas aren't America First."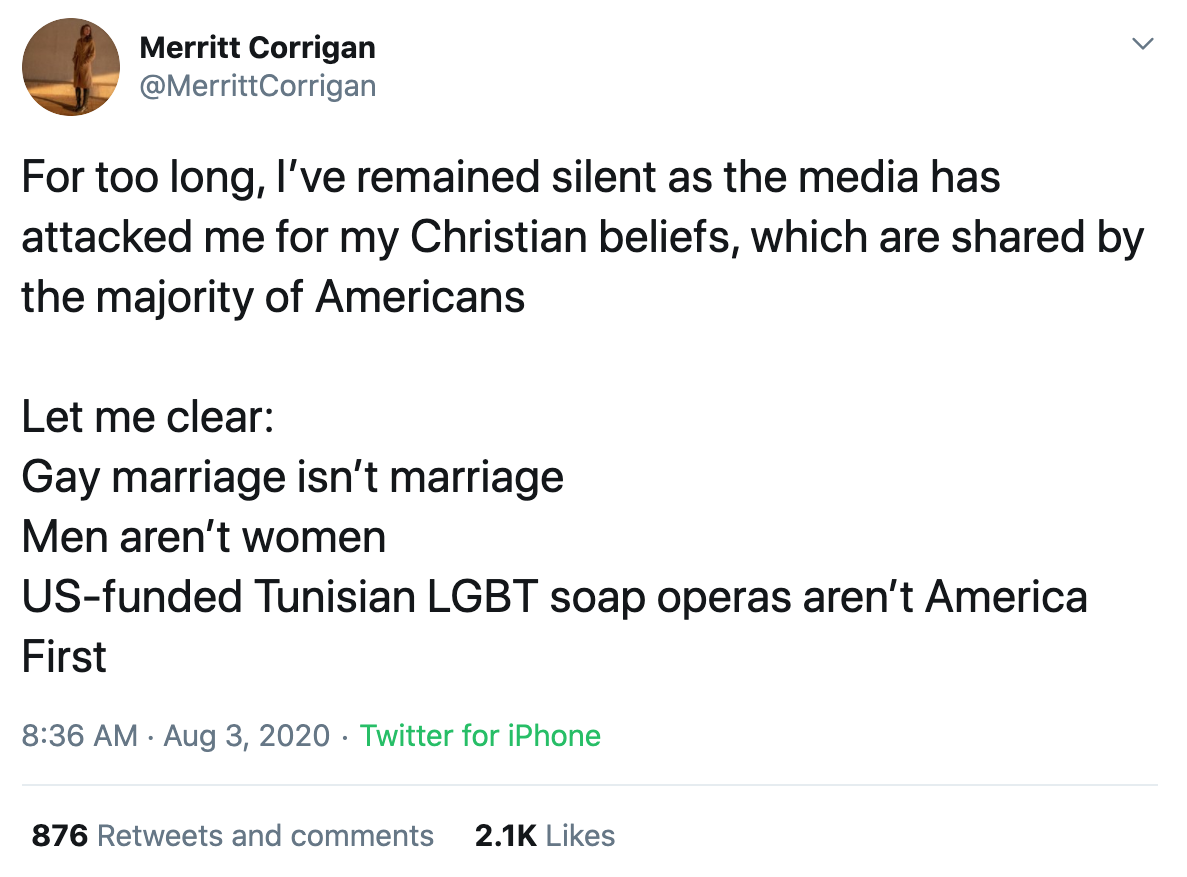 Corrigan goes on to allege that the U.S. is "losing ground in the battle to garner influence through humanitarian aid" with China and Russia "because we now refuse to help countries who don't celebrate sexual deviancy."
"I watched with horror this week as USAID distributed taxpayer funded documents claiming 'we cannot tell someone's sex or gender by looking at them' and that not calling oneself 'cis-gendered' is a microaggression," Corrigan continued. "I'm not cis-anything. I'm a woman."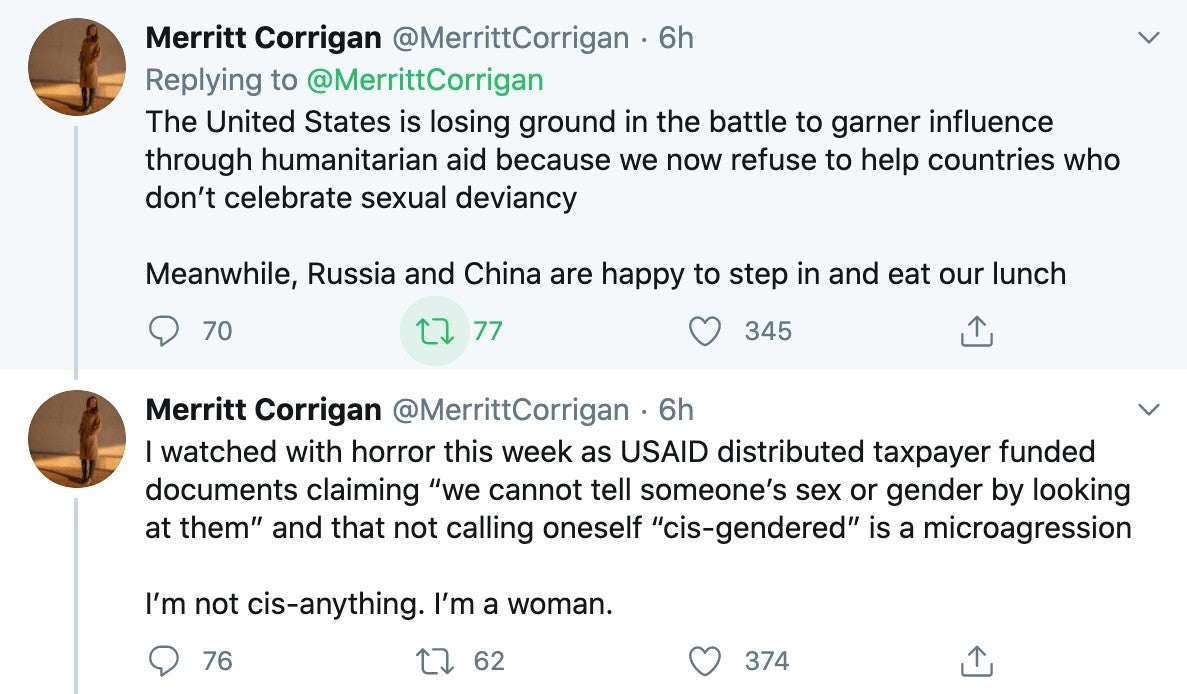 Corrigan also took aim at Rep. Eliot Engel (D-N.Y.), the current chairman of the House Foreign Affairs Committee, and Sen. Robert Menendez (D-N.J.), the top Democrat on the Senate Foreign Relations Committee.
Accusing the pair of engaging "in a corrupt campaign to remove me from USAID," Corrigan stated that further details would be released on Thursday.
Sen. Tim Kaine (D-Va.) and Sen. Cory Booker (D-N.J.) were likewise targeted for, according to Corrigan, demanding her ouster "purely because of my Christian beliefs."
Not long after, the official Twitter account for the House Foreign Affairs Committee referenced Corrigan's tweet thread and noted that it had pushed for her resignation previously.
Corrigan responded by challenging Rep. Eliot Engel "D-N.Y.) "to a debate with Jacob Wohl, Jack Burkman and me at Project 1599 HQ."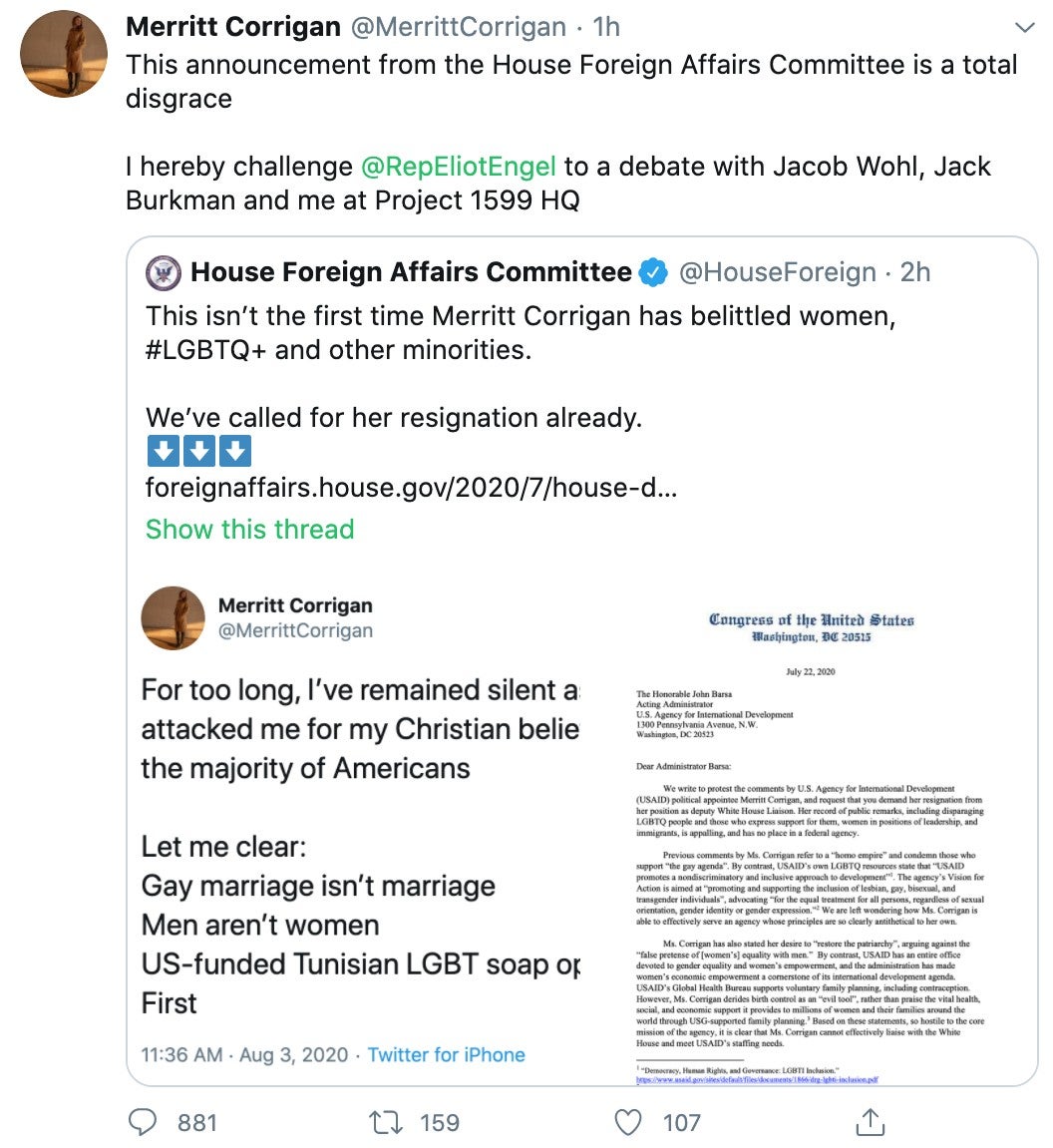 The controversial conservative figure was fired Monday by USAID director John Barsa, according to Politico.
"Effective 3:00 P.M., on August 3, 2020, Ms. Merritt Corrigan is no longer an employee at the U.S. Agency for International Development (USAID)," USAID spokesperson Pooja Jhunjhunwala said. "USAID takes any claim of discrimination seriously, and we will investigate any complaints of anti-Christian bias Ms. Corrigan has raised during her tenure at the Agency."
It is unclear how long Corrigan has been planning her press conference with Wohl, who has repeatedly made headlines for fabricating outlandish claims about mostly left-leaning individuals.
In a statement, Wohl claimed to the Daily Dot the two were dating, although there is no proof of that.
Update 12:13pm CT, Aug. 5: Corrigan's tweets regarding USAID were eventually deleted at some point on Tuesday. In a bizarre turn of events, a statement attributed to Corrigan published by the Daily Beast asserted that the anti-USAID remarks may have actually been made by Wohl.
"I would like to apologize. Especially to the people who have been affected or hurt by the messages sent from my Twitter account, and the claims made in my name over the past 24 hours," the statement reads. "I did NOT send these messages, and while I vehemently protested about them being sent in my name, my devices were not in my control. I see now that I was part of an abusive scheme and I was used to attack people that have nothing to do with me."
The statement went on to note that the planned Thursday press conference would no longer take place and that Corrigan "will have nothing to do with individuals who forced me to hand over my devices so they could control me and the output in my name."
"Due to naivete and inexperience, I became involved with people who abused my trust, conned me, and claimed they were working in my interest," the statement continued. "I became powerless in a situation, and I deeply regret not reaching out to people who knew better, or could help me."
READ MORE:
H/T Politico