Amid thee hotly contested 11th Congressional District race in North Carolina, Republican candidate Madison Cawthorn put out an attack website against opponent Moe Davis (D-N.C.) that included a racist hit toward Senator Cory Booker (D-N.J.). The first iteration of the site denigrates Davis for allying himself with people who want to "ruin white males."
The website, MoeTaxes.com, takes aim at Davis, a former Air Force prosecutor, over his alleged connection to Tom Fiedler, a former Miami Herald journalist and communications dean at Boston University. It claimed that Fiedler "quit his academia job in Boston to work for non-white males, like Cory Booker, who aims to ruin white males running for office."
The site page has since been edited with better dog-whistling: "He quit his academia job in Boston to become a political operative and is an unapologetic defender of left-wing identity politics."

Cawthorn's campaign previously took credit for the website in a press release and Facebook post. The site also slanders Davis as a "terrorist defender" who commits "perversion."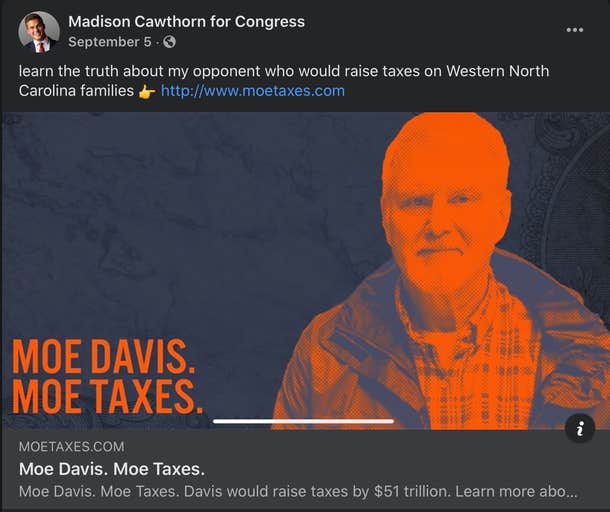 Fiedler, who has written favorably about Davis, volunteered for Booker's 2020 presidential campaign. In turn, he's also penned articles and fact-checks about Cawthorn.
Davis, however, explicitly notes that Fiedler is not in his campaign.
The connection, though, puts Davis in with Booker, who has often been President Donald Trump's pin cushion for racialized class slander. Trump has said his opponent, Joe Biden, will use Booker to terrorize the white, suburban upper class.
Cawthorn is a 25-year-old upstart who won the party's nomination to succeed Mark Meadows, who stepped down to become Trump's chief of staff. He was also a featured speaker at the Republican National Convention. Cawthorn has detractors, however: A letter from a group of college classmates accuse him of engaging in "gross misconduct towards our female peers."
Abby Osborne created a detailed thread, including the signed letter, speeches, and articles calling suspicion to Cawthorn.
FiveThirtyEight shows Davis ahead by three points.
In a statement to the New York Times, Davis said Mr. Cawthorn had "proven time and time again that he is unfit for public office."
"Revelations about Madison Cawthorn's blatantly racist comment come days after over 150 former classmates at Patrick Henry College—more than half the entire student body during his time there—signed a letter and posted it online calling Mr. Cawthorn a 'sexual predator' who lied and vandalized property while attending the college for a little over a semester in 2016-17."
Cawthorn also issued a statement: "The syntax of our language was unclear and unfairly implied I was criticizing Cory Booker. I have condemned racism and identity politics throughout my campaign, including during my convention speech when I highlighted [Martin Luther King Jr.'s] vision for equality."
Cawthorn also recently came under fire for his choice of language in his Instagram posts about Hitler.
---
Today's top stories