Sen. Lindsey Graham (R–S.C.) is being accused of hiring gay sex workers. Now, people are calling him out for his "hypocritical" treatment of the LGBTQ community.
Adult film star Sean Harding brought the accusations into the mainstream on June 4, writing on Twitter, "There is a homophobic republican senator who is no better than Trump who keeps passing legislation that is damaging to the lgbt and minority communities. Every sex worker I know has been hired by this man. Wondering if enough of us spoke out if that could get him out of office?"
He all but confirmed Graham's identity by referring the senator in question as "LG" (there is reportedly only one U.S. senator with those initials) and retweeting tweets that specifically named "Lindsey Graham."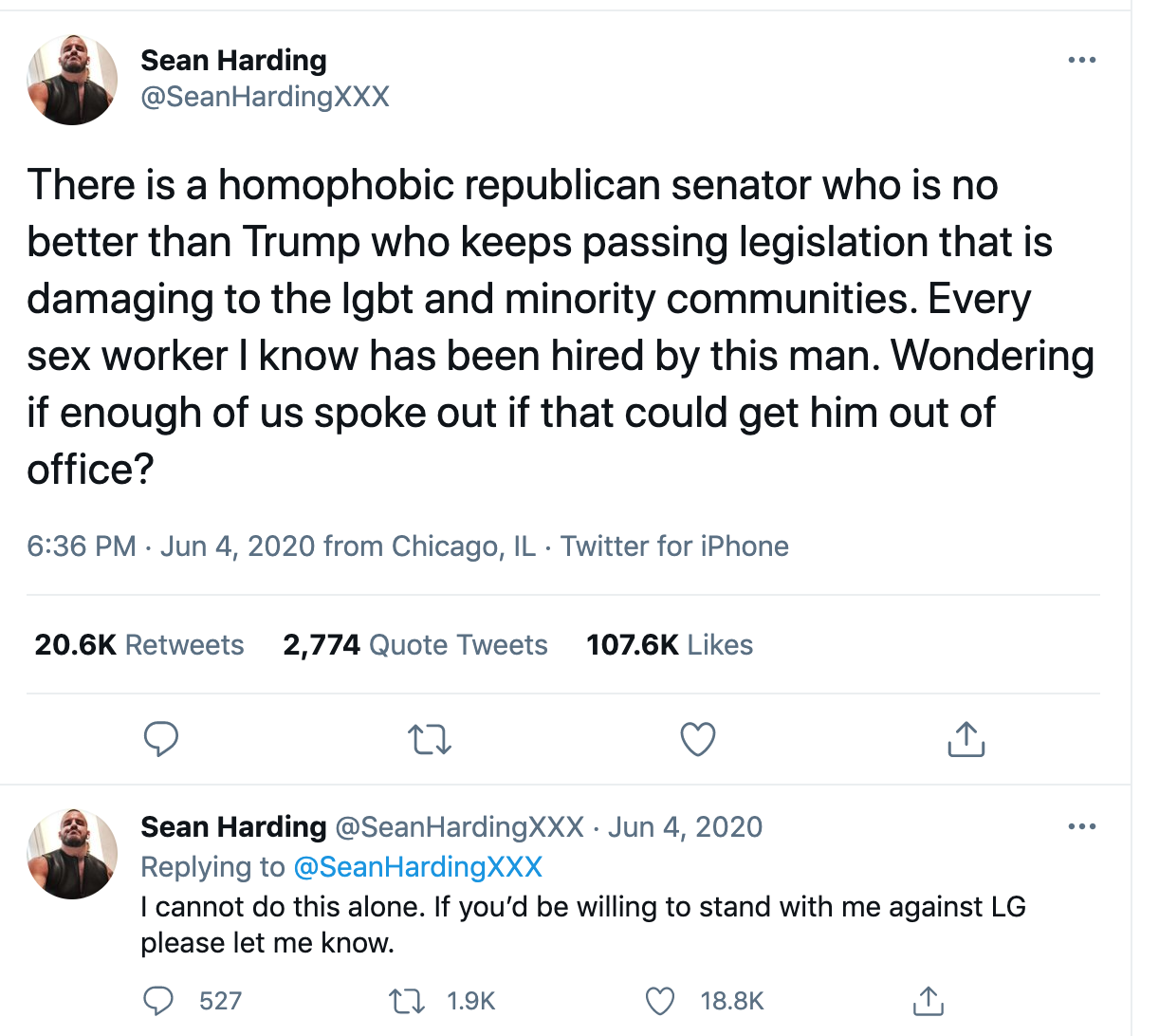 Harding stated at least two others are willing to speak out. "Fellow sex workers I invite you to stand with me during this crucial time. EVERY major news network is in my inbox including high profile lawyers willing to take this case. There's strength in numbers," he wrote.
"Ohhhhh I know soooo many people who he's hired," one wrote in response.
"Lady G is a very open secret here in DC…." another added.
With permission, Harding shared another claim made by a sex worker also alleged to be hired by Graham. The man said via his Twitter account that he's "not really willing to discuss 2013/2014 adult services with journalists at this point. I will not be crucified by our media alone." He added that he "never signed a NDA" after Graham was also accused of making some of the men he hired sign non-disclosure agreements.
Who is Lady G?
People began commenting on how Graham allegedly likes to be referred to as "Lady G" by the men he hires.
The claims have yet to be verified, but "Lady G" and "Lady Graham" began to trend on Twitter anyway.
Some are slamming the alleged outing of Graham, but others think the accusations are noteworthy considering the type of LGBTQ legislation Graham supports and opposes.
"Discussing rumors about Graham's sexuality are fair game given his anti-LGBT record & his support of a psychopathic president," one Twitter user wrote.
"Let's [email protected]'s gayness but shame the shit outta him for everything else k?" another added. "Being gay and insisting he be called Lady G is the only cool thing about him."
The Daily Dot has reached out to Sean Harding and Sen. Lindsey Graham's office.
READ MORE: