Over the weekend, Slack suspended Libs of TikTok, the transphobic internet persona run by Chaya Raichik. According to a screenshot shared by Seth Dillon of the Babylon Bee, she was permanently suspended for violations of the workplace chat app's policies.
The news launched an uproar among Raichik's conservative fans. Conspiracy theories and wild accusations against Slack flew across the web.
The URL matching the one from Dillon's screenshot now leads to a static message stating, "This workplace has been suspended."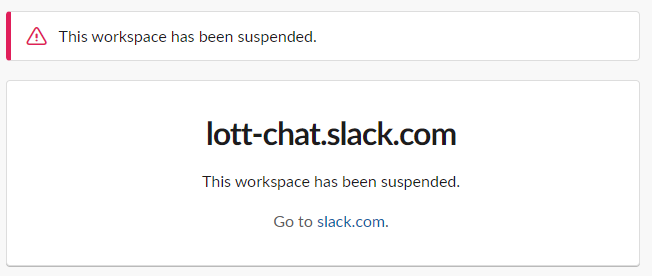 Slack's policies prohibit "[engaging] in activity that incites or encourages violence or hatred against individuals or groups." Given Raichik's online conduct, it is possible she was suspended for violating this policy.
As her alter ego, Libs of TikTok, Raichik is among the most influential figures in the culture war Republicans are waging on LGBTQ people and their allies. Raichik directs transphobia and homophobia at children's hospitals, teachers, and others.
She has celebrated getting her targets getting fired, but Raichik insists that she's not to blame for the threats and attacks that often follow her highlighting an upcoming drag queen story hour or sharing misleading or inaccurate information about the gender-affirming care children's hospitals offer.
After Raichik was suspended, her supporters began brigading Slack's Twitter account.
Many made bizarre, unfounded accusations that the workplace communication application is somehow involved in grooming children.
Accusing LGBTQ people of grooming, a term that refers to how child sexual predators prey on their victims, is a hallmark of Raichik's online activity. Twitter previously prohibited using the slur on the basis of gender identity, but Elon Musk rescinded that policy after he bought the company.
"Slack supports child grooming!" wrote one of Raichik's defenders.
Similar comments piled up on Slack's recent tweets.
A few people posed arguably valid questions about the extent to which Slack monitors subscribers' channels, but Raichik's fans mostly just trolled it.
@john_matze claimed, "I've been banned from Slack before too. If enough people cry on Twitter or the wrong activist in the company has it in for you, your account will be canceled."
Many said that they're now boycotting the company.
"That's it. I'm going to sign up for @SlackHQ just so I can terminate/suspend it!" wrote one.
Another person attempted to link Raichik's suspension to the World Economic Forum (WEF). Conspiracy theorists have grown fixated on the 53-year-old nongovernmental organization.
Twitter user @lib_trigger noted that Slack is owned by Salesforce, whose co-founder and chief executive officer is a member of the WEF's board of trustees. CEO Marc Benioff's work with the nonprofit includes co-founding a global movement to "conserve, restore, and grow" 1 trillion trees, per the WEF.
"Slack didn't all of a sudden decide to ban Libs of TikTok," lib_trigger added. "This was a play in the 'globalist playbook' that they executed to distract." They did not elaborate on what the globalists were supposedly trying to distract from.
It's not clear precisely why Raichik was suspended, but Slack has on rare occasions suspended users. In 2019, it removed over two dozen accounts for being affiliated with hate groups.
Raichik claims she was suspended because Slack "is angry that an account is working to protect childhood innocence."
Update 7:37am CT, March 1: Slack declined to comment on Raichik's suspension, instead directing the Daily Dot to its recent blog about the company's policies against hatred and violence.
The blog states in part, "Use of Slack by those who engage in or incite hateful activity runs counter to everything we believe in and is not welcome on our platform. When we become aware of an organization using Slack for illegal, violent, harmful, discriminatory, or other prohibited purposes, we investigate swiftly and take appropriate action, including removing workspaces that violate our policy."


We crawl the web so you don't have to.
Sign up for the Daily Dot newsletter to get the best and worst of the internet in your inbox every day.