YouTuber-turned-congressional candidate Joey Saladino, better known as Joey Salads, wants the world to know that he's joined the ranks of Americans who've handed their DNA to companies that just might give it to law enforcement someday.
Upon receiving his alleged results—that he's 83.4% European and 15.6% Western Asian and Northern African—the man who wants to "flip U.S. red" decided that he is allowed to use the N-word.
He screenshot his results and tweeted, "What's up my n—-s."
What's up my niggas pic.twitter.com/SH3eMRD4Jj

— Joey Saladino (@JoeySalads) January 28, 2020
Salads, who's previously falsely accused "deep state" Democrats of orchestrating a school shooting, wasn't done there. Far from it.
After tweeting, "If I get 'canceled' over this joke, just know it was worth it," he launched into a series of racist tropes masquerading as jokes, many of which seem to indicate an inaccurate belief that affirmative action has been keeping him down all his life.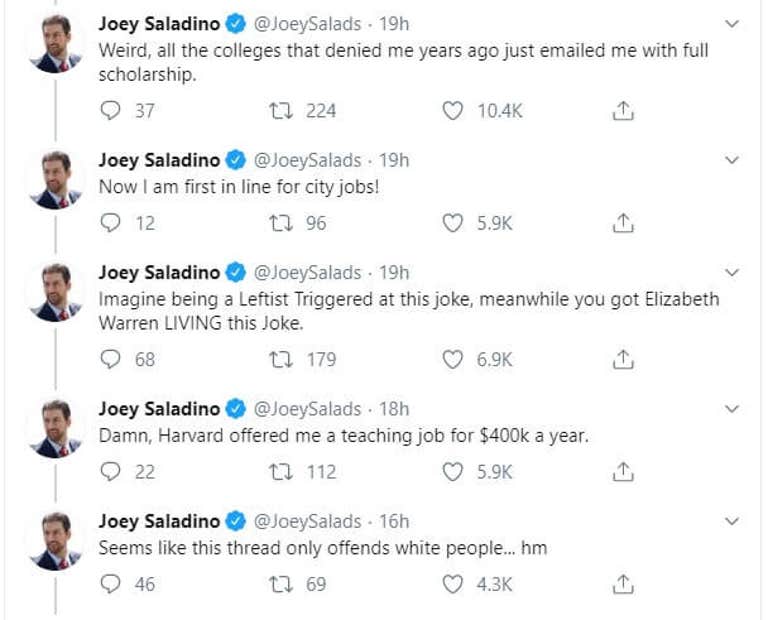 Selling N-Word Passes, DM me.
Serious inquires only.

Rates
$5 for 1
$15 for 5
$100 for 100

— Joey Saladino (@JoeySalads) January 29, 2020
As Salads undoubtedly hoped, the thread blew up. His fans thought it was hilarious.
Excited for my first cookout! pic.twitter.com/bcmtcECPZj

— Joey Saladino (@JoeySalads) January 29, 2020
Comments on screenshots of the thread Salads posted on one of his Facebook pages (he has three) were largely positive. One man urged him to "Go full South Park with it." A woman who claimed she "can't be white" said she found it "funny as hell," then wondered, "Maybe I'm black too."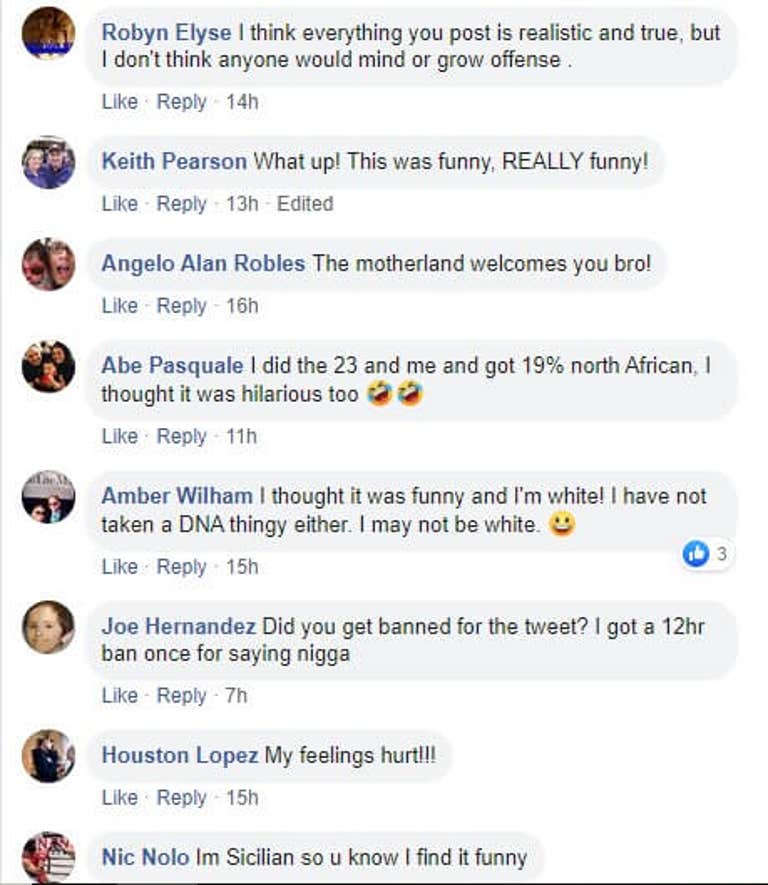 Elsewhere, where the echo chamber isn't as cloistered, many were disgusted or angered by Salad's latest attempt to "trigger liberals," as one of his defenders put it. Many, many, many people brought up that time Salads allegedly drank his own urine. (He has denied swallowing.)
"Imagine thinking racism is a joke," said @SisterMryMoltar.
"I for one am shocked that the swastika armband guy is being racist," said @guillotineshout."
"White people are so safe behind their screens when they do shit like this and they know it," @August_Banned tweeted, "Would never act like this around a group or black ppl. Let alone 1."
Some noted, correctly, that Western Asian and Northern African heritage is often referred to as Middle Eastern, and that regardless, Salads decided to make Black jokes over any other race.
Joey Saladino became known for urinating in his own mouth. Him doing this doesn't surprise me.

— Frederick Joseph (@FredTJoseph) January 29, 2020
https://twitter.com/Kaidofthebeasts/status/1222483431285755904?s=20
https://twitter.com/JMFLove/status/1222545032185409537?s=20
When you manage to offend the person with the Trump 2020 profile picture.

— Michael Gibbs (@dabbingfurry) January 29, 2020
https://twitter.com/isaiahAhh/status/1222335536171450368?s=20
me at joeysalads funeral pic.twitter.com/lYCm3iwEOR

— kelsey (@misskelslay) January 29, 2020
It is unlikely an apology is forthcoming.
READ MORE: