On this week's episode of "The Joe Rogan Experience," comedian Bill Burr and host Joe Rogan talked about Black Lives Matter, before moving into a discussion of the coronavirus pandemic.
While needling Burr, Rogan said that wearing a mask in the middle of a global pandemic is "for bitches."
The contrarian idea that masks do nothing to stop the spread of coronavirus is unfounded and easily disproven. While the exact percentage of reduction of spread is uncertain, masks are definitely a difference-maker in terms of reducing coronavirus spread, and the Centers for Disease Control recommends people wear them.
Not only did Bill Burr put Rogan on blast in the episode, now Rogan is getting roasted online for his statement.
"Found out that Joe Rogan thinks wearing a mask is 'for bitches,'" Twitter user @RyanHoulihan wrote. "I never, ever want to hear about how he's ~actually pretty intelligent in his way~ ever fucking again, my god. If Donald Trump is a poor person's idea of a rich guy, Joe Rogan is the moron's idea of a smart person."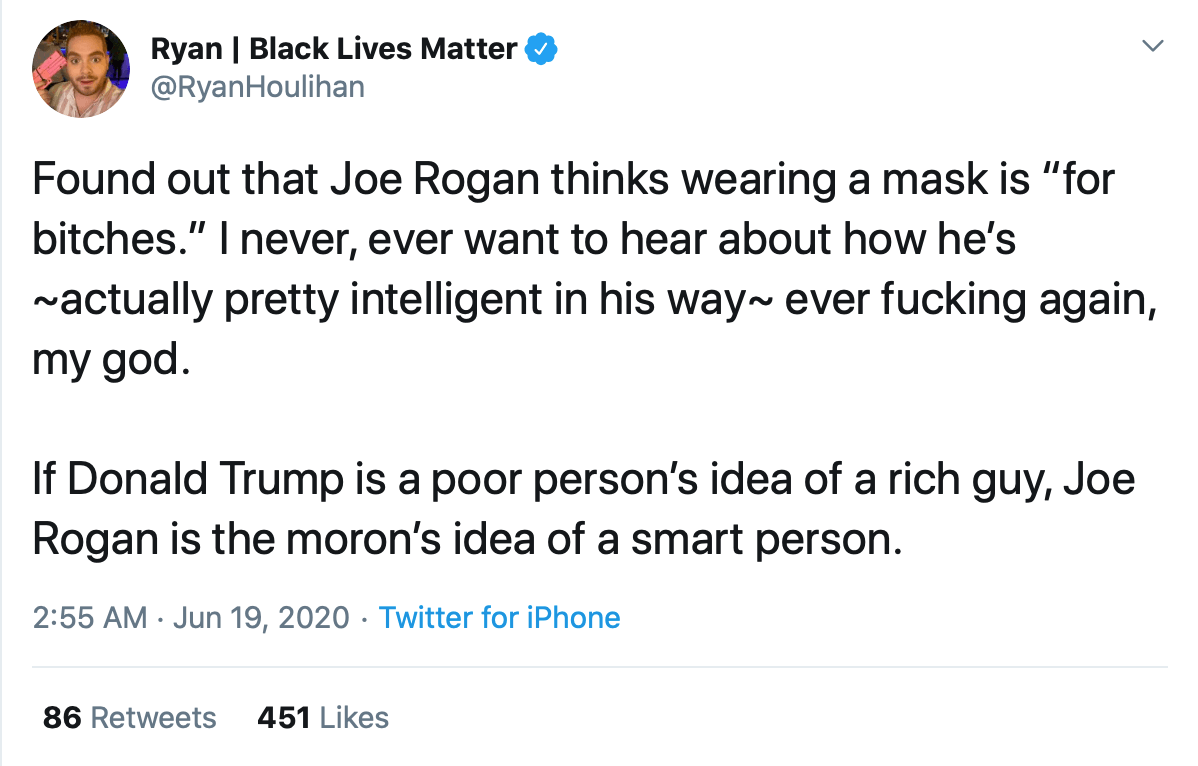 Fans of Rogan may already be implementing his attitude toward masks in their own lives. Twitter user @kmarthomedecor wrote that a family member who is a Rogan fan is choosing to not wear a mask and social distance.
"My normally rational cousin decided to come to my very high-risk mom's house without a mask, tell her he hasn't been social distancing, and say some shit about 'x amount of people die from the flu every year,'" @kmarthomedecor wrote. "He's a huge Joe Rogan fan and you just now connected the dots for me."
There's a significant amount of people connecting this incident to Rogan's legacy of toxic masculinity, where he's encouraged unhealthy or unsafe habits in the name of proving someone is a "man."
This is the second time Rogan has implied wearing a mask is unbecoming of a man in his opinion.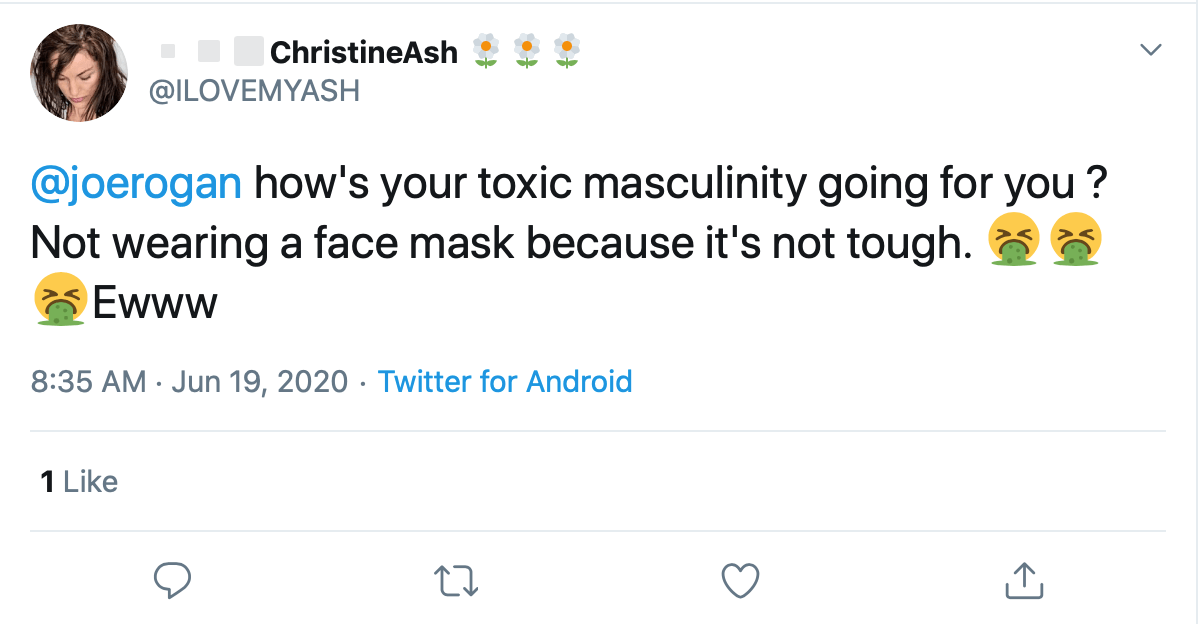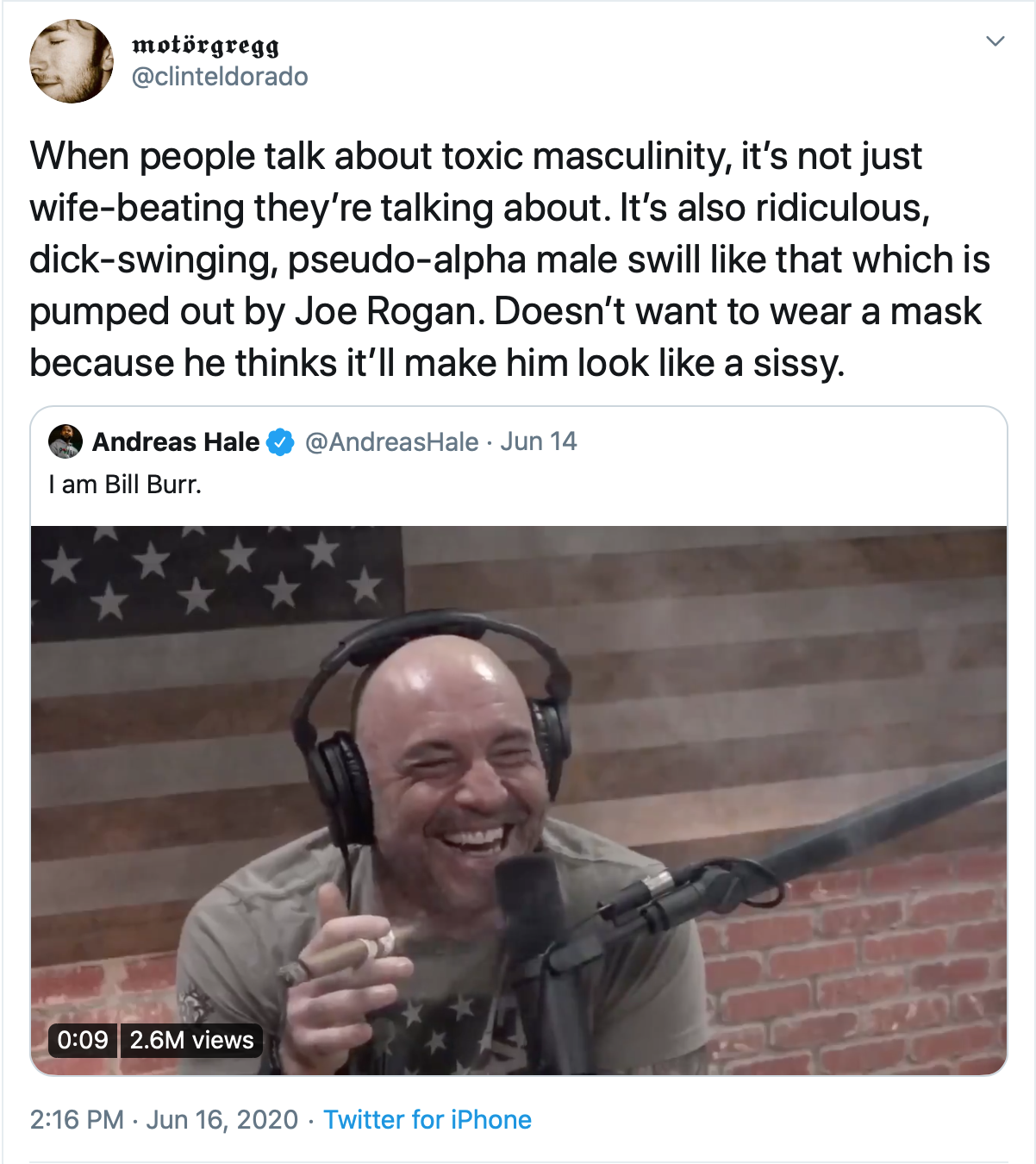 READ MORE:
H/T UPROXX