Former FBI Director James Comey sat down with ABC's George Stephanopoulos on Sunday night for a wide-ranging interview where he spoke about his investigation into Hillary Clinton's emails, his meetings with President Donald Trump, and more.
The former FBI director also went into detail about the so-called "pee tape," a video that was mentioned in the Christopher Steele dossier that allegedly shows Trump paying prostitutes to pee on a bed in Russia that could be used as blackmail against the president.  
Here are nine highlights from the interview:
1) Comey compares the Trump presidency to a forest fire
Stephanopoulos says Comey's book, A Higher Loyalty, ends with an image of the Trump presidency, which the former FBI director said was a "forest fire."
"I think of it as a forest fire. That forest fires do tremendous damage. His presidency is doing, and will do, tremendous damage to our norms and our values, especially the truth. And so that's bad. And terrible things happen in forest fires," Comey said. "But I'm an optimistic person. And so I choose to see the opportunity in a forest fire 'cause what forest fires do is allow things to grow that never could've grown. Were crowded out, didn't have the light or the water to grow. And so I see already things growing and flourishing that didn't before this fire."
2) Election night: 'Did we have some role in this?'
Comey, who said he did not vote during the presidential election in 2016, said on election night he was "surprised" that Trump had been elected.
The former FBI director said he remembers thinking "Oh my God, did we have some role in this? Did we have some impact on the election?"
3) During a meeting with Obama after the election, Comey said he dreaded the "next four years"
Comey said he met with former President Barack Obama shortly after the election where he told him that he understood the decisions he'd made regarding the investigation into Hillary Clinton's email server.
The former FBI director said the discussion "meant a lot to me" because he "had not been a political supporter of President Obama's," and said he told him: "I dread the next four years. But in many ways, I feel great pressure to stay to try and protect the institution I lead."
Comey said he feared that Trump would try an "erode the independence of the FBI."
4) The pee tape was still unverified as of last year when Comey was fired
Stephanopoulos asked Comey directly about the "salacious" part of the Steele dossier, the pee tape, and whether or not it had been verified by the intelligence community.
The former FBI director said when he was fired by Trump last May, it remained unverified.
He also explained that during a meeting with Obama and top intelligence community officials shortly before Trump's inauguration about how Comey would brief the incoming president on the pee tape portion of the Steele dossier, Obama raised his eyebrows at him with a "Good luck with that" kind of look.
During the meeting—which was just between the two of them—Comey said Trump said: "Do I look like a guy who needs hookers?"
Comey said Trump launched into a rant about people who had accused him of sexual assault during their meeting.
"I honestly never thought this words would come out of my mouth, but I don't know whether the— the— current president of the United States was with prostitutes peeing on each other in Moscow in 2013," Comey said.  "It's possible, but I don't know."
After the dossier was released, Comey says the president told him the pee tape allegations could not be true because he was a "germaphobe."
5) Comey's first impression of Trump: 'impressively coifed hair'
The meeting where Comey would eventually tell Trump about the pee tape would be the first time he met the incoming president in person. Stephanopoulos asked about his first impression of Trump, and Comey admitted that he "stared at" his hair.
"He had—impressively coifed hair, it looks to be all his. I confess, I stared at it pretty closely and my reaction was, 'It must take a heck of a lot of time in the morning, but it's impressively coifed.' He looked—his tie was too long, as it always is. He looked slightly orange up close with small white—half-moons under his eyes, which I assume are from tanning googles. And otherwise looked as I had expected him to look from tele—as I thought he looked on television."
Also, Comey said Trump has "average-sized hands."
6) Comey reasserts that Trump asked him for loyalty
During the interview, Comey said Trump asked him to dinner—where they ate salad and shrimp scampi—and the president told him "I expect loyalty, I need loyalty." Comey said he "just froze" and stared at Trump rather than reply.
Later, Comey said Trump pressed again on "loyalty" to which he replied: "You will always get honesty from me."
Stephanopoulos also asked the former FBI director what it was like comparing Trump to a "mob boss." Comey replied:
"Very strange. And I don't do it lightly. I—and I'm not trying to that, by the way, suggest that President Trump is out breaking legs and—you know, shaking down shopkeepers. But instead, what I'm talking about is that leadership culture constantly comes back to me when I think about my experience with the Trump administration."
7) Trump suggested he wanted Comey to investigate the pee tape
During the same dinner, Comey said Trump again brought up the pee tape and asked him to "prove that it didn't happen."
According to the former FBI director, Trump said if there was a "one percent chance" First Lady Melania Trump thought the pee tape was real it would be "terrible." He said he remembered thinking that it was odd that his wife would think it was real.
This encounter is also reportedly part of Comey's book.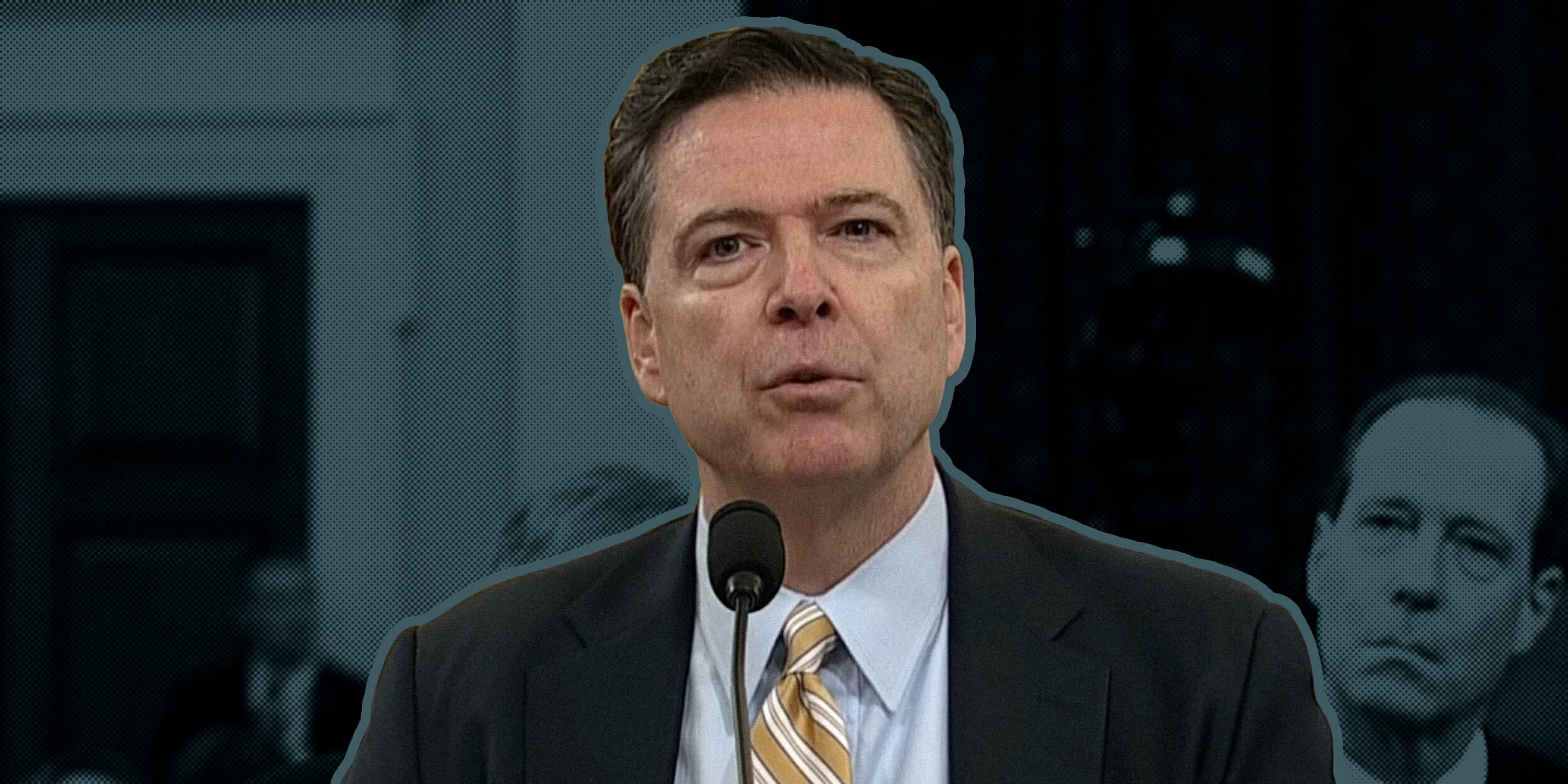 8) Comey: Trump 'possibly' obstructed justice
Stephanopoulos also asked Comey about his claim that the president asked him to back off the investigation of former National Security Adviser Michael Flynn.
When pressed, Comey said it might have been obstruction of justice. 
"Possibly. I mean, it's certainly some evidence of obstruction of justice. It would depend and—and I'm just a witness in this case, not the investigator or prosecutor, it would depend upon other things that reflected on his intent."
9) Comey says Trump firing Robert Mueller would be an 'attack' on the rule of law
As rumors continue to swirl about Trump potentially firing Special Counsel Robert Mueller, the former FBI director said the possibility would be his "most serious attack yet on the rule of law."
"And it would be something that our entire country—again, Democrats and Republicans, that is higher than all the normal fights about policy. That is about the values of this country and the rule of law. And it would be to the everlasting shame of partisans if they were unable to see that higher level and to protect it."
Comey said he would be a witness in Mueller's case if he asked him to do so.
You can read a transcript of Stephanopoulos' interview with Comey here.