This week, a copypasta hoax went viral on Instagram. The statement claimed that if users copied and pasted its contents, they would be saved from the social network's new policy giving it ownership over their content. The catch? Instagram, and by extension its owner Facebook, already do. 
But that didn't stop politicians, celebrities, and plenty of your parents from reposting the statement anyway. Here it is in its entirety: 
Don't forget tomorrow starts the new Instagram rule where they can use your photos. Don't forget Deadline today!!! It can be used in court cases and litigation against you. Everything you've ever posted becomes public today Even messages that have been deleted or the photos not allowed. It costs nothing for a copy and paste, better safe than sorry. Channel 13 News talked about the change in Instagram's privacy policy. I do not give Instagram or any entities associated with Instagram permission to use my pictures, information, messages, or posts, both past and future. With this statement, I give notice to Instagram it is strictly forbidden to disclose, copy, distribute, or take any other action against based on this profile and/or its contents. The content of this profile is private and confidential information. The violation of privacy can be punished by law (UCC 1-308 – 1 1-308-103 and the Rome statute. NOTE: Instagram is now a public entity. All members must post a note like this. If you prefer, copy and paste this version. If you do not publish a statement at least once it will be tacitly allowing the use of your photos, as well as the information contained in the profile status updates. INSTAGRAM DOES NOT HAVE MY PERMISSION TO SHARE PHOTOS OR MESSAGES
The ridiculousness of this demand was not lost on many internet users, who mocked it with their own nonsensical, baseless claims of freedom from our internet overlords.
https://www.instagram.com/p/B1brdVAJrCw/
https://www.instagram.com/p/B1ceiusl1d2/
https://www.instagram.com/p/B1dSaybDjuv/
See how fun? Now you try! Here, it's easy—use this Mad Libs-esque guide to create your own futile diatribe that will save you and your data from nothing and no one. 
Don't forget tomorrow starts the new (social network, website, or app) rule where they can use your (noun). Don't forget Deadline today!!! It can be used in court cases and litigation against you. Everything you've ever (verb) becomes public today Even (noun, plural) that have been deleted or the (noun, plural) not allowed. It costs nothing for a copy and paste, better safe than sorry. Channel 13 News talked about the change in (social network, website, or app)'s privacy policy. I do not give (social network, website, or app) or any entities associated with (any pronoun) permission to use my (noun), (noun), (noun), or posts, both past and future. With this statement, I give notice to (any pronoun) it is strictly forbidden to (verb), (verb), (verb), or take any other action against based on this profile and/or its (noun, plural). The content of this profile is (adjective) and confidential information. The violation of privacy can be punished by law (UCC 1-308 – 1 1-308-103 and the (any pronoun) statute. NOTE: (social network, website, or app) is now a (noun). All members must post a note like this. If you prefer, copy and paste this version. If you do not publish a statement at least once it will be tacitly allowing the use of your (noun, plural), as well as the information in the profile status updates. (Any pronoun) DOES NOT HAVE MY PERMISSION TO SHARE (noun, plural) OR (noun, plural)
Here's mine, for example:
Don't forget tomorrow starts the new Venmo rule where they can use your baby teeth. Don't forget Deadline today!!! It can be used in court cases and litigation against you. Everything you've ever loved becomes public today Even water bottles that have been deleted or the diary entries not allowed. It costs nothing for a copy and paste, better safe than sorry. Channel 13 News talked about the change in Tinder's privacy policy. I do not give VSCO or any entities associated with our Lord Zeus permission to use my CPAP machine, toothbrush, yoga mat, or posts, both past and future. With this statement, I give notice to the raccoon living underneath my porch it is strictly forbidden to love, live, dance, or take any other action against based on this profile and/or its dirty blankets. The content of this profile is upsetting and confidential information. The violation of privacy can be punished by law (UCC 1-308 – 1 1-308-103 and the Tuesday statute. NOTE: Gmail is now a lamp. All members must post a note like this. If you prefer, copy and paste this version. If you do not publish a statement at least once it will be tacitly allowing the use of your puppy's tears, as well as the information in the profile status updates. MY AUNT DOES NOT HAVE MY PERMISSION TO SHARE WAFFLES OR SILVERWARE
For added effect, write it from the Notes app, then screenshot and post across social networks. See how it just became slightly more deranged?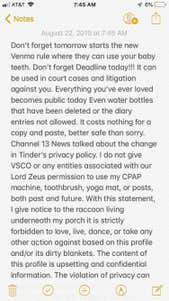 Please reshare and get the word out!!!!
READ MORE: