A lot of people showed their ineptitude with social media by sharing an Instagram copypasta hoax over the last day. The hoax claims that the platform is on the verge of gaining legal rights to your photos. Many celebrities, including Julia Roberts, Taraji P. Henson, Debra Messing, Judd Apatow, and Julianne Moore, shared the message on their Instagram pages—although several of them have since deleted the posts.

"Don't forget tomorrow starts the new Instagram rule," the screengrabbed hoax begins. "Don't forget Deadline today!! It can be used in court cases in litigation against you. Everything you've ever posted becomes public from today Even messages that have been deleted or the photos not allowed."
The copypasta message claims that if you share it, you're not giving Instagram "permission to use my picture, information, messages or posts, both past and future." Besides the fact that no one really has control over the content they choose to share on social media, the policy is nonexistent. The Facebook-owned company would not ask users to publish a statement as a way of opting out of a policy. And certainly not a statement full of typos and grammatical errors.
Still, celebrities, politicians, public figures, and others fell for the hoax—including Rick Perry. That's right, the former Texas Governor and current Department of Energy head tasked with overseeing the United State's vast nuclear arsenal reposted an Instagram hoax on his personal account.
the guy who handles US nukes got took by an aol-era instagram chainmeme pic.twitter.com/9o4kTvBgNU

— rat king (@MikeIsaac) August 21, 2019
After being ridiculed for the post, Perry has since deleted the photo and uploaded a new screenshot poking fun at the original. "I'll be darned!! First time I've seen anything fake on the internet!! 🤓😱," read a comment from Perry on his first photo. 
It didn't take long for the text of the hoax became a meme. Daily Show host Trevor Noah made fun of it in a text-based Instagram post that began, "Don't forget today start the new day of a hoax people fall for in the internet."
"Instagram you are a bad boy, don't use my message for your badness ok! I don't allow you for this. Now I stop you because this was also on channel 13 news! And this this Roman law 1134526-c5575. Ok now we are safe my friends. The Instagram demon is dead!" he concluded.
John Mayer also posted a good response:
"I give Instagram the express right to publish, distribute and/or sell any or all of my digital content posted to the account @johnmayer as they see fit, including but not limited to:
*My world famous meatloaf recipes
*Joe Camel fan fiction
*Fight Club film flubs
*Photographs of sinks
*Drawings of Jenga Jengison, my imaginary porn star made of wooden blocks
*Woke magic tricks."
https://www.instagram.com/p/B1aPUPVFX0q/
Instagram's Eva Chen confirmed in a Story that the hoax did not contain any factual information.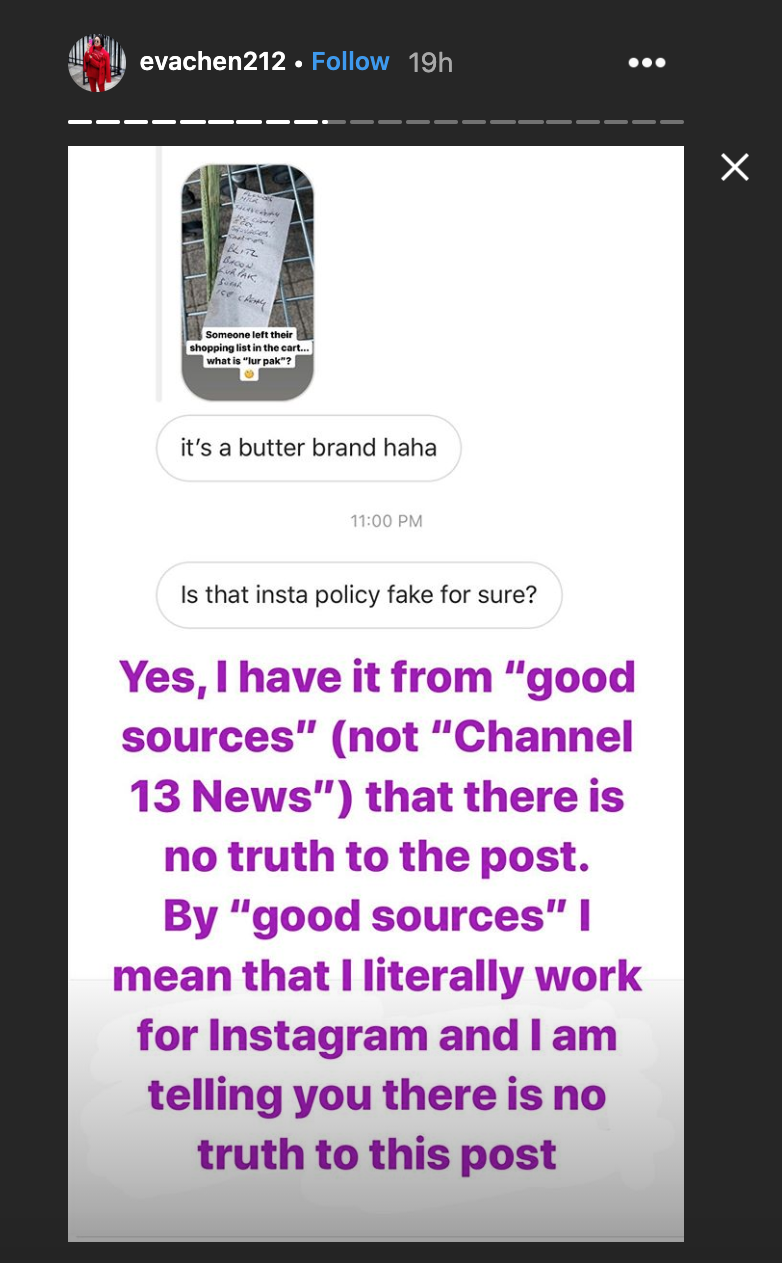 The paragraph of text in question has been around in several variations in several instances prior. In fact, closer inspection of the text in the image seems to show that someone has simply taken a version of this copy-pasted message from 2016 verbatim and crudely superimposed "Instagram" over instances of "Facebook." And yet, this still somehow didn't impede some celebrities from spreading this entirely false claim to their hundreds of thousands of fans and followers. 
READ MORE: