As new damning revelations about Harvey Weinstein's alleged history of sexual harassment, abuse, and rape continue to pour out from Hollywood's dark corners, so too does the political fallout over the movie mogul's longtime support for Democratic politicians.
Hillary Clinton, the 2016 Democratic presidential nominee and former United States senator, is a clear focal point for conservative critics who have condemned Democrats for benefiting from Weinstein's contributions and fundraising efforts.
On Oct. 5, the New York Times reported on sexual abuse and harassment Weinstein allegedly inflicted on actresses over the course of three decades. Since then, new revelations have surfaced, including Angelina Jolie and Gwyneth Paltrow accusing Weinstein of sexual misconduct and three women accusing him of rape, the latter of which the New Yorker revealed on Tuesday.
Although Clinton condemned Weinstein in a statement released on Tuesday, she did not vow to return the money Weinstein donated to her campaigns over the years, as at least 10 other Democratic politicians have done.
"I was shocked and appalled by the revelations about Harvey Weinstein," Clinton said in a statement provided to CNN and other media outlets. "The behavior described by women coming forward cannot be tolerated. Their courage and the support of others is critical in helping to stop this kind of behavior."
So, how much money has Weinstein donated or raised for Clinton over the years? According to a tally of political donations maintained by the Center for Responsive Politics, Weinstein directly donated $21,400 to Clinton between 1999 and 2016. Weinstein also donated $33,590.45 to the Hillary Clinton Victory Fund, according to Federal Election Commission filings, and $15,000 to HillPAC, Clinton's earlier political action committee, according to the Center for Responsive Politics.
In total, Weinstein contributions made directly to Clinton and associated non-party political entities is $69,990.45. Note that this does not include donations to other political entities that may have financially supported Clinton.
Between 1999 and 2000, Weinstein donated approximately $1 million to Democratic candidates and $517,882 to Democratic Party organizations, including the Democratic National Committee and other state-level entities.
Through a process called "bundling"—raising funds on behalf of a candidate from friends, family, and associates—Weinstein raised $1,422,683 for federal candidates and political entities between 1990 and last year.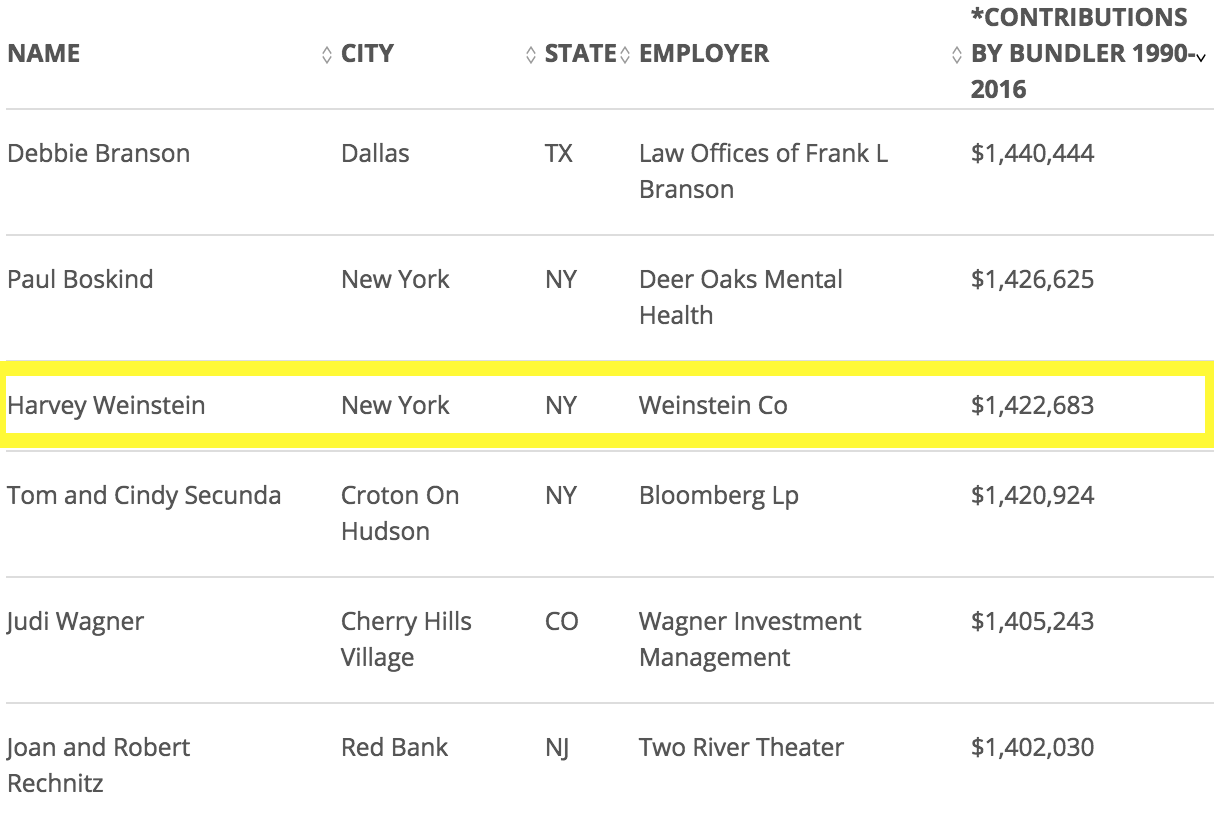 Top recipients of those donations include Senate Majority Leader Chuck Schumer of New York ($14,200), New Jersey Sen. Cory Booker ($17,800), former Connecticut Sen. Chuck Dodd ($36,000), and former President Barack Obama ($45,800).
With 10 candidates already vowing to return their Weinstein donations, will Clinton, Obama, and dozens of other Democrats follow their lead—or just wait until America stops paying attention, as many Republicans did with President Donald Trump?