Nearly everyone has a Facebook account, and people use it for all sorts of things: watching videos with the sound off, looking at your bestie's vacation pics, or just talking to friends and family who live far away. But a lot of younger users tend to favor other social media platforms these days. Why? Because of the garbage that overwhelms the News Feed. As if the borked algorithm isn't annoying enough to deal with, users also have to sift crappy comments. Luckily, you can start hiding comments on Facebook.
Rather than logging out or deleting the app entirely, there are quick and easy ways of cleaning up the comments section on Facebook.
Before we get into it, however, here's a quick tutorial on the difference between hiding a comment, deleting a comment, and reporting a comment.
Hide, delete, or report?
Hiding comments on Facebook will simply make the comment disappear from your point of view—the person who posted it as well as any common friends you share with them will still be able to view it. You can hide a Facebook comment from specific people, like an ex or your parents. You can hide Facebook comments that have grammatical errors. Basically, when you don't like a comment but aren't sure if you want it gone forever, this is the solution.
Deleting the comment will remove it completely and forever, so be sure you really want it gone before choosing this option! You, the person who posted it, and the friends you have in common will no longer be able to see it. You can delete duplicate comments. You can delete comments that spoil TV shows, books, or movies. You can delete comments that blurt out your secrets without your consent. These are instances where hiding a comment option may not be enough.
Finally, reporting a comment is reserved for comments that are truly, irrevocably offensive. It subjects the comment to Facebook for further review and if it does violate Facebook's standards for acceptable content, it will be deleted. (Here's more information on reporting things on Facebook.)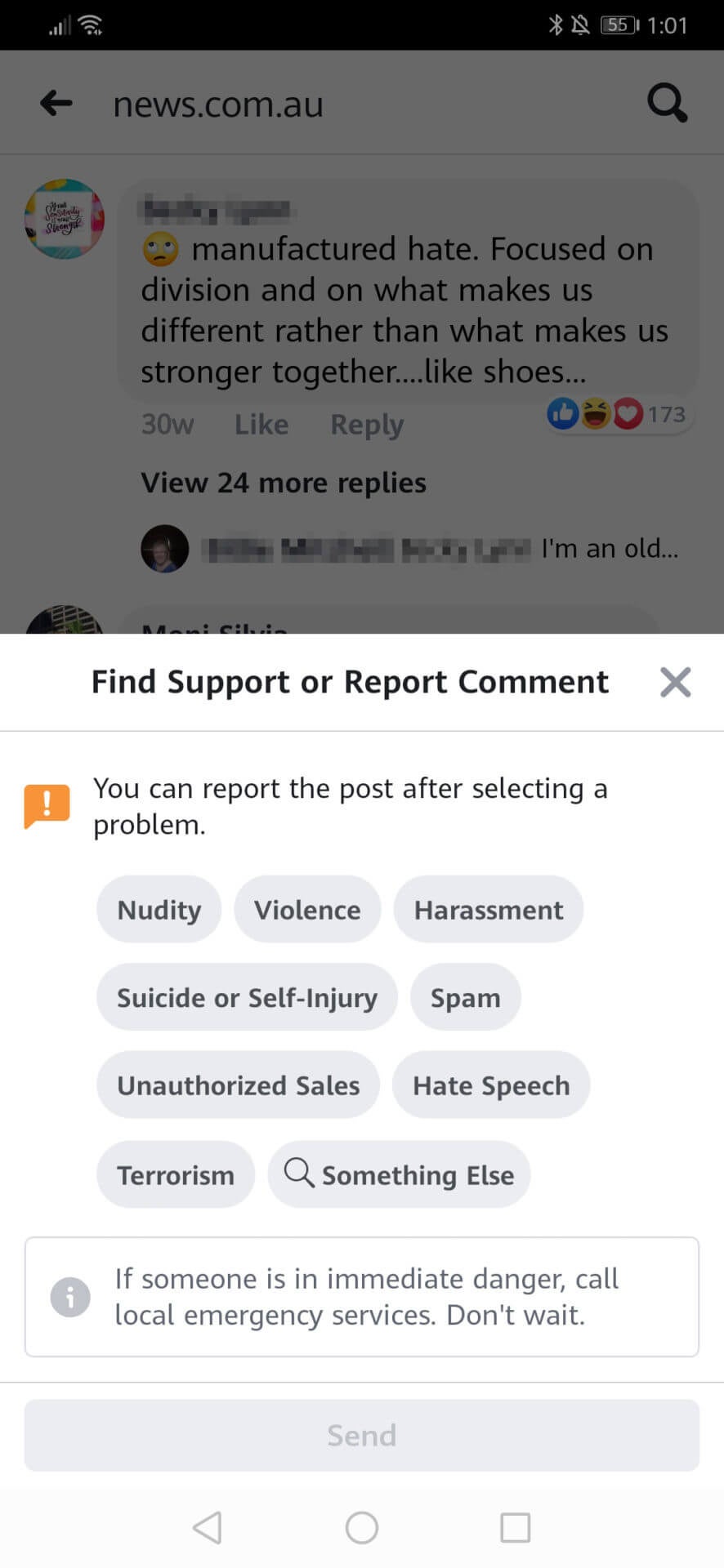 Now that we're clear on the terms, we can talk specifically about hiding a comment on Facebook.
Cleaning up Facebook comments via browser
Hiding comments on your personal Facebook timeline through your web browser is actually pretty straightforward. Click on "Comment" under the post in question to expand the reply section. When you find a comment you'd rather not see, hover your cursor to the right of it until you see the three dots. Clicking on the three dots will give you the option to either "Delete" or "Hide comment".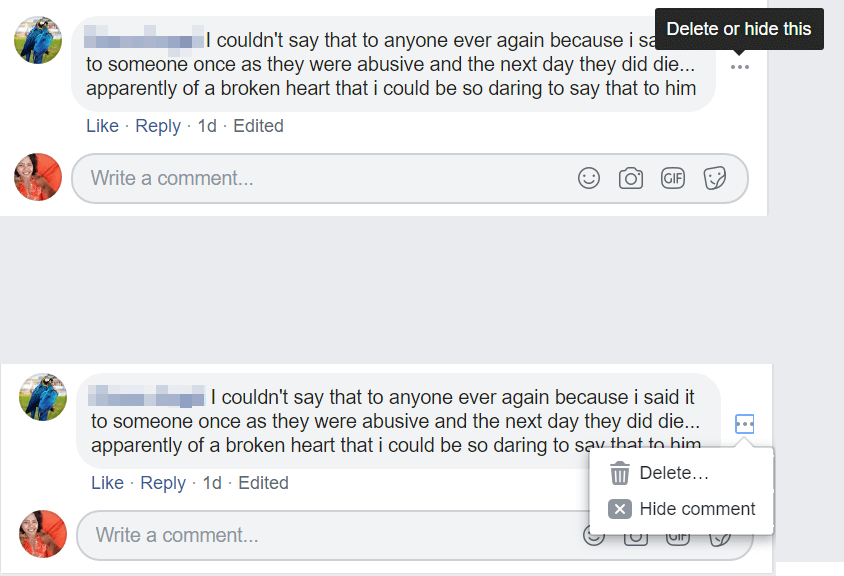 You can always "unhide" a comment if you want it to show back up.

If you find that you would rather not read some of the Facebook comments that appear on other people's posts, not to worry, you can also hide comments on your contacts' posts. More importantly, you can also hide comments on content posted by Facebook pages you follow. (Goodbye, trolls!)
You can do it through your web browser by once again hovering your cursor to the right of the comment, tapping on the three dots, and clicking "Hide comment".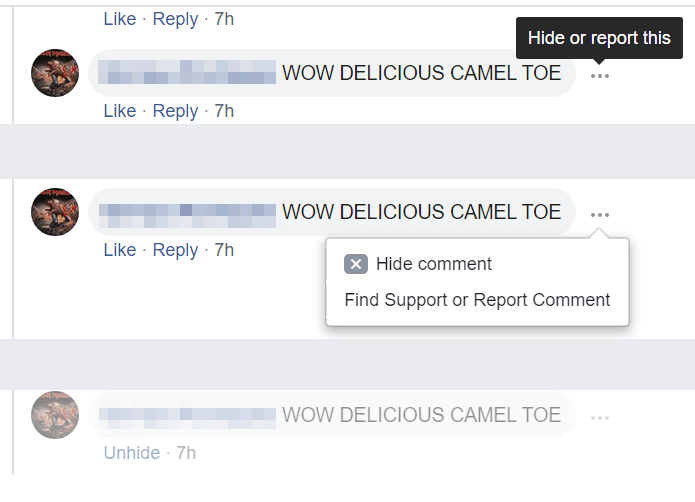 Same rules apply as above: You're the only one who remains oblivious to the hidden comment; everybody else can still see it. You can also unhide it whenever you want. The only thing that changes is you cannot delete the comment yourself. You can, however, report the comment to Facebook, as a last resort.
Hiding Facebook comments via the Facebook app
To get started, tap "Comment" on the post to show you all the comments posted in reaction to it. Long press the comment you want to hide to pull up the menu and tap "Hide comment."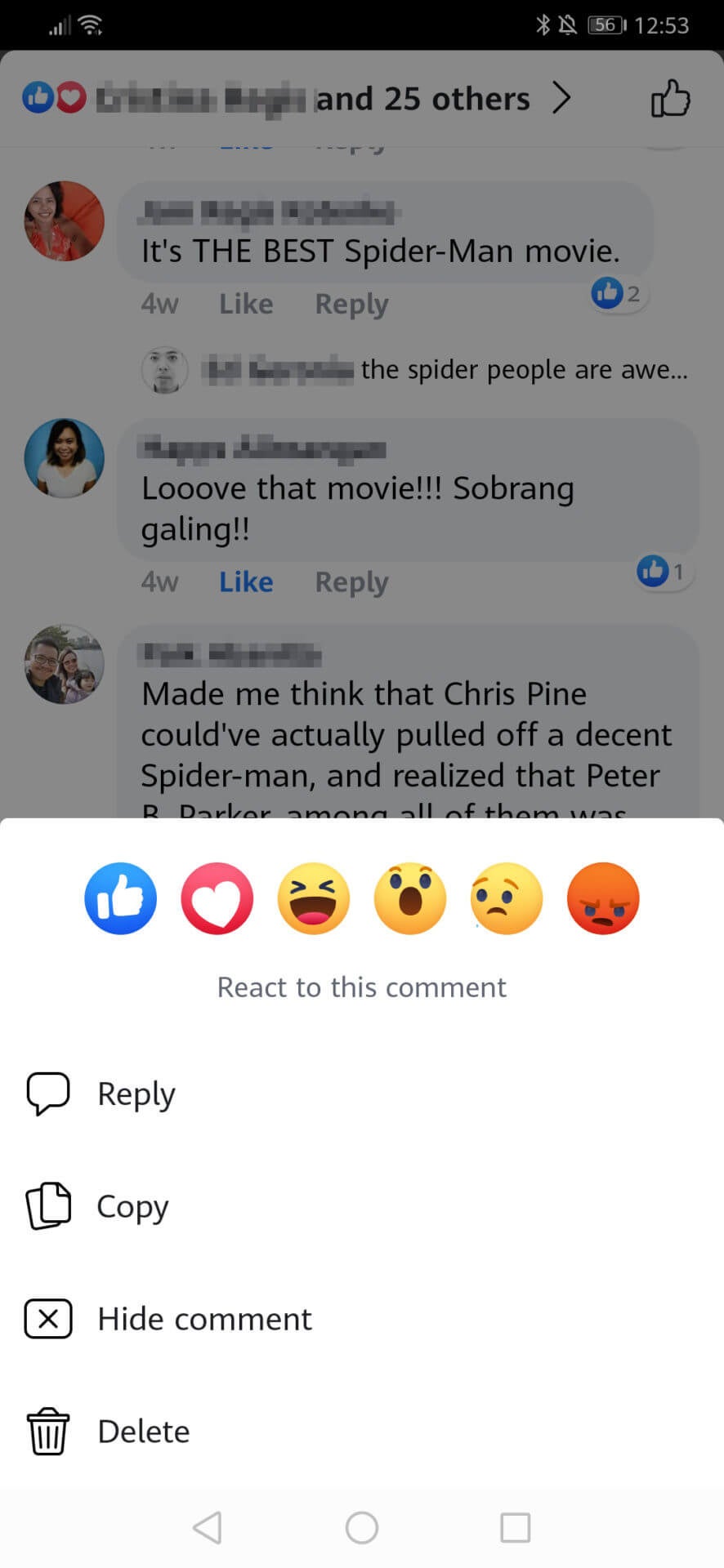 Once you do this, the comment will be replaced with a notice that says "This comment has been hidden" and will remain in the comment section of the post, but it will be grayed out. And just like in the web browser, you can also unhide it: Simply long-press the grayed-out message and choose "Unhide comment."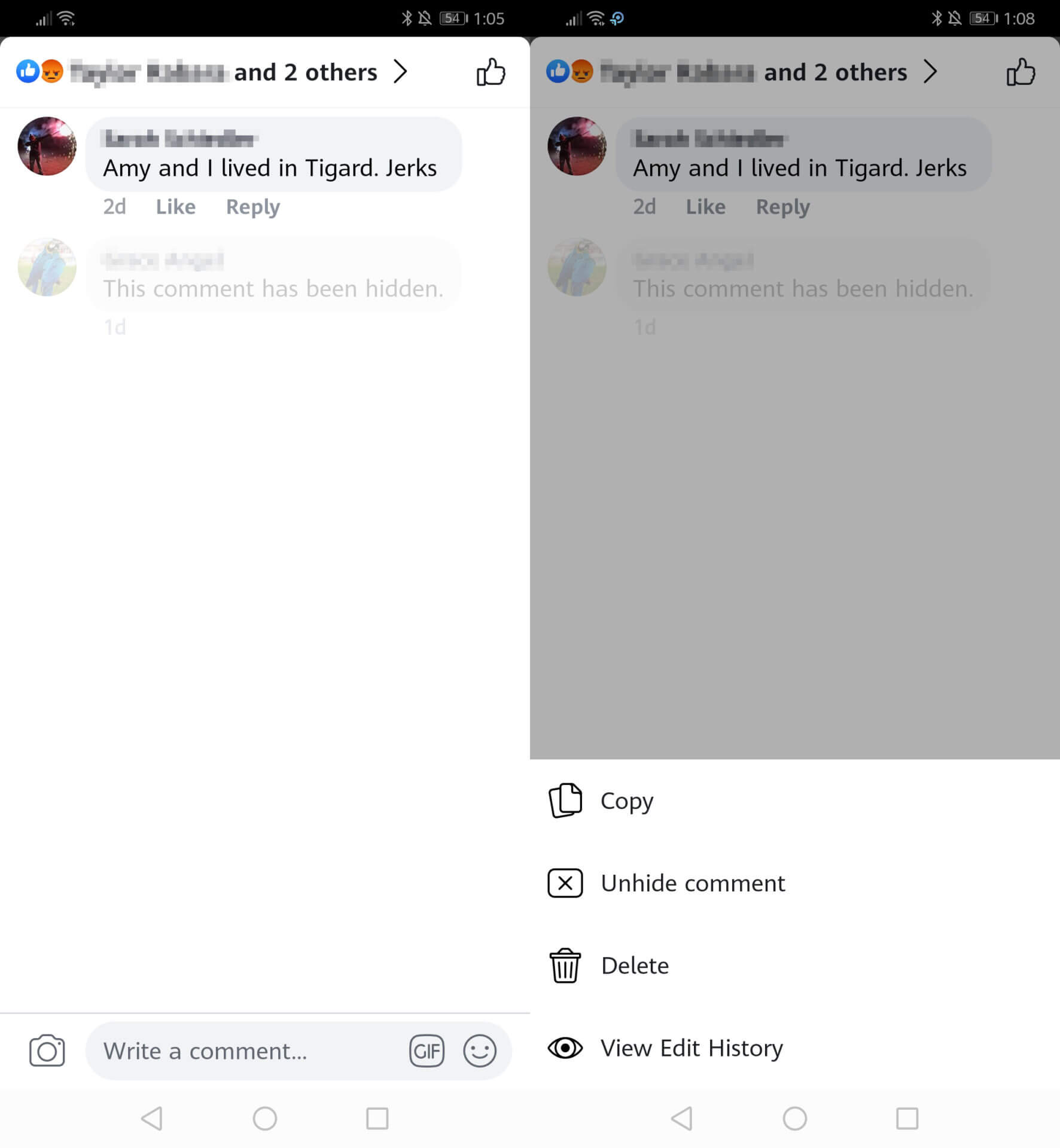 If the comment you wish to hide is in the comment section of a Facebook page you follow or a friend's post, you can follow the same procedure as above: Long press on the comment and choose "Hide comment." You can unhide it if and when you want to see the comment again. Again, if the comment goes beyond the normal level of offensive, you can choose to report it.