At an event in New York City today, Samsung introduced the latest in its smartphone line, the Galaxy Note9.
Samsung has two primary flagship smartphone lines, the Galaxy Note Series and Galaxy S Series. The S Series got an update earlier this year with the Galaxy S9 and S9+. Today, it's larger-screened compatriot got an upgrade for 2018, too.
Here are all the details you need to know about the plus-size Galaxy Note9, which goes on sale Friday.
Galaxy Note9 body and display
The Galaxy Note9 is essentially the same size as its predecessor, but it has a slightly larger display: a 6.4-inch super AMOLED display compared to the Galaxy Note8's 6.3-inch display. At the same 2960×1440 pixel resolution, it actually has a slightly lower pixel density than the Note8—516 PPI versus 521 PPI. (For comparison, the iPhone 8 Plus has a 401 PPI display, and the iPhone X has a 458 PPI display.)
The only other major difference between this phone's design and that of the Note8 is the positioning of the fingerprint sensor on the back of the device, which is now located more comfortably below the camera module. The device is water resistant, has expandable microSD storage, and a headphone jack. On its side, it also has a dedicated Bixby button for summoning Samsung's digital assistant—a feature Samsung has included on a number of its recent smartphones.
Galaxy Note9 battery and performance
The device packs a 4,000 mAh battery—the largest ever on a Galaxy device—and supports fast wireless charging. (The phone is actually ever-so-slightly thicker than its predecessor to accommodate for this battery and its larger screen.) Samsung made a point to highlight that unlike the ill-fated Galaxy Note 7, which gained infamy for its exploding batteries, this device's batteries have been validated and certified by third-party organizations.
Inside, it's got a Qualcomm's Snapdragon 845 processor, and to keep the device cool, the Galaxy Note9 includes a new heat management system Samsung has dubbed a "Water Carbon Cooling system." Whether it works any better or differently than other smartphone heat dissipation systems, we'll have to wait till we get our hand son it personally.
While Android 9 ("Pie") is just starting to make its debut on Pixel phones, this phone ships with Android 8.1 Oreo.
Galaxy Note9 camera
The camera system on the Note9, which is still comprised of a dual-lens 12-megapixel shooter on the back and an 8-megapixel camera on the front, gets some "intelligent" feature upgrades.
The first is called Scene Optimizer. This feature uses image recognition to classify a photo into one of 20 different types. It then automatically optimizes photo qualities such as white balance, brightness, saturation, and contrast based on the image type. According to Samsung, the results are bold and lifelike.
Next, the camera comes with "Flaw Detection." This lets you know if something is potentially wrong with an image (someone is blinking, or there's a lot of blur) as soon as you snap. The goal here is to give you an opportunity to snap again before the moment is lost.
The Galaxy Note9 camera also includes advanced noise reduction features and a dual aperture lens that automatically swaps between wide angle and telephoto depending on the scene and lighting.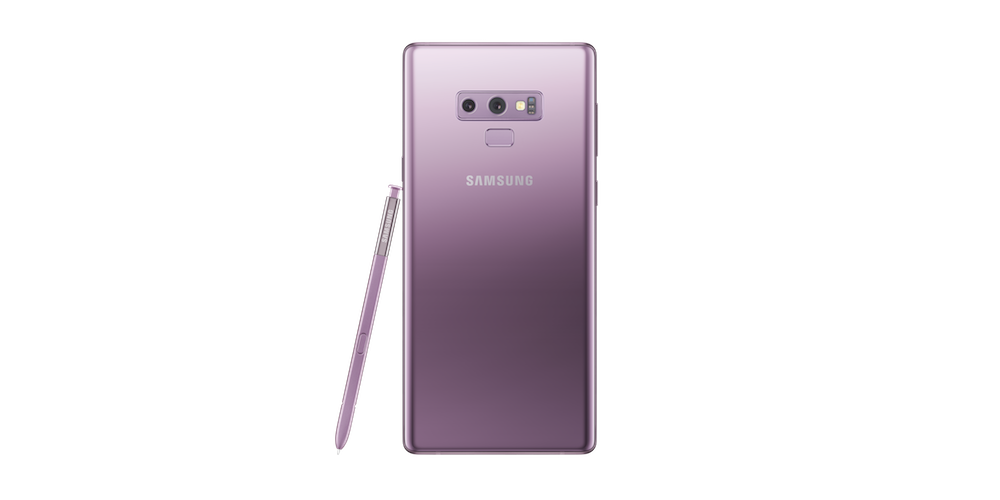 Galaxy Note9 S Pen
This time around, the S Pen isn't just a digital note-taking tool. It comes with support for Bluetooth Low-Energy, which means you can use the stylus for a variety of other things, too: as a remote shutter for snapping selfies or group photos, as a music controller, or as a clicker during slideshow presentations.
Galaxy Note9 cost and Availability
Samsung's Galaxy Note9 comes in two colors, Ocean Blue (which comes with a bright yellow S Pen) and Lavender Purple (with a matching S Pen), and is available for pre-order beginning Aug. 10. The device costs $999.99 for a 128 GB storage model and $1,249.99 for the 512 GB option—but with the addition of a 512 GB SD card, you can upgrade the device to a whopping 1 TB of onboard storage.