As COVID-19 concerns shuttered gyms across the country in March, Americans flocked en masse to the internet to find ways to stay active. Weights were sold out for months; streaming workout sites saw viewer numbers spike. Online fitness, a $6 billion global industry in 2019, is now projected to surpass a $59 billion valuation in the next seven years.
Gaia, which offers yoga videos through a subscription model, saw its own bump during this time. Nearly 100,000 new paying members joined the platform in the first nine months of the year, bringing its audience up to nearly 700,000 subscribers in 185 countries. Gaia also partnered with Colorado Gov. Jared Polis to provide free content for state residents under "stay-at-home" orders. It's been featured on "best of online yoga" lists and recently received a shout out from singer Alicia Keys in the New York Times.
Gaia defines itself as a "global video streaming service," which "provides curated conscious media." But the site's extensive library of more than 8,000 videos goes far beyond yoga— exercise enthusiasts who sign up are exposed to and advertised videos about everything from aliens to anti-vaxxing, featuring high-profile conspiracy theorists that have been deplatformed by leading social media sites.
David Icke in downward dog
On May 3, both Facebook and YouTube announced they had deleted David Icke's pages off of their platforms after the well-known conspiracy theorist repeatedly spread COVID-19 misinformation to his hundreds of thousands of followers.
About one month later, Icke debuted a series of new videos on Gaia.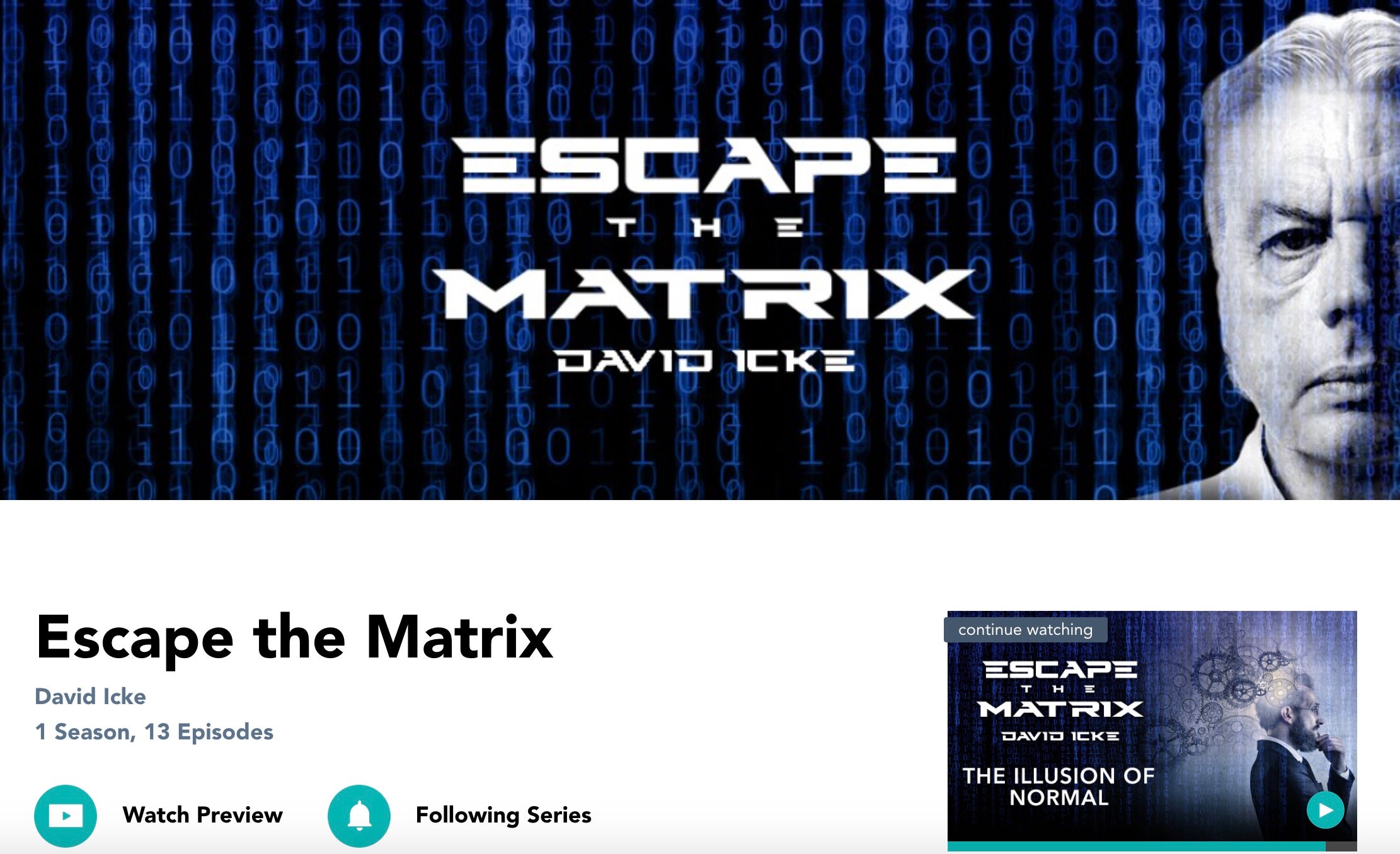 Gaia's "About" page lays out its mission to "answer life's deeper questions and go beyond the mainstream narrative." Its members are "truth seeks and believers" looking to "challenge modern paradigms" and "manifest the reality that defines your being." One reviewer, awarding the platform five out of five stars, calls it the "Netflix of Spirituality."
New users signing up for the site are invited to share what they're interested in, with prompts including yoga and meditation alongside "secrets and coverups" and "paranormal and unexplained." Selecting each of those options, I was recommended a homepage that included "foot soother" yoga, as well as Icke's exclusive Gaia series, "Escape the Matrix."
"By connecting the dots between major world events, he provides us a clearer context to better understand the simulated reality that we have been living in," the series description promises. "Learn how we have been led to believe in this illusion, and the ways we can shift our perceptions to finally be free from this control."
Other recommendations include videos on UFOs, secret messages embedded in Hollywood movies, and "hello hamstrings" yoga. And while many of these videos muse on history and abstract ideas, others apply these theories to real-world events, offering a plethora of misinformation to users.
In one heavily recommended series, "Buzzsaw with Sean Stone," the son of the famous movie director Oliver Stone interviews fringe theorists like Kerry Cassidy, who has regularly called coronavirus a hoax on Twitter. During Stone's 2017 interview with Cassidy, they discussed Trump's election and which "main alien factions" were behind the "new world order."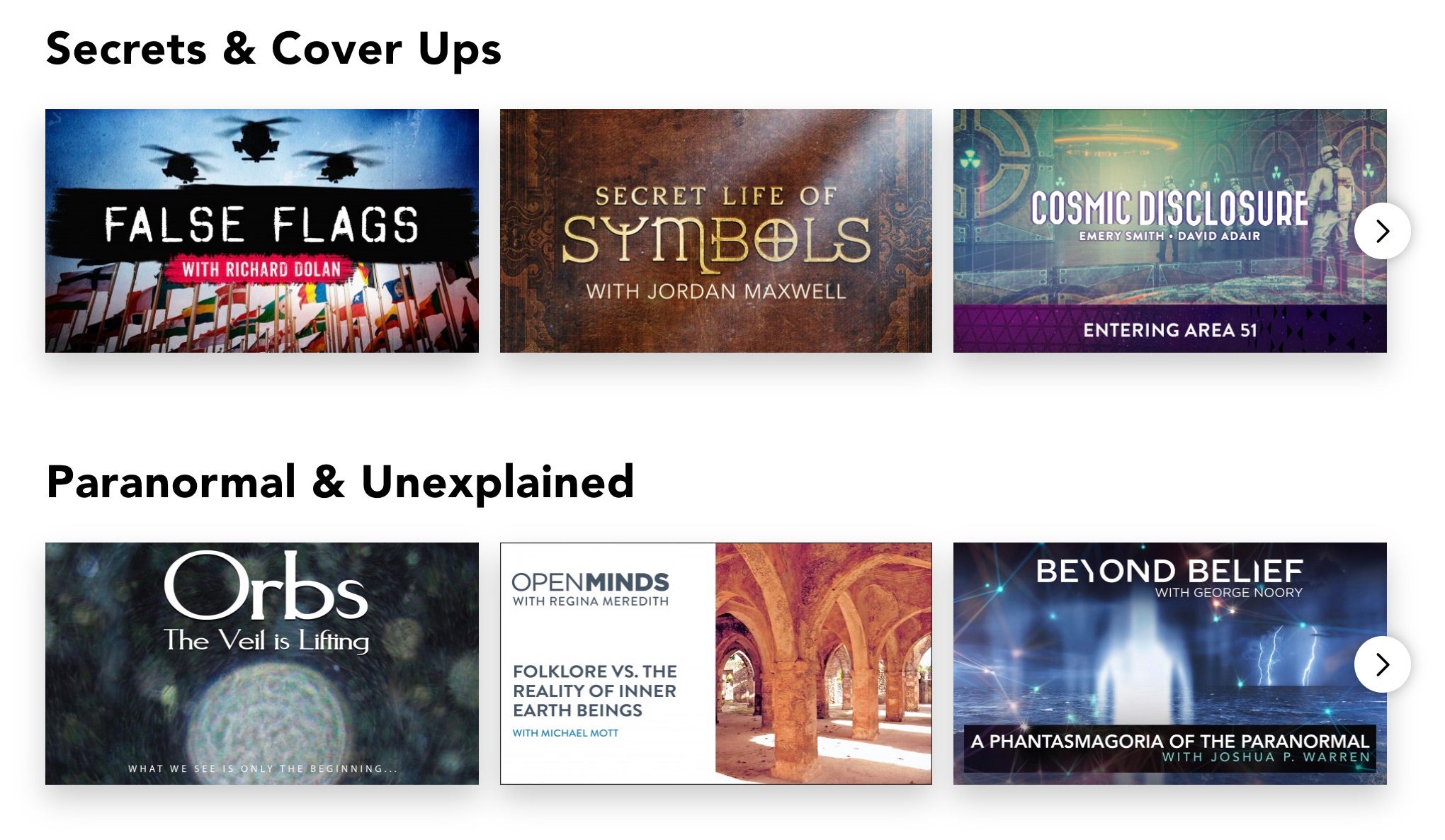 Another series, "Beyond Belief with George Noory," trafficks in some more popular conspiracies, dedicating a recent episode to 5G theories and multiple shows to discussing vaccinations with prominent anti-vaxxer Dr. Sherri Tenpenny. Much like with YouTube, Gaia's algorithm directs you to similar content—so, watching the interview with Dr. Tenpenny will lead the site to offer you "Man Made Epidemic," a documentary on the debunked theory that vaccines cause Autism.
Community around conspiracies
In another nod to YouTube and other social media sites, Gaia verifies certain users, though it is not clear what that process entails.
One of those verified users is Krystal Tini, who has recommended Gaia to her nearly 150,000 Instagram followers. Tini has been profiled by Insider and Huffington Post as part of a new wave of lifestyle influencers who simultaneously share yoga snaps alongside conspiracy theories about COVID-19 and QAnon. In her Instagram profile, she shares a backup handle, pointing to her past moderation issues on the platform.
"My name is Krystal and I'm here for the awakening," reads her Gaia profile page, using common QAnon terminology. "People all over the world are searching for answers to life's biggest questions. But where do you go to explore? Where can you follow the topics you want without fear of censorship or some deep state agenda? That is one of the many reasons I enjoy watching Gaia."
Below that, Tini offers a curated list of recommendations, including those previously mentioned from Icke and about 5G. None of her choices include yoga.
Unlike other social media sites, Gaia does not easily serve a list of community members, nor are they searchable by name. Only verified members can be followed, which is reflected in both Tini's small following—55 people—and her own list of who she follows, which is only four people. Among them is David Niño Rodriguez, another prolific QAnon conspiracy theory commentator.
Gaia did not respond to the Daily Dot's request about how users are selected for verification, nor broader questions about how videos are chosen or commissioned for the site. The site's Terms of Use and Privacy offer the only insight into any sort of moderation policy, noting that, "we see membership to our network and our community as a privilege, not a right," which means they will remove "disrespectful" comments and reserve the right to revoke memberships.
With its limited space for community interaction and stringent paywall, Gaia isn't a clear rival for those seeking an alternative to Instagram, YouTube, or other social platforms. But, as these sites continue attempting to limit misinformation, Gaia has proven itself open to housing conspiratorial content and those who spread it. The result, for those Colorado residents, Alicia Keys, and others simply seeking yoga, is a direct line to unchecked information, debunked theories, and discredited "experts."