Unprompted denials can always raise questions. That's is why Donald Trump Jr.'s cocaine comments are currently a topic of internet fascination.
Speaking yesterday at the conservative Turning Point Action conference, Trump Jr. addressed the biggest viral controversy of the Joe Biden presidency: Who left a bag of cocaine unattended at the White House.
The speculation naturally fell to Biden's son Hunter, who has struggled with addiction and admitted to using cocaine. But some online memesters joked that the real culprit might be another White House son.
Trump Jr. has long faced accusations online of his own drug use, although nothing has ever been confirmed about it.
At Turning Point Action, Trump Jr. addressed the scandal.
"My guys, man of whom I stayed in touch with, dear friends, they were like 'Hey dude, there's no way you would have gotten away with that,' and I'm like 'I know.' Luckily, I don't snort cocaine, It's not my thing," he said at the conference in West Palm Beach, Florida, presumably referring to Secret Service agents on his detail back when he was in the White House.
The comments online were hit by memes joking that whenever a Republican accuses an opponent of doing something—like grooming—it turns out they have the same skeletons in their closets.
That Donald Trump Jr. secretly does cocaine is practically an internet maxim at this point. But where do the accusations come from?
Donald Trump Jr. cocaine use accusations
Although he was present in 2016, Trump Jr. took a much larger role in his father's re-election campaign in 2020. But with the bigger spotlight comes more eyeballs, which can lead to a lot of online theorizing.
Perhaps the first instance of Trump Jr. being accused online of being on cocaine came in a speech at the Republican National Convention, where his father accepted the GOP re-nomination for president, Trump Jr.'s bloodshot eyes and general demeanor that evening prompted a fury of internet speculation that he might be abusing drugs.
There were so many tweets the night of Trump Jr.'s speech that "cocaine" even trended on Twitter. A Fox News hit, months later, where his jaw sawed back and forth, didn't do much to quell speculation.
"Dancing jaw is a tell," wrote one user.
In November, in the aftermath of the 2020 election, Trump Jr.'s ex-girlfriend, Aubrey O'Day, claimed she'd done Adderall with Trump Jr. She explicitly denied that the two had done cocaine though.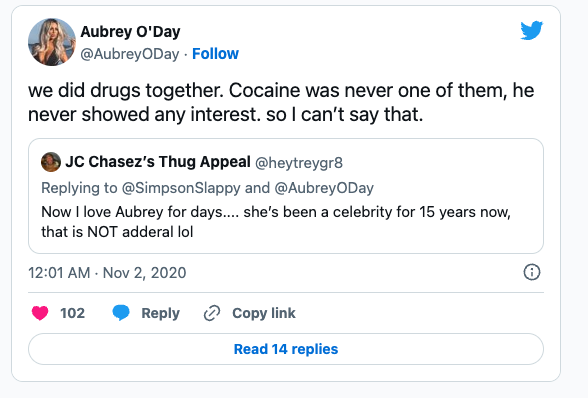 Just several weeks later, Trump Jr. came down with COVID-19. During his quarantine, he took time out to address the internet rumors.
"I don't have the red eyes like they claimed I had for apparently using cocaine prior to my RNC speech," he said.
Then when he joined Cameo, he was again accused of being under the influence.
While his fellow first son, Hunter Biden, has been repeatedly documented using the drug, there's never been an ounce of proof that Trump Jr. consumes illicit substances.
But when the internet chooses to believe something, they'll never let it go.


We crawl the web so you don't have to.
Sign up for the Daily Dot newsletter to get the best and worst of the internet in your inbox every day.