Desperate times call for desperate measures. And that time appears to have arrived for Dogecoin.
Dogecoin users—or "shibes," as they call themselves—are lining up in their hundreds to "burn" their dogecoins, in a drastic attempt to prop up the dying cryptocurrency.
Dogecoin began as a joke, a spin-off of Litecoin (itself a spinoff of Bitcoin) branded with a shiba inu dog popularized in the "doge" meme—but it went on to enjoy remarkable success. In the months after its creation, the Dogecoin community sponsored a Jamaican bobsleigh team at the Olympics, funded water wells in Kenya, and sponsored a NASCAR driver. The virtual currency's glory days seem to have passed, however, and its value has plummeted. 
At its peak, the total market cap of Dogecoin was a staggering $90 million. Today, it languishes at around $13 million, and its decline shows no signs of slowing down.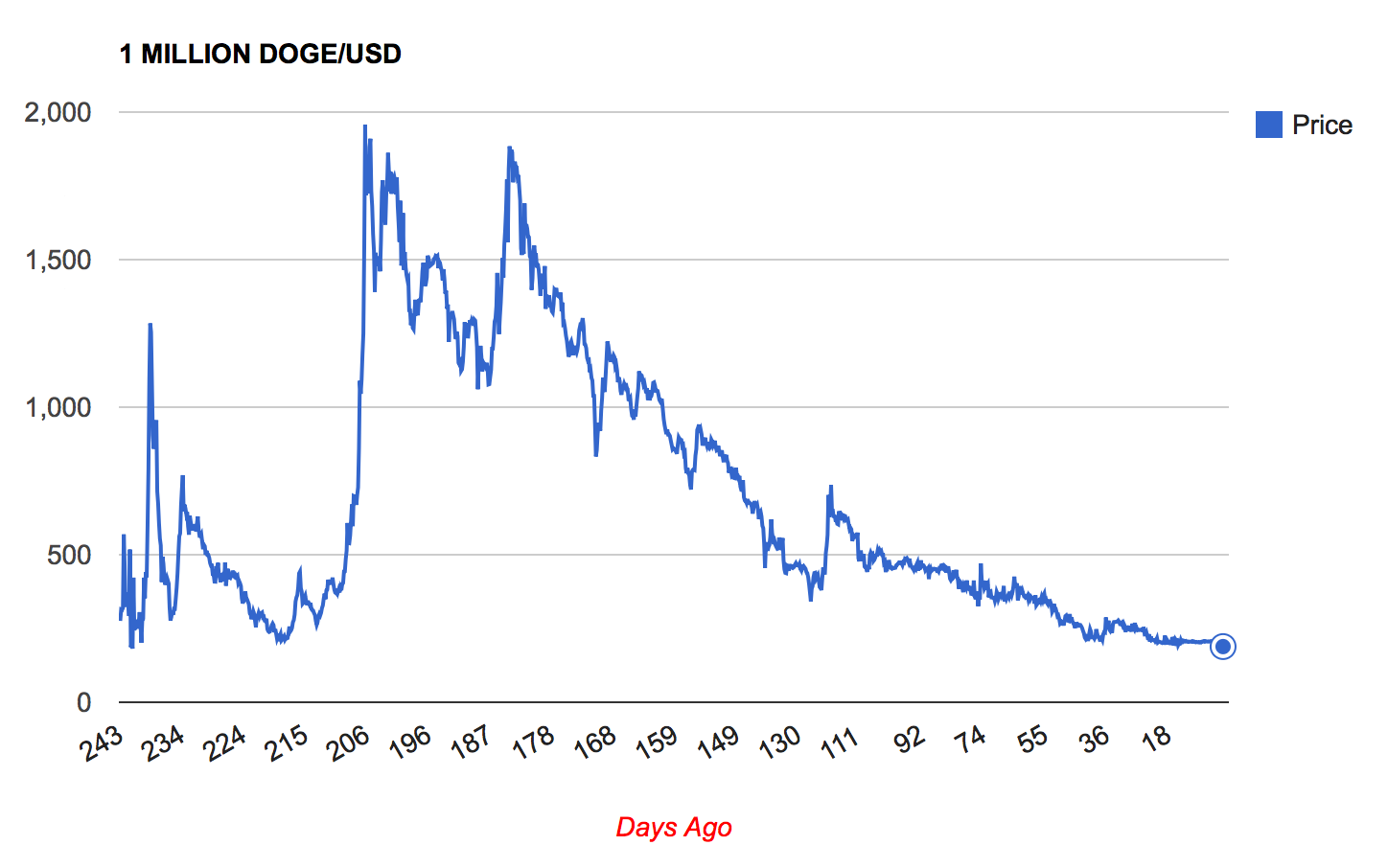 Graph via dogepay.com
In an attempt to quell this tide and halt the exodus on users, shibes are trying something radical: "burning" all of their dogecoins by sending their dogecoin to a wallet with no private key, making their retreival impossible.  
In return, the shibes are sent 1,000 "dogeparty," a new cryptocurrency. As many as 1 percent of all dogecoins—more than 1 billion—have already been burnt in the first three days of the experiment. 
The purpose of this burning is two-fold: First, it creates an artificial scarcity of dogecoin, driving up demand, and thus the price (or so the theory goes); and secondly, it creates a new cryptocurrency of greater value than dogecoin, which can be used interchangeably (or so the theory goes). 
But as CryptoCoinsNews points out, there's "little to no explanation" as to about how the value—1 dogecoin to 1000 dogeparty—was decided, and there's no guarantee that after the burn ends on the September 12 that the dogeparty currency will retain any value whatsoever. Like any cryptocurrency, their value is only that which the market ascribes them. While the organizers claim that those who want dogeparty at a later date will have to buy them on an exchange "likely at a higher price," it's unclear whether once the initial novelty dies down, anyone will actually want to own or use dogeparty.
Similarly, dogecoin's greatest challenge is actually attracting new users: Introducing a new layer to the system, and a second cryptocurrency that's intended to be traded concurrently, will likely only confused less tech-savvy newcomers.
CryptoCoinsNews reports that a similar experiment was tried with Bitcoin earlier in the year: Thousands of Bitcoin were destroyed in return for new "Counterparty," the price of which promptly plummeted.
Dogecoin initially rode a wave of good press, and against all odds achieved some fantastic things. But the community has since been stymied by controversy, notably clashes between bombastic exchange owner Alex Green and senior community members, and the collapse of the Dogecoin Foundation, a small volunteer organization that attempted to provide an anchor for the community. For now, Dogecoin appears to be rudderless, and circling the drain.
Photo via Marcus Obal / Wikimedia Commons (CC 3.0) | Photo via Guilhem Vellut / Flickr (CC-BY 2.0) | Remix by Rob Price