President Donald Trump's official app is being flooded with bad reviews on Apple's App Store and Google's Play Store, and it appears the deluge of critical comments are coming from TikTok users.
As of Friday morning, the Official Trump 2020 App had a 1.1. star review on Google's Play Store, with more than 48,000 people leaving reviews.
Hundreds of the one-star reviews have been left over the past few days.
The same situation played out on Apple's App Store. On Friday morning the app had a 1.2-star review, with 269,000 leaving reviews.
Many of the reviews criticize the app asking for personal information—something the Trump campaign has touted as it tries to collect data on voters ahead of the election.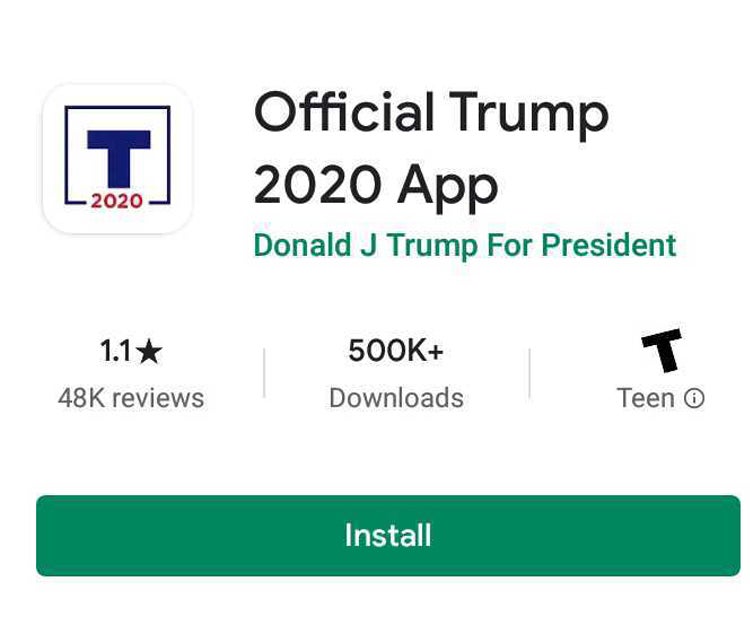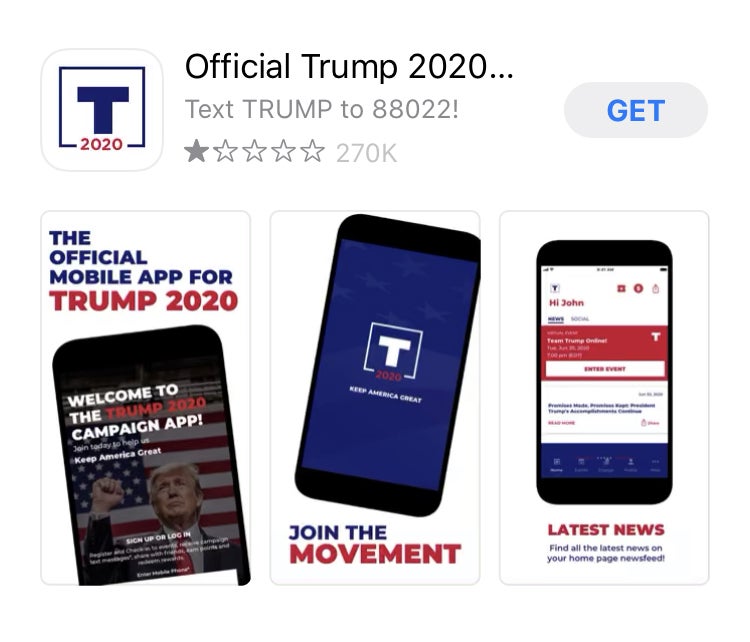 The torrent of scathing reviews comes just days after the Trump administration has said they are considering banning TikTok, which has received criticism from lawmakers on both sides of the aisle. The app is owned by a China-based company, and data privacy concerns have been raised.
TikTok has defended itself against the claims.
Bloomberg, which first reported on the flood of negative reviews, noted that popular TikTok user DeJuan Booker called on his followers to leave the bad reviews.
Booker, who goes by @unusualbeing, said in a video on Thursday that "Gen Z is not going to out without a fight" and said the goal of the mass-negative reviews seems to be to get the app de-listed from the App Store.
On Wednesday, Booker posted a step-by-step video showing his followers how to leave reviews. The video was viewed 2.5 million times.
However, as Bloomberg notes, flooding the app with negative reviews may not have the effect they hope. Apple does not delete apps based on the reviews, the news outlet reported.
Tim Murtaugh, a Trump campaign spokesperson, told Axios: "TikTok users don't affect anything we do."
This isn't the first time TikTok users have messed with the Trump campaign.
Ahead of his rally in Tulsa, Oklahoma in late June, TikTokers mass-registered for the event, making the campaign believe more people were intending on coming than actually were. Brad Parscale, Trump's 2020 campaign manager, bragged about the sign-ups ahead of the rally.
In reality, only a little over 6,000 people attended the rally. The Trump campaign dismissed the prank afterward.
TikTokers also tried to troll the Trump campaign through its online store using a tactic called "shopping cart abandonment."
Essentially, they would go to the online store, fill up their carts with merchandise they have no intention of buying, and leave the campaign with incorrect data.
READ MORE: